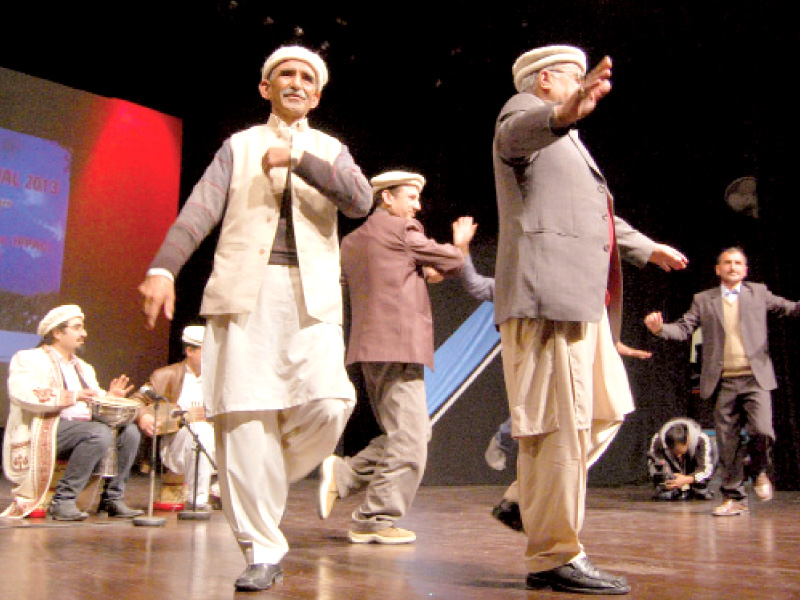 ---
ISLAMABAD: Monday's Gilgit-Baltistan Cultural Show lived up to its hype as a large number of people were seen dancing to the tunes of folk songs and music. Musicians, singers and artists mesmerised the audience with their remarkable songs and performances.

The show was jointly organised by the Gilgit-Baltistan Journalist Forum and National Press Club Islamabad.

G-B Minister for Culture and Tourism Fida Khan was the chief guest at the event, while Chief Minister's Special Assistant Abid Ali Baig, G-B Pakistan Tehreek-e-Insaf leader Fataullah Khan as well as a large number of people representing political, social and journalist organisations and students from various universities were present.

Special awards were given to three dignitaries known for their extraordinary work and services in various fields of life.

Renowned singers and artists from all regions of G-B participated in the event where their performances and songs won hearts of the audience. Special stalls bearing traditional feasts, dry fruits and other G-B delicacies were set up near the stage.

The guests at the show were served customary foods, including Azooq, Marzan, Parapo, Mamto, Kulcha, saltish tea, Kaseer and boiled eggs.

In addition, all participants donned special traditional caps called Shanti.

Popular singer and president's award winner Khadim Hussain Baltistani spread the magic of his melodious voice by singing songs in 10 different languages.

The participants could not help but dance to his tunes and songs.

Khadim Hussain is the only singer in G-B who can sing in 16 languages.

In addition, Niaz Ali Baltistani, DW Baig, Danish Hunzai, Saif Allia and Talib Hussain also sang songs in various local languages, including Balti, Shina, Brosheski and Wakhi.

A group of young performers held the audience captive with a dance performance on popular song 'Hum Gilgit-Baltistan Ke Hain'.

Renowned G-B artist Khawar presented a beautiful piece of artwork at the show, which was immensely lauded by the visitors.

In his address at the end of the show, Minister Fida lauded the event, terming it a remarkable effort to promote the G-B culture.

He said, "G-B is one of the most beautiful places in the world and its people are also beautiful, peaceful and hospitable."

He stressed the need to promote the region's culture and traditions at national and international levels.

Islamabad Press Club General Secretary Anwar Raza and G-B Journalist Forum President Ghulam Abbas also addressed the event.

An award was given to former Sindh IG Afzal Ali Shigri for services rendered for the people of G-B. In addition, late Raja Hussain Khan Maqpoon was given an award for his outstanding services in the field of journalism and Dr Muhammad Sharif was given an award in recognition of his services in the health and social sectors.