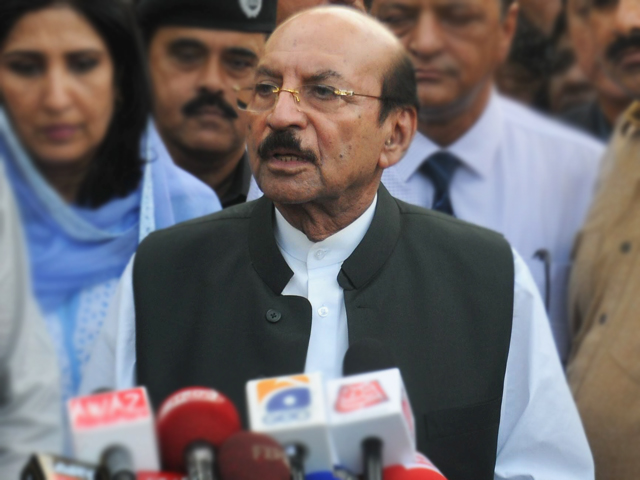 ---
ISLAMABAD: The Islamabad High Court (IHC) on Monday extended the interim bail of former Sindh chief minister Syed Qaim Ali Shah till April 30 in a case pertaining to money laundering through fake accounts.

A divisional bench comprising Justice Amir Farooq and Justice Mohsin Akhtar Kayani held hearing over the petition seeking interim bail in Thatta and Dadu sugar mills cases.

The National Accountability Bureau (NAB) officials prayed the court to grant further time to submit reply in the case.

The bench adjourned the case for two weeks besides extending interim bail of Qaim Ali Shah till April 30.
Later talking to the media, the PPP leader said that never has a charge in his 55 years of political career been framed against him like the one imposed by the NAB regarding fake accounts.

The former CM Sindh said that he had been accused of selling two sugar mills 15 to 20 years ago. He informed reporters that NAB gave him a questionnaire which he answered but no proof of accusations levelled against him had been provided.

Ex-CM Sindh Qaim Ali Shah to appear before NAB

He said that a lot of work was done during his time in Thar and added that power project of 300 megawatts had been inaugurated; roads were constructed while mobile medical facility was provided.
Shah said that 11 universities were established in Sindh of which four were medical universities while basic health units were formed at every union council level.

Taking a swipe at NAB, the former CM said that the anti-graft watchdog mainly took action in Sindh and targeted the PPP leaders.
Shah denied reports that people were paid to come to the train march of Bilawal Zardari. He said that the temperature was 45 degrees but people travelled miles on foot which was a proof of their love for the PPP.

The former chief minister was named in a report by the joint investigation team tasked to probe the fake accounts case. He was among 172 people named in the report whose names were to be placed on the no-fly list.

The senior politician in his petition contended that he was being politically victimised and claimed that he had been dragged into the case without any solid evidence.

Shah said that he had been politically active since 1960 when he was elected chairman of the Khairpur district council and then successfully contested the general elections.

He said that he was the longest-serving chief minister of Sindh and had completed eight consecutive years in office.