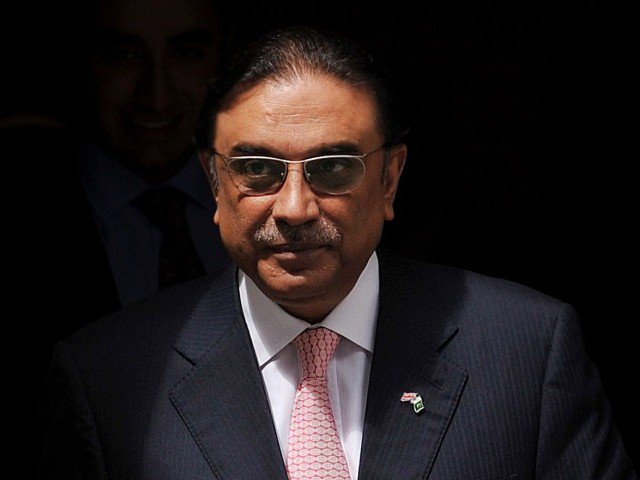 ---
The National Accountability Bureau (NAB) on Monday filed another reference in the ongoing fake accounts case against former president Asif Ali Zardari, his sister Faryal Talpur and other members of the Pakistan Peoples Party (PPP) leadership.

The new reference was submitted in an accountability court in Islamabad and pertains to a project titled 'Pink Residency' in Karachi's Gulistan-e-Jauhar area.

The accused named in the NAB reference include Aftab Memon, a former secretary of the Sindh Land Utilisation Department, and Omni Group's Abdul Ghani Majeed.

Fake accounts case: Two accused express willingness to become approvers against Zardari, Talpur

The reference accuses them and other individuals of involvement in the illegal regularisation of two plots of land in Gulistan-e-Jauhar.  One of the plots measured 23 acres, while the other was of seven acres, according to the NAB reference.

The anti-graft body has alleged that the financial transactions related to the illegally regularised plots were conducted through fake bank accounts.

In the reference, NAB estimates that the illegal land regularisation and consequent sale inflicted a loss of Rs4 billion on the national exchequer.

Aftab Memon was arrested in Islamabad early in March this year and NAB accused him of causing a loss of Rs800 million to the exchequer through illegal allotment of government land.

When he was presented in an accountability court for a remand, Memon had questioned how he could have single-handedly authorised illegal allotments. "The law secretary is also a part of the allotment committee. Why have I been named in the case when all those involved in the decision-making have not been nominated?" he asked Accountability Court Judge Muhammad Bashir.

Hearing of first reference in fake accounts case on April 19

The Pink Residency reference is the second to be filed in the fake accounts case. On April 4, NAB filed the first interim reference which nominated nine accused of misuse of authority and illegal allotment of amenity plots in Karachi.

An accountability court has scheduled a hearing of the first reference on April 19. The accused are eight senior government officials and a director of a private company. The government officials include former administrator of the Karachi Metropolitan Corporation Muhammad Hussain Syed and former metropolitan commissioners Matanat Ali Khan and Samiuddin Siddiqui.

Others nominated in the reference include Syed Khalid Zafar Hashmi, Najamuz Zaman, Abdul Rasheed, Abdul Ghani and Younus Kudwai.

The Pink Residency reference also comes on a particularly troublesome day for the PPP leadership, as two women accused in the fake accounts case told an accountability court on Monday that they were willing to become approvers against Asif Zardari and Faryal Talpur.
COMMENTS
Comments are moderated and generally will be posted if they are on-topic and not abusive.
For more information, please see our Comments FAQ