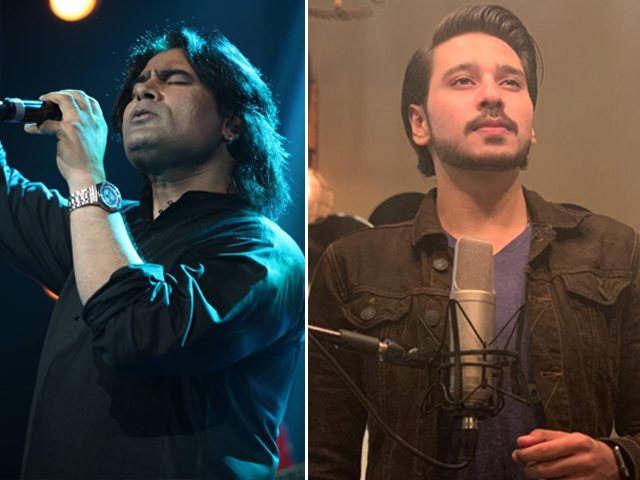 ---
KARACHI:
If we were to handpick game-changing Pakistani songs of the past two decades then Aankhon Kay Saagar would lead the tally. The unique, previously unheard of combination of pristine classical alaps and pop-rock grooves announced the enigmatic arrival of Fuzon.
A three-piece band formed of a rock guitarist, a jazz-influenced keyboard player and a member of the Patiala gharana as the vocalist. While the sheer brilliance of songwriting and composition of their album Saagar can't be attributed to one person, it really was the incredible singing and production of Shafqat Amanat Ali's vocals that melted hearts on both sides of the LoC.
Puritans obviously had a problem with a Gharana member delving into the no-go and rather 'noisy' area of pop-rock back then and puritans will continue to face the same problem 17 years later when they listen to Sadaat Shafqat Amanat Ali's debut song, Tu.
Sadaat or 'Saadi' as friends and family call him represents the 9th generation of the Patiala gharana and unsurprisingly, bears an uncanny resemblance to his grandfather, Ustad Amanat Ali Khan.
However, the weight of such a tremendous tradition has only motivated him to find more reasons to innovate and explore new paradigms. As Shafqat Amanat Ali's son and Asad Amanat Ali's nephew, he believes the only tradition his family has maintained is breaking away from it, with grace and honesty.
"My father is my icon and the way he innovated with classical singing is something extraordinary," Saadi tells The Express Tribune in a telephonic conversation, "He stuck to his guns, kept himself rooted in tradition and explored quite a few new dimensions of soundscape. I hope I can take a similar path."
Saadi's debut song Tu is a fresh take on the 80s revivalist sound with an ambient and spacey feel to it. As much as mentioning '80s' and 'fresh' together seems contradictory, the song that Saadi has chosen to launch his career with actually makes him relevant within the global trend of creating nostalgic sounds. It's a foot-tapping, beach song that is bound to make you groove, slowly but surely. Saadi keeps his notes simple, yet on point and a little help from yodeling only helps his case of a musician with a diverse range.
"I don't need to add those alaps or murkis if the song doesn't demand it," stresses Saadi. "It's not that I can't," he laughs. Saadi had composed and written the lyrics for Tu when he was 14 and always saw it as a track that had a very 'chill' kind of a feel to it. He recently sang this song in front of his father, who after a long pause, smiled and asked him, 'So when are you releasing this?' That's how Saadi got the green signal he was looking for.
"I know it was a bit risky to release something so contrary to people's expectations but then Tu is just one song and there will be more songs," he says. Tu has been produced and released under the 'Room Files' project by Ahsan Pervaiz Mehdi, Ali Pervaiz Mehdi, and Kumail Jaffery.
Being born in a family of giants, the budding musician was never short of inspiration or mentors and everyone in the family has groomed him in some capacity. But does that make him into the spoilt brat of Patiala Gharana? "Not at all," he laughs, "In fact, all that attention was to make sure I meet everyone's standards of discipline and mannerism. As the saying goes, "Sonay ka niwala khilana hai but dekhna bhi sher ki nigah se hai." 
Saadi has been trained in classical singing by his grand-uncle Ustad Hamid Ali Khan who is the youngest and the only surviving brother of Ustad Amanat Ali Khan, while his father Shafqat was always available for guidance. Having said that, the prince of Patiala believes he has learnt equally from the works of his grandfather Ustad Amanat Ali Khan and his pop icon Michael Jackson. He also listens to a lot of ACDC which is his all-time favourite band.
"As an artist, you have to keep yourself open to all kinds of music and opinions. That's what my father did and that's also what Asad chacha did," he exclaims while adding, "I don't think any musician shifted genres as seamlessly as Asad Amanat Ali did and his diversity is just too good to for anyone to replicate."
Today (April 8) also marks Asad Amanat Ali's 12th death anniversary.
The family name and training that Saadi has received is what dreams are made of but it doesn't shield him from the pressures of being an only child. "Both my mom and dad want me to go to university for further studies and they also want me to do well as a musician," Saadi speaks of his conundrum. "For now, I have taken a gap year to make some music. I was just so tired of appearing in exams every six months for my A-levels."
Here's wishing Saadi a great career and even better grades.
Listen to Saadi's track here:
Have something to add to the story? Share it in the comments below.