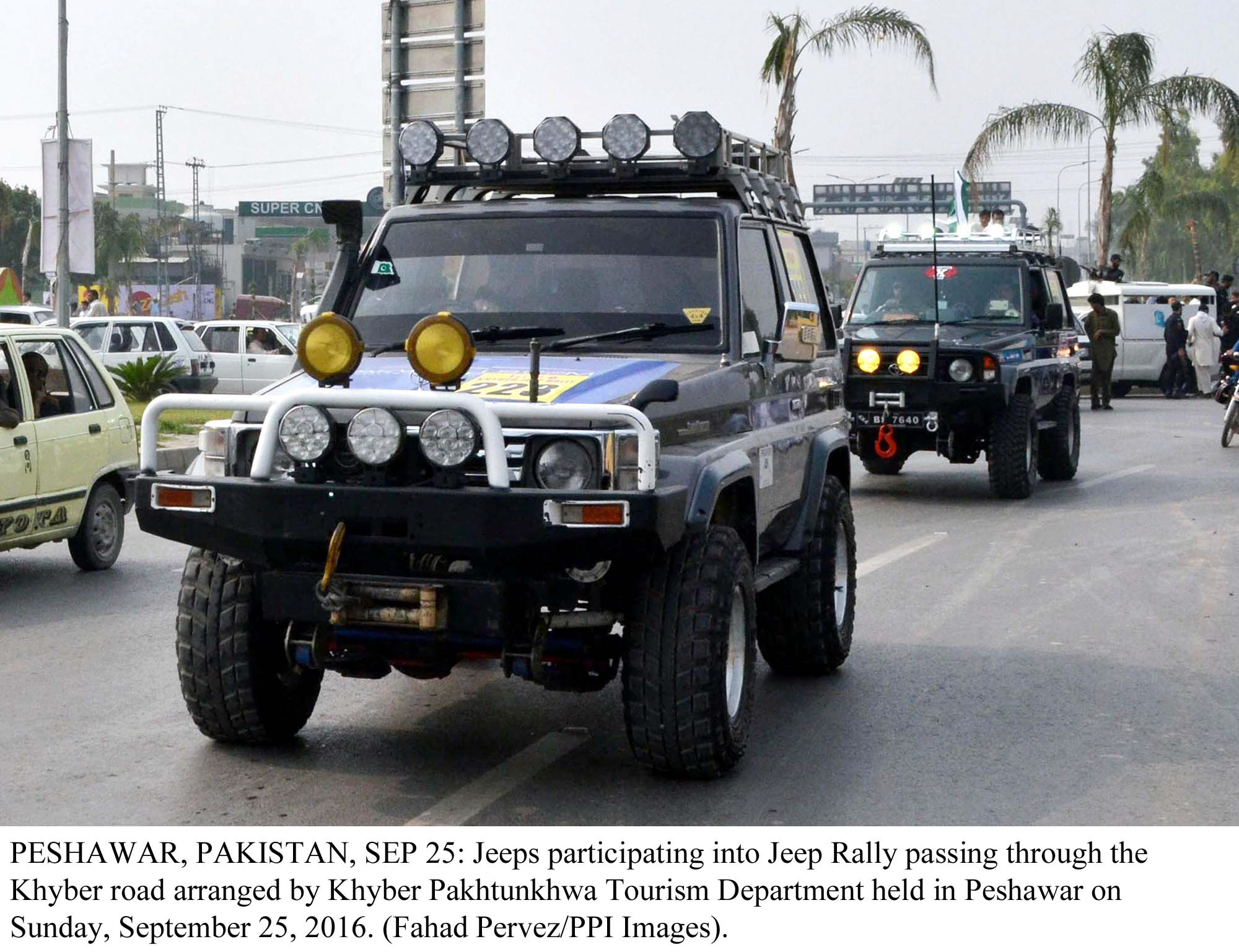 ---
RAWALPINDI: It looked like a scene straight out of one of the jeep rallies shown on television as jeeps of varying sizes and colours tore across the sandy tracks of Chakwal at great speed with gobsmacked locals cheering as they got covered in plumes of dust kicked up by the desert destroyers.

The first-ever, two-day Lake District Chakwal 4x4 Jeep Rally at Thoa Bahadur in Chakwal proved a huge draw, not only for racers but for locals as well who are in the middle of celebrating their annual Mela Jashn-e-Baharan (Spring Festival).

"There are a number of lakes in Chakwal along with historical sites and there is a need to pay attention to tourism in the area at the moment since there is no tourist place in Punjab apart from Murree," stated Federal Health Minister Aamer Mahmood Kiani while inaugurating the second day of the inaugural rally.

The health minister added that tourism was a massive industry the world over, but, no major steps were taken in the country for its promotion despite the presence of numerous naturally breathtaking spots.

He was flanked by the Punjab Minister of Higher Education and Tourism Raja Yasir Humayun, along with Rawalpindi Commissioner Joudat Ayaz, Punjab Tourism Secretary Nadeem Mehboob, Chakwal Deputy Commissioner Abdul Sattar Essani, officials of tourism department and a number of locals were also present.

Kiani added that countries such as Turkey and Malaysia were earning immense foreign exchange annually to the tune of $42 billion and $22 billion respectively.

He lamented that Pakistan was way more beautiful with far more spots on offer than both of these countries, however, it had been left behind since it required attention to turn tourism into an industry but it had been robbed of this attention in the past.

"Negative propaganda and filthy politics must stop as it had weakened the country, besides portraying the wrong image about Pakistan across the globe," he stressed.

The minister added that the Pakistan Tehreek-e-Insaf (PTI) government was implementing comprehensive steps to promote tourism in the country through which the country stands to earn billions of dollars annually.

"The tourism industry will also aid in improving the local economy," he added.

Humayun, who is an MPA from Chakwal and has been personally overseeing arrangements for the rally, reiterated that this was a district with 26 beautiful natural lakes which had earned it the moniker of "Lake District".

He added that the district could develop into a significant tourist hotspot due to its closeness to the motorway and the federal capital of Islamabad.

Recalling the advantages of local tourism, he said that the Cholistan Jeep Rally had started on a very nominal scale with just a few local drivers, but over the years, it had turned into an event of international repute, drawing foreign racers.

In this regard, he disclosed that some 700,000 people now visit Cholistan during the jeep rally which generates critical and immense economic activities for locals.

Further, Humayun said that the Lakhwal, Khai and Dhok Taliyan lakes in CHakwal were unique and incomparable, adding that there were numerous opportunities for local tourism in the district.

To inaugurate the final phase balloons were released in the air.

A large number of racers from across the country participated in the two-day rally. After pre-qualifiers, only 43 racers managed to make it to the final round of the rally. The competition, divided into nine categories, continued throughout the day in which spectators climbed atop sand hills and cheered every driver on.

Published in The Express Tribune, April 8th, 2019.
COMMENTS
Comments are moderated and generally will be posted if they are on-topic and not abusive.
For more information, please see our Comments FAQ