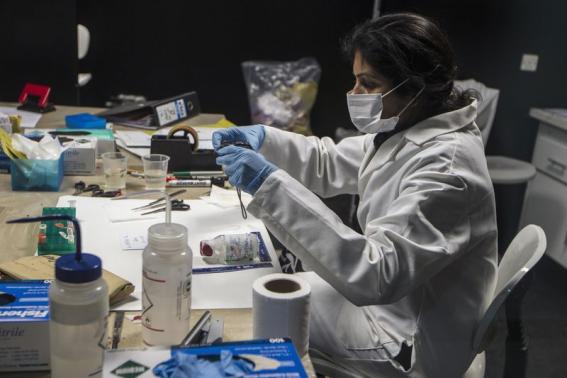 ---
RAWALPINDI: Even as forensic departments have started accepting and examining samples in different parts of Punjab such as Gujranwala and Multan, the forensic science office in Rawalpindi division along with those in Sargodha and Faisalabad have yet to start working.

However, investigators from various agencies still have to refer to the forensic lab in Lahore for a DNA test.

The provincial government had set up the Punjab Forensic Science Agency (PFSA) in Lahore in 2007. Since then, it was the only forensic lab in the country.

But the provincial government worked to set up forensic labs at the division level with investigators directed to submit evidence and samples collected during crime-scene examinations for chemical analysis at the lab closest to them.

But the lab in Rawalpindi is limited to only collecting samples from the crime scene and submitting them in sealed bags to the investigators who then have to travel to Lahore to submit them to the PFSA offices there.

To solve this issue, the division office is now developing means to at least dispatch parcels to Lahore.

Rawalpindi police officer told Daily Express that they have been told that investigators in the Rawalpindi division along with those in Sargodha and Faisalabad will now be able to submit their samples to the Gujranwala division office instead of Lahore, which will help reduce the time it will take to get evidence to forensic scientists— this can be critical in some cases such as those of rape.

Similarly, investigators in Dera Ghazi Khan, Bahawalpur and Multan division can submit their parcels and samples at the forensic science office in Multan.

The officer added that the parcel submission facility should be available at all PFSA division offices as this will help save a lot of time for investigation officer apart from freeing up their resources for other pressing needs.

When contacted, a PFSA officer in Lahore told Daily Express that in samples are usually submitted to the agency's central offices in Lahore only but now Multan and Gujranwala divisions can accept samples as well to facilitate investigators in nearby districts and divisions.

Published in The Express Tribune, April 8th, 2019.