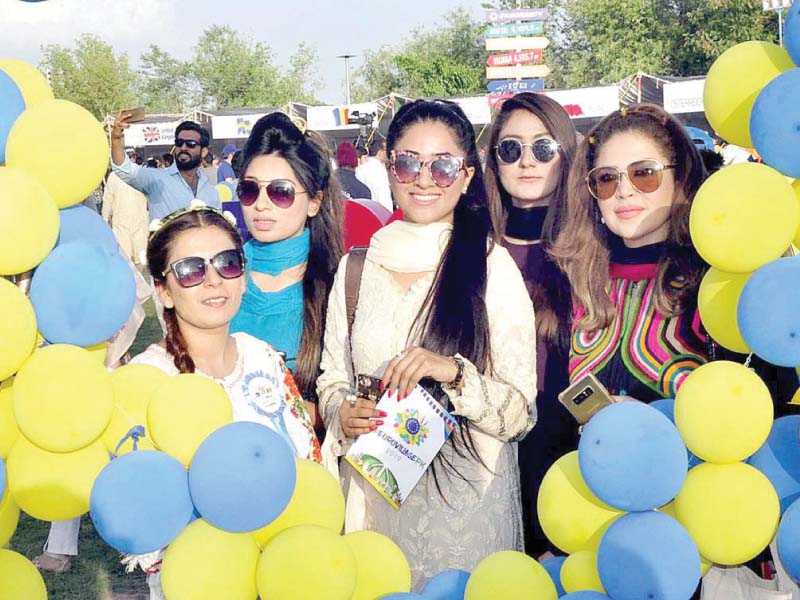 ---
ISLAMABAD: This year, the European Union and its member states in Pakistan once again celebrated Europe Day in a unique manner with pomp and fanfare

A 'Eurovillage' was set up at the Pakistan National Council of Arts (PNCA), Islamabad, on Friday aimed at promoting European culture and values.

The general public were provided with multiple displays of Europe as a culturally rich and friendly place. The EU's as well as the member states' stalls showcased the countries' cultures and traditions, languages, cuisine and music  to Pakistan's general public as well providing as general information about the EU and its member states.

The premises of PNCA were transformed into a genuine carnival with stalls of typical European cuisine There were information and activity booths for adults and children including quiz programmes , selfie walls and giant cutouts of famous landmarks in Europe.

It's a carnival: Europe comes to town

The evening ended with live performances of European bands and an award winning European DJ. Pakistani artiste Meesha Shafi also performed while the famous European illusionist Charlie Caper enthralled the audience with his performance.

Ambassador of the European Union to Pakistan, H.E. Jean-François Cautain recalled that the reason the EU was organising a Eurovillage with participation from the member states was "to remind everyone of the EU's cultural richness while also underlining our unity".

The Ambassador affirmed that "the European Union is, and will continue to be a strong, cooperative and reliable partner of Pakistan. We stand for multilateralism, for human rights, and for international cooperation. We work at home and abroad to promote sustainable development, inclusive societies, and the fight against inequality and discrimination of any type."




Background

The partnership between the European Union and Pakistan has progressed and dates back to 1962 in tandem with the European integration process. In order to further strengthen EU-Pakistan relations the two sides in 2012 adopted a 5-year engagement plan with the common goal of building a partnership for peace and development rooted in shared values, principles and commitments.

The EU-Pakistan 5-year engagement plan came to an end in 2017 and the two sides are now aiming at endorsing a new strategic framework for cooperation that can guide relations aiming at further strengthening the already strong ties between the people of the EU states and Pakistan.

The strategic engagement plan aims at facilitating cooperation on a wide range of issues, including democracy, human rights, rule of law, security, socio-economic cooperation, energy, counterterrorism, military cooperation and migration.

Women entrepreneurs: Team goes to Europe to explore potential for exports

In order to implement the plan a wide range of political dialogues are carried out at all levels from ad-hoc summits between the heads of state and government to sectoral dialogues at technical level between experts in different fields. Today, the EU and Pakistan are not only partners in trade and GSP+ but also important political, security and development partners.

The EU is a strong supporter of Pakistan's democratic development, illustrated by four successive election observation missions from 2002 to 2018, and technical assistance provided to Pakistan's Parliament and to the Election Commission of Pakistan to advance electoral reforms.

The EU is also committed to cooperating with Pakistan in its fight against the shared burden of terrorism and extremism.

At the same time the EU supports Pakistan's efforts to improve its human rights record, in particular in areas such as access to justice, freedom of religion or belief and the rights of women and girls, and provide education, vocational training and economic opportunities for all Pakistanis. Immigration is another area of cooperation, where the two sides have concluded a readmission agreement.

The EU also fully recognises Pakistan's vital role in promoting peace and stability in the South Asian region and beyond, supporting the government's declared goals of improving relations with its neighbours.

Published in The Express Tribune, April 7th, 2019.