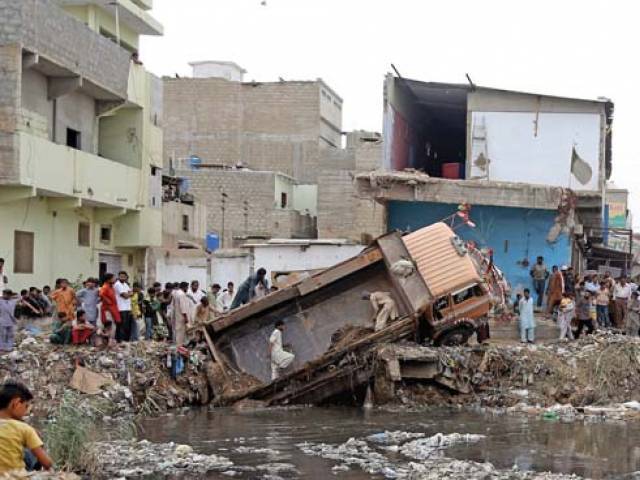 ---
ISLAMABAD: Capital Development Authority (CDA) and Islamabad Capital Territory Administration (ICTA) further geared-up the anti-encroachment operation in Sector E-12.

The operation to get possession of acquired land continued on till Saturday despite it being weekly holiday. During the operation, several illegal constructions and structures built on the acquired land were demolished and 500 kanals of state land was recovered from the illegal occupants.

The operation was participated by the officers and staff of Enforcement Directorate, officers of ICT Administration, Land and Rehabilitation Directorate, Islamabad Police while rangers were also deputed to counter any untoward situation. During this operation heavy machinery of the MPO Directorate was also used to remove constructions from acquired land.

People welcome removal of encroachment in Rawalpindi

During the operation, 186 rooms and 26 boundary walls constructed illegally on the acquired land were demolished and substantial area was retrieved from illegal occupants.

In addition to this an illegal settlement over 150 kanals of state land was illegally occupied by cottages, tents etc. which were all ultimately demolished and the land was recovered from illegal occupants.

During the operation, some miscreants started stone pelting on the teams conducting the operation due to which the person operating the chain shovel and five police constables sustained injuries, all of whom were shifted to hospitals. The elements involved in this incident were arrested in obstructing official work.

CDA has reiterated that operations against encroachments on the state land will continue on without any fear or favour. In order to listen and resolve compensation issues, locals authorities have established a camp office of Land and Rehabilitation Directorate in Sector E-12 so that compensation issues could be resolved on the spot.

Hazardous workshops

Even after a period of 37 years, the Capital Development Authority (CDA) has failed to shift automobile workshops from I-10 Markaz.

CDA had decided to allocate a separate place for workshops which could be hazardous for the environment and human health. For this purpose, it allocated plots in Sectors I-10 and I-11 so that the workshops could be shifted.

However, despite having legal ownership of the land CDA continuously fails to evict the workshop owners who are encroaching on the land.

However, this matter has still not caught the attention of the current CDA recovers 500 kanals of land from illegal occupants
government which claims to be distressed about the cleanliness of populated areas as well as going green.

Similarly, a number of workshop owners in Sector G-7 Khadda Market are reluctant to move their running businesses despite acquiring plots in G-10.

Illegal structures: Anti-encroachment drive starts in residential areas

The well-placed sources in CDA said that around 37 years ago, the government had constructed Sectors I-10 and I-11 with as many as 5,000 plots for CDA employees. Out of which around 500 plots were allocated in both sectors to these workshops.

However, the workshop owners who allegedly colluded with the CDA officials managed to avoid moving their shops despite being given possession of new plots. Furthermore, a decision in this regard was made in 1996 by the administration in which around 335 plots were allocated for these pollutant generating workshops in Sector I-10.

However, many owners, despite acquiring plots did not move and continued working in the same locations. Some owners clearly rejected the government's offer and pursued their activities.

Moreover, it has also been discovered that some shop owners are trying to persuade CDA officials to given them possession of expensive plots. Similar efforts were foiled by the Prime Minister in the previous tenure.

A high official of CDA told Daily Express that the workshop owners had refused to shift their workshops to I-11 because of the unavailability of amenities. However, it was still ambiguous whether they acquired the possession of new plots or not.

Published in The Express Tribune, April 7th, 2019.