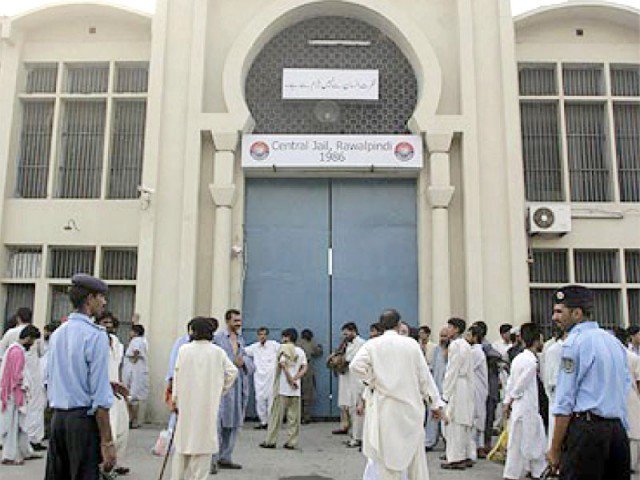 ---
RAWALPINDI: Two prisoners died in Adiala Jail in separate incidents on Saturday.

According to prison authorities, a prisoner, Muhammad Basharat, suddenly collapsed in his barrack. When the other inmates raised hue-and-cry, jail personnel rushed Basharat to the jail's hospital. However, the doctors confirmed his death.

Basharat was arrested by Wah Cantt police in September 2018 in a drug trafficking case. The jail administration, quoting post-mortem report said that Basharat died of a heart attack.

Similarly, another prisoner, Abbas, died in his barrack. He too was serving term in a drug trafficking case. Abbas was a TB patient. Jail administration handed over the body to his family after post-mortem.

Meanwhile a unidentified motorbike riders snatched Rs30,000, two cell phone and debit cards in the reimits of Airport police.

Two Adiala Jail officials suspended over sexual harassment charges

Muhammad Oavis filed a report with the Cant police station that an employee of his company, Muhammad Ali, has stolen Rs314,100.

Bike thieves rode off with Hamid Mahmood's bike in Cantt police limits, Numan Zafar's motorcycle from New Town, and Muhammad Faiz Rasool's two wheeler from Wah Cantt.

Attock car crash

One person was killed and five others injured in a road accident in Attock on Saturday morning. The injured included two women.

Police said the ill-fated incident occurred when a speedy truck overturned in the area of Pindi Road Fateh Jang.

The driver lost control of the truck while taking a sharp turn, policed informed. Resultantly a person died on the spot while five others injured. They further said  the body and the injured were shifted to a nearby hospital. 

Published in The Express Tribune, April 7th, 2019.