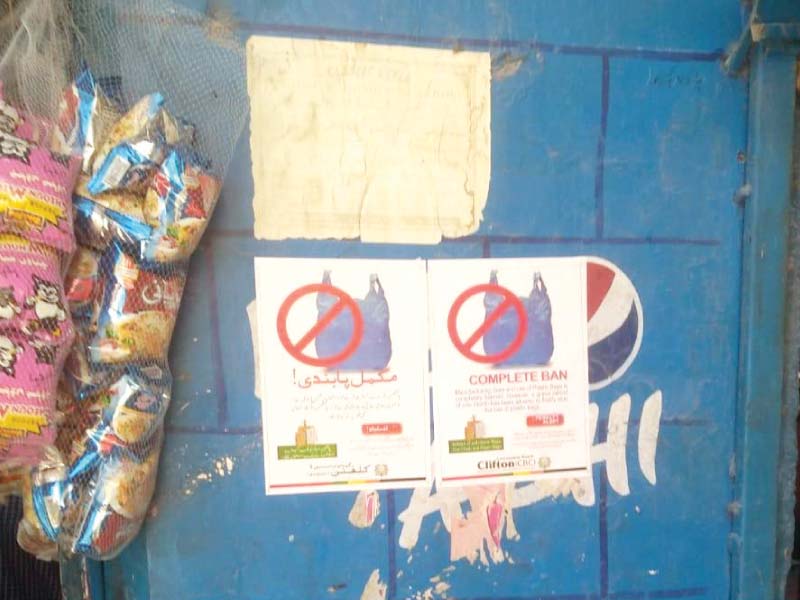 ---
KARACHI: Following the ban on plastic bags by the Cantonment Board Clifton (CBC), banners have been placed outside shops in various markets in the area. Starting from Monday, a three-day awareness campaign will also be carried out, after which implementation will begin. Shop owners will be facing heavy fines along with having their shops sealed if they failed to comply with the ban.

Banners and posters were placed outside all commercial markets within the area including supermarkets. Through the banners, shop owners are being advised to use paper instead of plastic bags. Banners on awareness against the use of plastic bags are also placed in all residential areas within CBC jurisdiction including Sea View as, according to officials, shop owners and residents have to come together to make this possible.

According to CBC officials, announcements will be made in the residential and commercial areas through megaphone during the campaign while pamphlets will also be distributed. The campaign will continue till April 10. In its second phase, implementation will be ensured through vigilance teams. The penalties can range from Rs1,000 to Rs20,000 and strict action will include sealing shops that continue to use plastic bags.  

Published in The Express Tribune, April 7th, 2019.
COMMENTS
Comments are moderated and generally will be posted if they are on-topic and not abusive.
For more information, please see our Comments FAQ