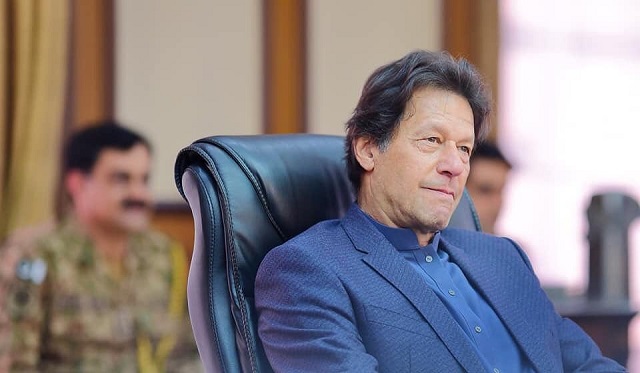 ---
This side of April fools, lay of the land looks something like this:

1. The PTI's performance anxiety is taking a toll. Government bigwigs may harp endlessly on the early fruits of change but the gradually solidifying perception paints a different picture. Frantic activity by all and sundry in the government is generating heat and light but not much sense. Tough economic times are upon us but clear and specific plans to deal with the situation are hard to come by.

What we are sure of: inflation will worsen, growth rate will lower, gas and electricity prices will rise, power outages will increase as will unemployment.

What we are not sure of: how will the government revitalise growth rate, how will it control inflation, how will it reform the FBR and increase tax revenues, how will it raise money to implement its social welfare projects, and what will stop State-owned Enterprises like the Pakistan Steel, PIA, etc. from bleeding billions of rupees every month.

Ignorance is clearly not a bliss.

2. The 'I' in the PTI is less 'Insaf' and more 'Incompetence' if perceptions are to be believed. This is a dangerously slippery slope for the party that claims to represent change and hope. Worse, no effort seems to be visible to halt this slide down the perception slope.

A sense of controlled chaos prevails.

3. In the whirl of governance, much seems lost.

Recall: We will bring back looted money. Not happening. Recall: We will increase tax revenues. Not happening. Recall: We will not go to the IMF and we will not take loans. Happening. Recall: We will not launch amnesty schemes. Happening. And the list goes on.

The rhetoric vs reality situation is turning into a bit of a joke. That cannot be good for a government that is eight months into its five-year tenure.

4. Kaptaan should marvel at his team.

The most important people on his team have underwhelmed us with their performance: Finance Minister, Chief Minister Punjab and Chief Minister Khyber-Pakhtunkhwa.

Imagine the loss of face in eight months: economy in dire straits, Punjab in constant crisis mode and K-P groaning under the gigantic disaster that is the BRT project. The ineptitude at display is stunning. And yet no one seems bothered.

In contrast, many deliverers are being wasted. Arif Alvi would have made a significant difference in the Cabinet and produced performance and his captain would have been proud of him but he has been parked in the Presidency. Shafqat Mehmood could have delivered results in an impactful ministry but he has been shunted to Education which has been truncated after the 18th Amendment. Shireen Mazari could have whipped people into shape but she has been exiled to the Human Rights Ministry.

About the Punjab and KP teams, the less said the better. The captain needs to take a deep look at his team and do what needs to be done before more damage is done.

5. The PTI's obsession with putting the PML-N and the PPP leaders in jail is now paying diminishing returns. This rhetoric was good in the Opposition, not so much in the government. The accountability process is underway in the courts and the law will take its own course. The PTI can score political points at the expense of its opponents — that is but natural — but substituting this obsession with actual work of governance is poor strategy. It may appeal to the PTI base but this base alone is not enough to re-elect the PTI in the next elections.

6. The tirade by Foreign Minister Shah Mehmood Qureshi against fellow-Insafian and arch-rival Jehangir Tareen has re-opened wounds that should have stayed stitched up at this critical stage. Shah Mehmood could have quite easily raised his grievances against Tareen in front of the Prime Minister. The fact that he deliberately and consciously chose to speak to the media directly cannot be without not-so-subtle meaning. What could he have hoped to achieve from this public spat? Who could benefit from it? And how?

The reaction that came should not have surprised Qureshi: most key party people came in support of Tareen. More importantly, the Prime Minister himself cautioned that disagreements should not be aired in public. Qureshi has paid a price. But he must have known he would pay such a price. There is clearly more to the issue than meets the eye. Whichever way you look at it, the PTI does not benefit.

7. This rupture and other stories of infighting at the Centre and in the provinces paint a picture of a party divided along numerous fault lines. If the Prime Minister does not intervene, it seems the conflicts have no way of resolving themselves. The PM cannot be expected to play the referee in all such turf wars. It seems the PTI does not need an opposition to weaken it.

8. The PML-N, on the other hand, is on the horns of a dilemma: how to launch an effective opposition to an incompetent government and yet not be seen as merely defending its leaders' legal issues.

Mian Nawaz Sharif's health problems are dominating his family's attention which means there is little focus on building a potent political narrative. Mian Shehbaz Sharif is putting up a spirited defence in his capacity as Leader of the Opposition but he too continues to be hounded by NAB cases. His son Hamza Shehbaz narrowly escaped being arrested by NAB over the weekend through the court's intervention but he too is burdened by mounting NAB pressure.

The PML-N leadership will need to take some strategic decisions very soon to determine the direction of its politics at a time when a poorly performing government is providing space to its critics.

9. The PPP faces a similar dilemma. The month of April could bear down heavy on Asif Ali Zardari. In the short to medium term, it appears very difficult for Bilawal Bhutto to stitch together a political message that is not diluted by the legacy of his father.

10. IMF, FATF and Budget stare us in the eyes. Serious hazards may be around the corner. Why is the government not preparing the nation for possible fallout?

Lay of the land does not look that pretty.

Published in The Express Tribune, April 7th, 2019.

Like Opinion & Editorial on Facebook, follow @ETOpEd on Twitter to receive all updates on all our daily pieces.
COMMENTS
Comments are moderated and generally will be posted if they are on-topic and not abusive.
For more information, please see our Comments FAQ