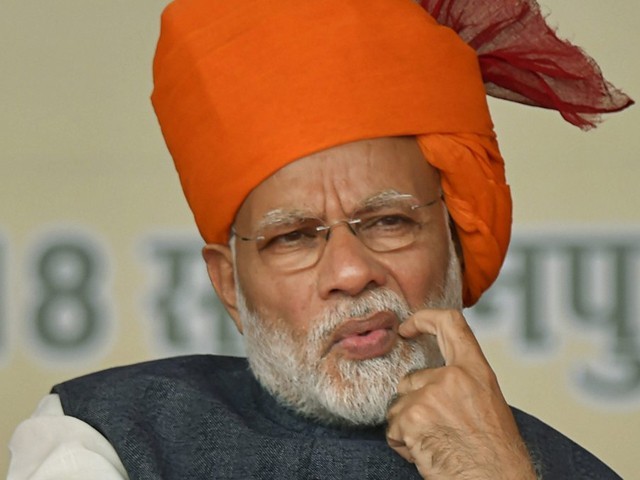 ---
KARACHI: Friday turned out to be a day of embarrassment for the Modi Sarkar as back-to-back disclosures ripped apart Delhi's claim of downing a Pakistani F-16 fighter jet in the February 27 aerial battle over Kashmir.

First, US defence officials confirmed that none of the F-16 jets in the PAF fleet is missing. And then when Delhi scurried to jot down a flimsy rebuttal, the Pakistani military revealed more proof to dismantle the very basis of Indian claim.

Pakistan invited US officials to physically count the F-16 planes after the February 27 air battle, the prestigious Foreign Policy magazine reported in an exclusive report on Friday.

"Some of the aircraft were not immediately available for inspection due to the conflict, so it took the US officials several weeks to account for all of the jets," one of the officials said.

US debunks Indian claims of shooting down PAF F-16

According to the report, two US defence officials with direct knowledge of the matter said the US personnel had done a count of Pakistan's F-16s and found none missing. The count had now been completed and all aircraft "are present and accounted for", the official said.

The F-16s are made by Lockheed Martin and, under an end-user agreement, the US requires the host country to allow for regular inspections to ensure they were accounted for and protected, the magazine said.

The aircraft count quashes the Indian claim that their pilot Wing Commander Abhinandan Varthaman had shot down a PAF F-16 jet before his own MiG 21 was downed by a Pakistani missile in the Feb 27 air battle.

India hurriedly called hand-picked media persons for an in-camera briefing in a bid to control the damage done by the FP report which has gone viral. The Pakistani military said its stance has been vindicated.

"Allah be praised, truth always prevails. Time for India to speak truth about false claims and actual losses on their side, including the second aircraft shot down by Pakistan," the chief military spokesperson, Maj Gen Asif Ghafoor, wrote on Twitter.

ISPR substantiates its stance on F-16 with more evidence

"India needs introspection especially over atrocities in IOK [Indian Occupied Kashmir]. Region needs peace, progress and prosperity," he added.

As if it wasn't enough, the DG ISPR released a photograph showing the intact seekers of all four missiles the MiG-21 Bison jet the PAF shot down had been armed with.

The Bison variant of the MiG-21 that the IAF flies can only carry four air-to-air missiles at a time, suggesting that Wing Commander Abhinandan never got a shot off before his jet was downed.

"The IAF claim of hitting F-16 by their MiG-21 before having been shot down by PAF gets exposed. All four missile seeker heads recovered intact from the wreckage and held," Maj Gen said. "Pakistan and its professional armed forces staying humble by not drum beating. We have more truth on this to share," he added.

The Indian claim of decimating the 'largest terrorist training camp' in Pakistan in the Feb 26 so-called air strike has already been shred to pieces by international media and experts.

Indians poke fun at Modi sarkar after US debunks F-16 downing claim

Talking to The Express Tribune, some of Pakistan's most noteworthy ex-diplomats explained what the latest revelations and others that debunked India's claims mean for New Delhi diplomatically.

"This report by Foreign Policy is a sign that the US endorses Pakistan's version of events," said former foreign secretary Shamshad Ahmed Khan. "It is effectively a slap in India's face."

"Let me say this, the world is now prepared to take New Delhi's claims with a pinch of salt," said former foreign secretary Najmuddin Shaikh. "It may not admit this publicly, but privately at least the international community seems prepared to say Indian claims are not true," added Shaikh, who also heads the Global and Regional Studies Centre at the Institute of Business Management, Karachi.

Pakistan's former high commissioner to India Abdul Basit pointed out that the Balakot air strike and the air battle the day after was not the only time New Delhi had misled both Indian citizens and the international community.

"Everyone knows about the so-called cross-LoC 'surgical strike' that India claimed it carried out but could not prove," he said. "This time, they made this frivolous claim of shooting down an F-16 to cover up their military's shortcomings in both the February 26 Balakot intrusion and February 27 air battle."

Asked why would US authorities be compelled to release such information given Washington's push to cultivate a multi-faceted partnership with New Delhi, both Shaikh and Shamshad said it was a 'requirement in a sense' for the Americans.

"Ordinarily, the US would have steered clear of commenting Pakistani and Indian claims and counter-claims," said Shamshad. "The only reason the US has been pulled into this is because of the F-16 issue."

Shaikh said: "While the ISPR had set aside this question of what plane was used while reiterating no PAF plane was downed, the US had to confirm all Pakistani F-16s were accounted for."