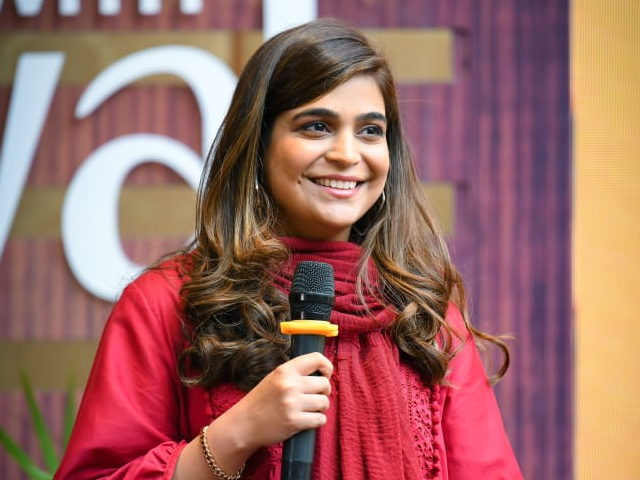 ---
KARACHI: Kanwal Ahmed needs no introduction anymore. As the founder of Soul Sisters Pakistan, she has become a social media sensation and a Facebook Community Leader.

But the 30-year-old has even bigger plans that that. After being invited by Facebook to represent Pakistan at the Facebook Community Leadership Programme (FCLP) last year, Kanwal recently announced that she will be hosting her own talk show, Conversations with Kanwal.

The trailer of the show was very well received, not only by women but men as well. But Kanwal told The Express Tribune that Conversations with Kanwal was a long time coming.


"I've been wanting to do this show for quite some time now. But for quality production, you need funds and I didn't have any," she said over a candid chat. "I tried pitching ideas to several production houses. Maybe it didn't really appeal to them."

So, what was her initial idea and how does she think the show will be different from all the other talk shows? "What I wanted to do was start a talk show where real stories of actual people can be featured without all the added glamour of our regular morning/talk shows," Kanwal explained.

"I don't even know what to say about these shows because there is just so much wrong with them! Even the most important issues are downplayed and ridiculed. Sometimes, the guests are mistreated!"




It was a little over two years ago that the idea came to Kanwal, though she has been managing Soul Sisters Pakistan and its 160,000+ members since 2014. "In 2016, a thought of doing my own talk show came in my mind. But what I hadn't really realised was how much effort goes into it. And again, I had no idea how to fund it," she added. "So, last year when Facebook chose me for the Community Leadership Program, we were informed that we would be given a grant but we had to prove ourselves first. We had to tell them where we would utilise it. So the idea of the talk show came back."

Kanwal added that she prepared a 13-page report on how and why she wanted to do a talk show. She made a strategy and a budget which she presented to Facebook.

"They loved the idea!" she recalled. "Social media is such a powerful tool. It doesn't matter if you have 50 followers or 50,ooo followers...you still have a power to influence someone," the entrepreneur continued.




"Since Soul Sisters Pakistan was growing rapidly, it was a great opportunity for me to take the conversations happening in the group to the outside world. Other people, men for instance, had to become a part of the conversation too!"

Once the budget was accepted, Kanwal reached out to Faheem Azam (director of Conversations with Kanwal), who loved the idea of having a talk show that was different from the rest. "That's when we started collecting stories from the group; stories that I thought the world genuinely needs to hear. We only had space for 12 episodes so we picked one story for each," she went on.




"They're all very inspirational. But each story is completely different from the other one. Every story has one core issue that it's discussing."

But as Kanwal mentioned earlier, developing the show wasn't a bed of roses. "A week before our first shoot, we realised we don't have the set. Now, the thing is that initially, we had a very different idea of how we were going to go about this whole thing. We didn't need a set then so I never included it in the budget," she said. "But now we were in a fix. I called up Adil Moosajee. He owns a restaurant in Karachi and just offered me it. No charges, nothing! I was blown away by his kindness."


Conversations with Kanwal will comprise of stories from women which need to be heard. "It takes a lot of courage for one to come on screen and share their stories. We will be discussing a lot of topics that society generally shies away from. I was glad to see so many stories from so many women," Kanwal concluded. "Some did back away - I won't lie - but I understand that as well. These women are so strong. And I hope we can keep raising our voices for them."

Have something to add to the story? Share it in the comments below. 
COMMENTS
Comments are moderated and generally will be posted if they are on-topic and not abusive.
For more information, please see our Comments FAQ