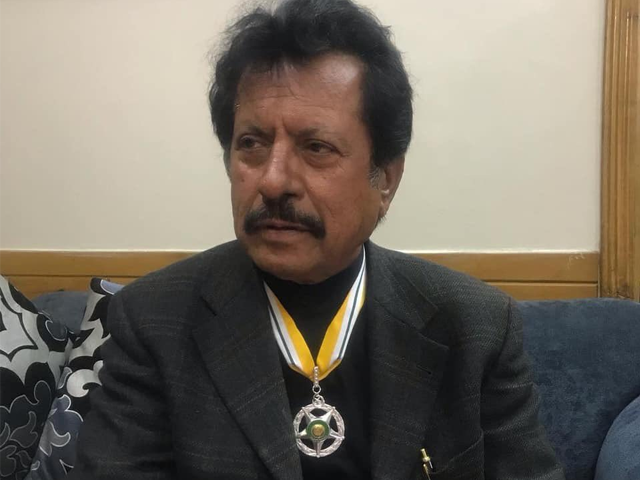 ---
KARACHI: "In the beginning the Universe was created. This has made a lot of people very angry and been widely regarded as a bad move," wrote Douglas Adams in The Hitchiker's Guide to the galaxy."

The last couple of days may have made Attaullah Esakhelvi draw similar conclusions about the Internet after a rumour of his demise went viral as fake news.




He remained as calm as the restless Romeos he usually sings about (pun intended) and eventually took to social media to silence the naysayers in a rather subtle but very positive video message.



In a two minute video, Esakhelvi shared, "I'm perfectly fine, as you can see. I was hospitalised last week but that only affected one of my shows. I went on to conduct my Multan show recently. I have another show coming up on April 13 in Dubai."




He continued, "I was informed of some of the bizarre rumours circulating the social media. However, I'm extremely grateful to everyone who prayed for my speedy recovery. I couldn't stand properly while I was receiving this civil award but I can walk just fine now."

He concluded, "For those who have spread baseless rumours regarding my death, I bear no ill will towards you. May God guide you towards the right path."




Lala was under observation in a local Lahore hospital for the past few days due to a problem in his backbone. Ironically, the rumours started spreading when he had actually been discharged from the hospital and was resting.

Last night, both Facebook and Twitter were full of 'confirmed reports' and heartfelt condolences. So much so that the official Facebook page of Base Rock Cafe, a space widely followed by pop-rock musicians also put up a post observing his demise.




Right after that The Express Tribune reached out to Lala only to get a confirmation from his acquaintance that he doing well and resting. Sigh!

The posts continued to pour in so much so that Lala had to respond to one of our correspondents over the phone as evidence of how well he was doing.

While there's no doubt that social media actually turns out to be a mistake and not a blessing at times, a little patience by the keyboard Jihadis would save us some slack.

Here's wishing Lala the best of health and happiness.
COMMENTS
Comments are moderated and generally will be posted if they are on-topic and not abusive.
For more information, please see our Comments FAQ