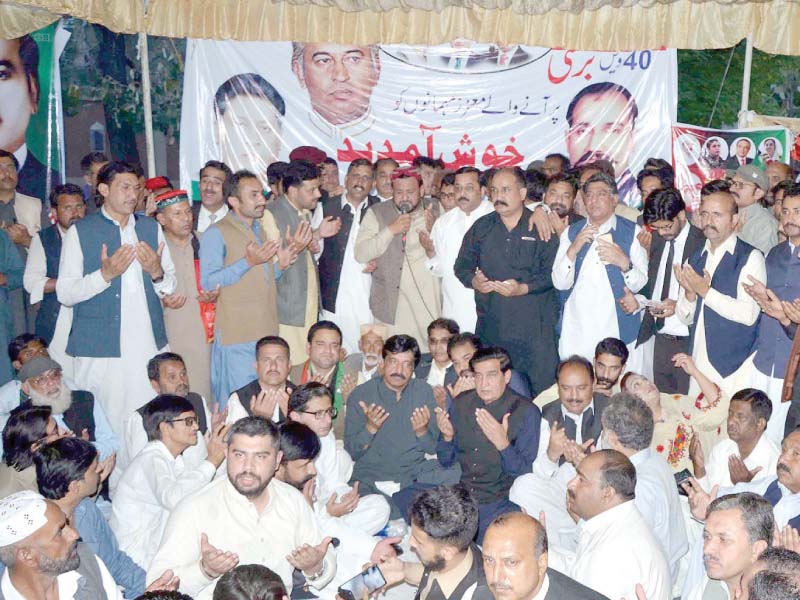 ---
RAWALPINDI: Pakistan Peoples Party (PPP) members in Rawalpindi on Thursday gathered at a spot in Jinnah Park, where the city's central prison once stood and offered fateha for their party's founder Zulfikar Ali Bhutto.

Bhutto had been hanged by the General Ziaul Haq's government on April 4, 1979.

During the day on Thursday, PPP supporters and workers kept trickling into Jinnah Park. Periodically, a new group of supporters or individuals would come and sprinkle flowers over the very spot their party's founder was executed and they would then gather around the spot, with their arms raised, offer a prayer and then disperse.

A large contingent of lawyers aligned with the PPP also visited the spot and offered fateha.

The PPP Lawyers Wing President Shahid Mughal, along with other office bearers including Asad Abbasi, Israr Abbasi, GM Shah, PPP Cantonment President Malik Zaheer Arshad, Babar Ali, Sajid Tanoli and Chaudhry Noor Khan. A group of PPP women supporters, led by the PPP District Women's President Sameera Gul, and Kausar Altaf also visited the spot.

PPP Worker Haji Gulzar Awan, PPP Workers Movement Chief Malik Riasat, and Aban Rizvi also led a group of PPP workers who offered fateha at the spot.

Apart from offering fateha, some also held Quran Khawani.

PPP Rawalpindi City Chief Babar Sultan Jadoon, Secretary Chaudhary Iftikhar and other leaders spoke on the occasion.

They raised the party's slogan that "Bhutto was still alive". Further, they said that those who had tried to wipe out Bhutto's name from history, today they have been forgotten by history themselves.

Further, they said that Bhutto had gifted the country the first session of the Organisation of Islamic Conference (OIC), the nuclear programme and steel mills.

Moreover, they said that the atomic programme eventually provided the country with a potent source of defence in perpetuity.

They said that even though the current government had claimed they stood for change, they were still raising Bhutto's slogans of providing food, clothing, shelter and healthcare to the masses.

Referring to the recent arrests of PPP workers in the twin cities, they said that they were not afraid of being handcuffed or sent to jail.

"Fake references are being cooked up against our party leaders. They have been acquitted by courts in the past and will be acquitted again," they maintained.

They added that the government had failed and that they should resign.

They also made arrangements to stream PPP Chairman Bilawal Bhutto Zardari's speech during the event. 

Published in The Express Tribune, April 5th, 2019.