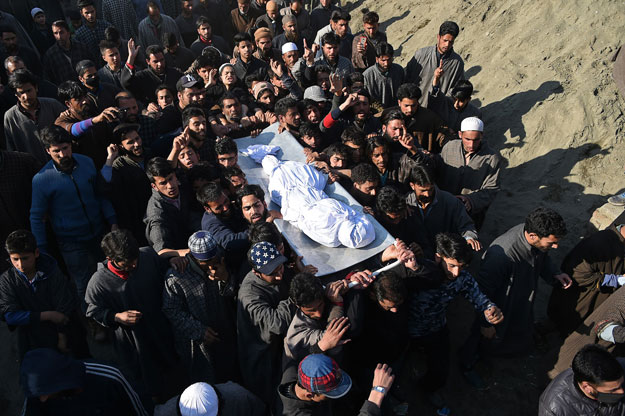 ---
The occupied Jammu & Kashmir has been bleeding for about three decades under New Delhi's brutal suppression of a popular uprising there. Yashwant Sinha, the former finance and foreign minister during the BJP government of prime minister Atal Vehari Bajpai, had in January this year lamented that "Indian forces are killing innocent Kashmiris by using 'brutal force'. The Indian government is relying on the army to resolve the Kashmir matter." Sinha revealed, "We are not losing but have lost control over Kashmir."

In the year 2019, Kashmir has become India's 'bleeding wound' because of large-scale demonstrations by Kashmiri Muslims against an unprecedented use of force by Indian troops, particularly the use of 'pellet guns' against unarmed protestors. A hundred thousand people have been killed in occupied region since the outbreak of the uprising in 1989. The Indian policy of 'exclusiveness' of J&K has reached its peak as the Lok Sabha elections scheduled in April-May this year will not be held in the occupied region. New Delhi has not only banned the Jamaat-e-Islami but also the Jammu & Kashmir Liberation Front (J&KLF) leading to widespread protest marches in Srinagar and elsewhere. As many as 50 EU parliamentarians have recently written a letter to the Indian Prime Minister to immediately stop the use of pellet guns in Kashmir and repeal the infamous Armed Forces Special Powers Act for the valley. The letter demanded "independent and impartial investigation into all accidents where the use of pellet-firing shotguns led to deaths or serious injuries".

The level of alienation against the unabated use of force, torture, abduction, rapes and killings in the valley of unarmed civilians by Indian security forces has reached its peak. Even Farooq Abdullah and Mahbooba Mufti, the former chief ministers of the occupied state, who had soft corner for New Delhi have resented the way things have been messed up. The Indian contention about the occupied Kashmir as its 'integral part' has lost its relevance because an overwhelming Kashmiri population considers the Indian military as an occupying force.

India is losing Kashmir because of three main reasons. First, its policy of repression and brutal handling of protests against the occupation forces. If occupied Kashmir is an integral part of India, in that case New Delhi should have dealt with the people of that state on an equal basis and not excluding them from the rest of the country. When Kashmiri Muslims are humiliated, degraded and pushed to the wall, the feelings of separatism from India deepens. Second, the present generation of Kashmiri Muslims — unlike their predecessors like Sheikh Abdullah of the National Conference — means business. They are not ready to be part of a state which has let them down and reduced them to a third-degree citizen. The youths of Kashmir, suffering at the hands of the Indian government and its military, are unwilling to trust New Delhi as India not only reneged on Article 35-A (earlier Article 370) of the Indian constitution which gives special status to the people of J&K but has transformed the valley into a big military garrison and a concentration camp. There are countless documented evidences to prove how the Indian military has behaved with the Muslim population of the occupied region by indiscriminately using pellet guns against peaceful protesters and indulging in mass rapes, abductions, torture and killings. Even if the BJP loses elections, there is no way New Delhi can win the hearts and minds of the Kashmiris.

Third, wounds inflicted on Kashmiri Muslims after the February 15 Pulwama attack in which 40 Indian Reserve Security Force personnel were killed cannot be healed. In several Indian states, Hindu fanatic mobs — led by the Shiv Sena and other Hindu nationalist groups — targeted Muslim Kashmiri students, businessmen, traders and workers. They were dragged from their classes, hostels, shops and homes and beaten up mercilessly by Hindu mobs. Hundreds of Kashmiri Muslims had to escape from such brutalities and reach their homes in the occupied region after much ordeal. The nature of such attacks had become so serious that the Indian Supreme Court had to instruct Indian states and union territories to give protection to Kashmir Muslims. Many of them had to take refuge in mosques and some were given shelter by Sikhs and Hindu sympathisers. Will the Kashmiri students, who became a victim of Hindu attacks, forget such happenings? Certainly not. Their hatred against India is now irreversible. The backlash against Kashmiri Muslims after the Pulwama attack in different Indian states as well as occupied Jammu further deepened their alienation against India.

Unfortunately, except for some isolated voices in India which condemned the backlash against Kashmiri Muslims, the rest of the country remained indifferent. Such an attitude which is tantamount to further encouraging Hindu extremist groups augmented hatred against India. Even those Kashmiris, who were in favour of remaining part of India with a special status, are now having second thoughts. Not only were the lives of Kashmiri Muslims made miserable in different parts of India after the Pulwama attack, the Kashmiris were even asked to leave India for Pakistan.

Such aggressive and chauvinistic characteristics of the Indian society are, however, a relatively recent phenomenon. Bringing demographic transformation, particularly in the Valley of Kashmir, is a major priority of the BJP but for that it has to repeal Article 35-A of the Indian constitution — something that requires a two-thirds majority in Lok Sabha (lower house) and Rajya Sabha (upper house). But merely getting a two-thirds majority in both houses of Indian parliament will not accomplish the objective of the BJP of undoing Article 35-A as it also requires the consent of the J&K's state assembly — something that seems impossible. The occupied West Bank model — whereby Israel has settled hundreds and thousands of Jews, thus transforming the Palestinian majority into a relative minority — is the one which Narendra Modi wants to adopt but is caught in legal complications.

Article 35-A has been challenged in the Indian Supreme Court but so far the court has not given a verdict terming the issue quite sensitive. In case Article 35-A is repealed, any Indian citizen can then buy a property in occupied Jammu and Kashmir and obtain permanent residence. Hence, non-Kashmiri residents will also get voting rights which will certainly alter the demographic complexion of the Valley of Kashmir which has a 90% Muslim population.

Muslim Kashmiri political parties and groups have warned that repealing Article 35-A will be tantamount to crossing the 'red line' and will have serious ramifications. But Arun Jaitley, the Indian Finance Minister, calls Article 35-A "constitutionally vulnerable" which is also hampering economic development of the state. Furthermore, a senior BJP leader and in-charge of the party's campaign committee for general elections has stated that Article 35-A was "surreptitiously" included by a presidential notification in the constitution in 1954. It was not a part of the original constitution framed by the Constituent Assembly. It was a presidential notification and is a surreptitious executive insertion in the constitution." He lamented that the Article gives the right to the state government to discriminate between two citizens living in the state on the basis of declaring some as permanent residents while leaving out others.

Certainly, the status of Article 35-A will be an issue in the forthcoming Indian general elections and if the BJP comes to power it will use all possible means to undo that article and end special status given to J&K — something that would have a destabilising effect not just in occupied Jammu and Kashmir but whole of Indian society.

Published in The Express Tribune, April 5th, 2019.

Like Opinion & Editorial on Facebook, follow @ETOpEd on Twitter to receive all updates on all our daily pieces.