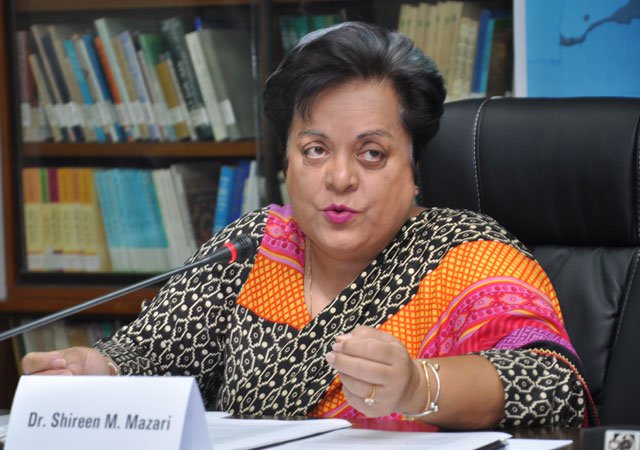 ---
ISLAMABAD: Federal Minister for Human Rights Dr. Shireen Mazari, during her visit to the Belgian capital, Brussels, has expressed her serious concern over the state terrorism being perpetrated by Indian forces in Occupied Kashmir and has highlighted the need for a peaceful resolution of the Kashmir dispute, adding that Indian atrocities in Occupied Kashmir were increasing with each passing day and that the international community must take immediate notice of the human rights violations. She made the comments at a dinner hosted by Pakistan's Ambassador to the European Union Naghmana Hashmi on Wednesday. Mazari also condemned the ruthless torture of women, children and youth in the occupied territory and thanked European parliamentarians for raising their voices in support of Kashmiris. She also stressed the need to take effective measures to ensure Kashmiris' right to self-determination and called on the European parliament to take further steps to highlight the issue. All parliamentarians present on the occasion expressed their support for the minister's comments.

Addressing European parliamentarians, members of the European Commission, and think tank and local media representatives at the dinner, Shireen Mazari highlighted the responsible attitude demonstrated by Pakistan in the wake of India's efforts to create panic and disrupt the peace in Kashmir. The minister asserted that the Pakistani government had prioritized economic and social development and the country wanted to establish peaceful relations with all neighbouring countries, the opening of the Kartarpur border being a prime example in that regard. She, however, regretted the fact that the Modi government, for its own political motives, had always sabotaged Pakistan's efforts for peace, opposed peace talks and portrayed the opening of the Kartarpur border as a political stunt.

Shireen Mazari also held a detailed meeting with the chairman of the European parliament's committee on religious freedom and belief, John Fegal, and expressed her concern on the increasing Islamophobia, prejudice and hatred against Muslims. She urged the European Union to take effective steps to ensure religious freedom for the continent's Muslims so that they could easily perform their religious rites and rituals without fear. Mazari also briefed Fegal on legislation and steps taken by the Pakistani government and her human rights ministry to ensure the safety and welfare of women, children, minorities and transgender individuals. John Fegal, for his part, lauded the practical measures being taken by the current Pakistan government to promote and protect human rights in the country.
COMMENTS
Comments are moderated and generally will be posted if they are on-topic and not abusive.
For more information, please see our Comments FAQ