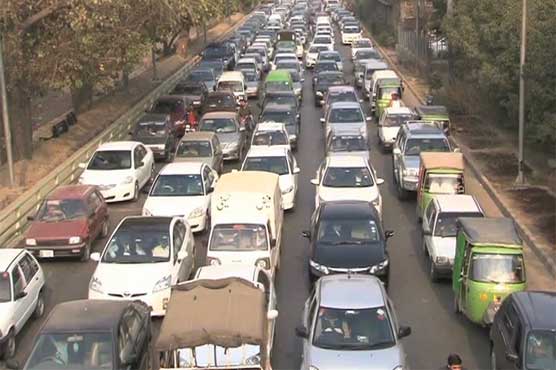 ---
LAHORE: Various protests caused a massive traffic jam in the provincial capital on Monday.

Mall Road, the main traffic artery in the city, was blocked as a result of the protests.  One of the demonstrations has been continuing for the past seven days and is being staged by professors and lecturers throughout the province.

The protester's demands include implementation of service and pay protection, lifting of the one-and-a-half-year old ban on promotions and introducing a five-layer formula on the pattern of the one in Khyber-Pakhtunkhwa (K-P).

The protest also caused gridlocks on different roads, including Mall Road, as the traffic police had created diversions at different points.

In addition to this, visually-impaired individuals protested for their rights in front of the Lahore Press Club (LHC). They demanded a job quota for visually challenged persons and a permanent status for those working on contract.

The blockade affected traffic on Davis Road, Empress Road, Allama Iqbal Road and others. Bumper-to-bumper traffic, blaring horns and agitated citizens exchanging colourful language painted a complete picture of the situation.

Many remained stuck in traffic for hours and faced delays in reaching their destinations. Zainul Abideen, a commuter, said that he had to travel to Saffan Wala Chowk on Mozang Road from Garhi Shahu.

"Due of the traffic jam, this journey took me more than one-and-a-half hours. Normally, it doesn't take me more than 30 minutes," he said.

City Traffic Police Lahore deployed extra wardens to maintain the traffic flow while also creating diversions on roads leading towards the protests. They also guided citizens to alternative routes.

Mall Road is the hub of economic activity while many government buildings, offices and educational institutes are located there. Further, several other roads converge on the thoroughfare. Blockades on Mall Road impacts traffic throughout the city, directly affecting Queens Road, Mozang Road, Cooper Road and Ferozpur Road to name a few.
COMMENTS
Comments are moderated and generally will be posted if they are on-topic and not abusive.
For more information, please see our Comments FAQ