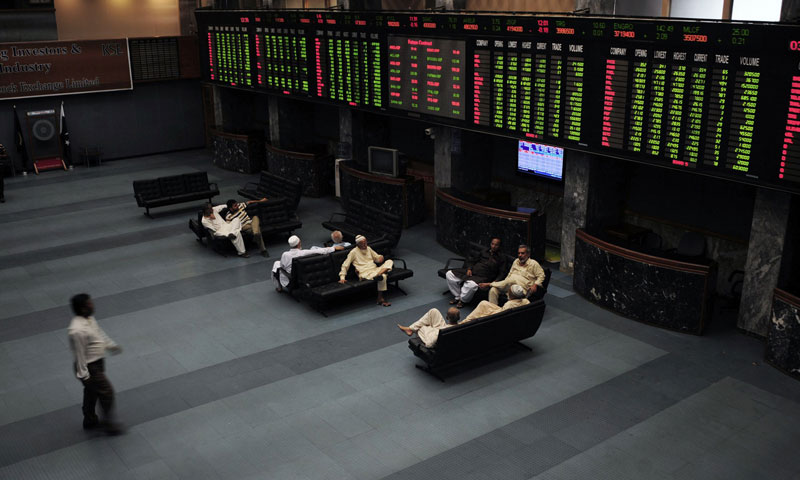 ---
KARACHI: In the aftermath of the monetary policy announcement by the central bank, the stock market witnessed a dip of nearly 420 points during the trading session on Monday.

Trading began on a negative note as the KSE-100 index plunged owing to a hike in the interest rate as the stock prices adjusted downwards. This was despite the decision being in line with expectations. Investor interest remained weak and the overall performance was very dull.

Concerns on the increase in the cost of doing business due to the recent rise in prices of petroleum product led to underperformance of key manufacturing sectors.

At the end of trading, the benchmark KSE 100-share Index recorded an increase of 294.49 points or 0.76% to settle at 38,354.85.

Market watch: KSE-100 gains 96 points as uncertainty grips market

JS Global analyst Danish Ladhani said the market remained lacklustre as the selloff was witnessed in the cements due to the policy rate hike by 50 basis points (bps) to 10.75% by the State Bank of Pakistan. LUCK (-2.4%), DGKC (-1.8%) and MLCF (-3.6%) closed in the negative zone.

"Selling was seen in fertilisers due to weak off-take numbers where ENGRO (-1.4%), FFC (-1.0%) and EFERT (-0.8%) were the major laggards. Despite policy rate hike by the SBP, pressure was seen in banks. HBL (-0.4%), MCB (-0.3%) and UBL (-0.4%) were the major laggards."

As per the company notice, HUBC (+5%) has decided to offer 12.5% right issue (139.9 million shares) at a price of Rs50/share (Rs40/share premium) to raise its equity stake from 26% to 47.5% in CPHGC.

HUBC closed limit up. PPL (-1.6%), HBL (-0.4%), OGDC (-0.2%), ENGRO (-1.4%), MCB (-0.3%), FFC (-1.0%), POL (-0.5%) and LUCK (-2.4%) cumulatively contributed down 130 points to the negative closing.

"We expect market to remain range bound and recommend investors to stay cautious in the short run."

Market watch: KSE-100 surges over 600 points as clarity emerges in IMF talks

Overall, trading volumes decreased to 65.9 million shares compared with Friday's tally of 137.7 million. The value of shares traded during the day was Rs2.81 billion.

Shares of 321 companies were traded. At the end of the day, 62 stocks closed higher, 243 declined and 16 remained unchanged.

Unity Foods (R) was the volume leader with 14.2 million shares, losing Rs0.16 to close at Rs2.53. It was followed by The Bank of Punjab (XD) with 5.4 million shares, losing Rs0.06 to close at Rs12.96 and Sui North Gas with 4.5 million shares, gaining Rs0.16 to close at Rs75.27.

Foreign institutional investors were net buyers of Rs62.5 million worth of shares during the trading session, according to data compiled by the National Clearing Company of Pakistan.