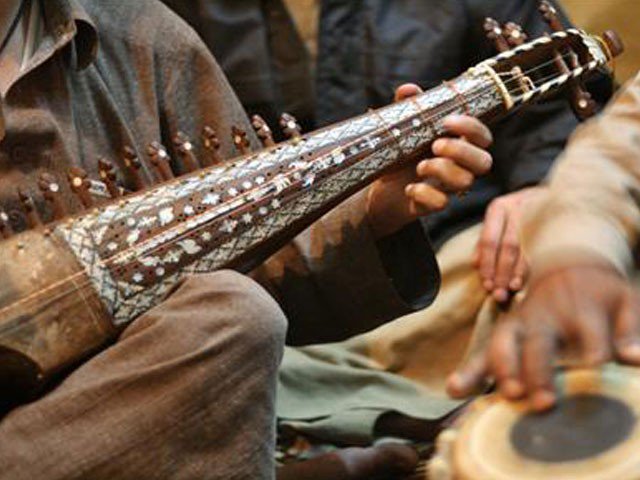 ---
RAWALPINDI: With the ubiquity of digital devices to facilitate the process of consuming music, there has been a mini-revival of music in the country. This has helped breathe new life into the musical instrument business in Rawalpindi

Not too long ago, the musical instruments market along Shah Allah Ditta Road, perhaps the last refuge of these largely forgotten classical music instruments, was on its last leg with just one music shop left in the market.

But in the blink of an eye, around a dozen music shops have opened up hoping to cash in on the renewed interest of the young in music and it appears as if the shops are insufficient to cater to the still rising demand.

A trip to this fledgeling music allows one to warp to a small slice of musical heaven with a host of different musical instruments displayed outside the stores such as traditional drums 'tablas', larger drums 'dhols' guitars, sitar, rababs, harmoniums and others.

During operating hours, the market appears to be packed with music lovers who are found moving between different shops either looking for the right musical instrument or particular musical accessories.

Apart from stocking different instruments brought from different places, a number of instruments are also manufactured and repaired by skilful craftsmen. The craftsmen, who make each of their instrument by hand, were attracted to the area due to the mushrooming music market and consider the rejuvenated market as a great opportunity.

Zain Ali, a skilled craftsman who repairs musical instruments in the market, said that he had been in this profession for the past 20 years.

Talking about the difference between when he first started out and now, he disclosed that previously they were looked down upon by other members of the society. But with a mini-revival of music in the country, especially in the twin-cites of Rawalpindi and Islamabad, the situation now has turned on its head and they are respected for their skill and craft.

Asked about the musical instruments for which they face the most demand, Ali explained said that apart from handmade instruments, a large number of their customers were interested in procuring more modern musical equipment which operates using electricity.

He added that owing to the recent trend of learning music, the market has become a focal point from where instruments are supplied not only to the twin cities but across the country as well.

Explaining the process of making instruments by hand, Ali said that making musical instruments was a tedious affair requiring practised hands and precision in the way they make the instrument and that it was far more difficult than to just play them.

He lamented that the government was not paying any heed to this industry, adding that if the government focuses on it, the industry can produce huge employment opportunities for youngsters.

Tufail Labay, another skilled craftsman whose family has been in the business of making instruments for generations, said that his great-grandfather, grandfather, father and his own son were all associated with the profession of making and selling musical instruments.

He backed up Ali's claim of an increase in the number of music lovers in the country which has given a boost to this flagging industry. Apart from supplying instruments across the country, Labay said that some instruments made in the market are also supplied to different countries including India, Canada, Britain, and the USA with a number of foreign visitors ending up in their market to procure handmade musical instruments of high quality.

Muhammad Hammad from Hasan Abdal, who was browsing the market for a handmade guitar, adding that all of his friends were quite passionate about learning the instrument.

He added that learning and playing music was a productive pastime and were better than wasting time on social platforms like some of his peers. Hammad added that youngsters can now earn a substantial amount if they can master a particular musical instrument.

A professional musician visiting the market added that the art was not only fulfilling creatively but was now also offering them a respectable living and hoped that the industry would prosper in the future.





Published in The Express Tribune, April 1st, 2019.
COMMENTS
Comments are moderated and generally will be posted if they are on-topic and not abusive.
For more information, please see our Comments FAQ