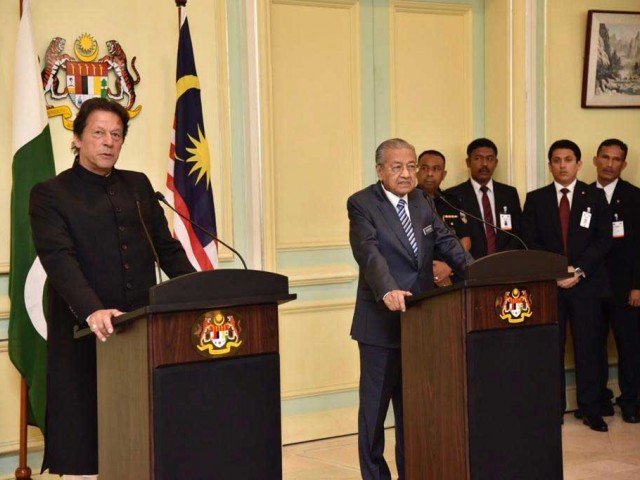 ---
KUALA LUMPUR: Prime ministers of Malaysia and Pakistan have one common belief - corruption is the major obstacle to development.

For Imran Khan, it is the corruption which is the main reason for under-development, inequality and backwardness of Pakistan. It was evident in his election campaign and in fact his entire political career, which is singularly based on a call for anti-corruption and accountability.

For Mahathir Mohamad, it is the corruption which is the main culprit in obstructing Malaysia's progress to a developed country status. In the historical elections of May 2018, Mahathir-led coalition Pakatan Harapan (Alliance of Hope) fought on a two-point agenda - reduce the cost of living and control corruption.

Malaysian PM Mahathir shows interest in JF-17 Thunder as he concludes Pakistan visit

It is of no surprise, that one of the first major comprehensive policy announcements by the Mahathir government was the National Anti-Corruption Plan (NACP), unveiled on January 29, 2019 and now being implemented under the Prime Minister Department through what is called National Centre for Governance, Integrity and Anti-Corruption.

The goal of the NACP is to create a corruption-free society governed by the principles of integrity, accountability and transparency. NACP serves as the primary anti-corruption policy framework for different government agencies and ministries so that they may develop their own organisational anti-corruption plan.

It identifies six key corruption-prone risk areas - political governance, public sector administration, public procurement, legal and judicial, law enforcement and corporate governance.

Based on corruption trends from 2013 to 2018, the public sector was found to be more vulnerable to corruption with a vulnerability rate of 63.30% compared to the private sector (17.06%). One reason cited is the weak governance in the public procurement system.

From 2013 to 2018, the Malaysian Anti-Corruption Commission found that the procurement sector recorded the highest number of complaints (42.8%). Malaysia administers a very unique public procurement system with special quotas for the Bumi Putera (Malay-Muslims/sons of soil) owned firms.

As a matter of fact, there are several facets of institutionalised nepotism in Malaysia, which are commonly known. Another mechanism is the outsourcing of foreign labour hiring, immigration and job placement system, which is run by politically connected firms and individuals, who often create difficulties for the poor labour and their families who have to pay heavily to get a low-paying job.

As historically, until the elections of 2018, Malaysia was practically a dominant single-party state and the politically connected had only one meaning - you have to be a member of the United Malay National Organisation (UMNO) to get special government contracts and concessions.

In other words, corruption in Malaysia has been institutionalised and, let me say, legalised. The infamous 1 MDB scandal, which is the biggest fraud in the world's corporate history, is rooted in Malaysia, though with considerable international connections.

Despite all this, Malaysia still developed significantly and is about to become part of the league of developed countries. It means that corruption, as such, did not pose a major hindrance to the Malaysian miracle. It is possible, on the other hand, businesses have incorporated the cost of corruption and still deliver goods efficiently.

I am not condoning corruption here obviously. However, there is a need to understand what kind of corruption becomes a real drag on economies. Pakistan offers a good example, where corruption is widespread and pervasive. It is generally believed that even a simple transaction with any public office cannot be completed without greasing palm.

Anything from obtaining a copy of land registry to a desirable decision by the Economic Coordination Committee has to pass through these unofficial channels. In this way, corruption in Pakistan manifests red tape. In fact, many transactions, which ultimately attract corrupt practices, will not be needed as a result of the process of reforms.

In this sense, there is not much corruption in Malaysia. The citizen's daily experiences in the police station, passport office, business registration departments, tax authorities, etc are cordial and they do not expect to be asked to pay bribe. Malaysians have achieved it after a long process of reforming the systems, though now there is a renewed call for overhauling the system, especially addressing corruption at high levels.

It is the daily experience in common life which builds up our expectations and impressions about the system in general. Obviously, in Pakistan, the experience of an average citizen with the public interface is completely opposite.

I draw a paradoxical lesson for Imran Khan from the Malaysian experience. Do not start from the top; start fixing corruption from the bottom, which is politically easy, fiscally possible and does not scare investors. It means that police stations, lower courts, tax inspectors, labour inspectors, patwari, etc have to be cleaned first before a top-heavy anti-corruption campaign can be made more effective. The current anti-corruption campaign must be turn on its head.

The writer is the founder of PRIME Institute, an independent think tank based in Islamabad. He is currently based in Malaysia heading the Institute for Democracy and Economic Affairs, IDEAS



Published in The Express Tribune, April 1st, 2019.

Like Business on Facebook, follow @TribuneBiz on Twitter to stay informed and join in the conversation.
COMMENTS
Comments are moderated and generally will be posted if they are on-topic and not abusive.
For more information, please see our Comments FAQ