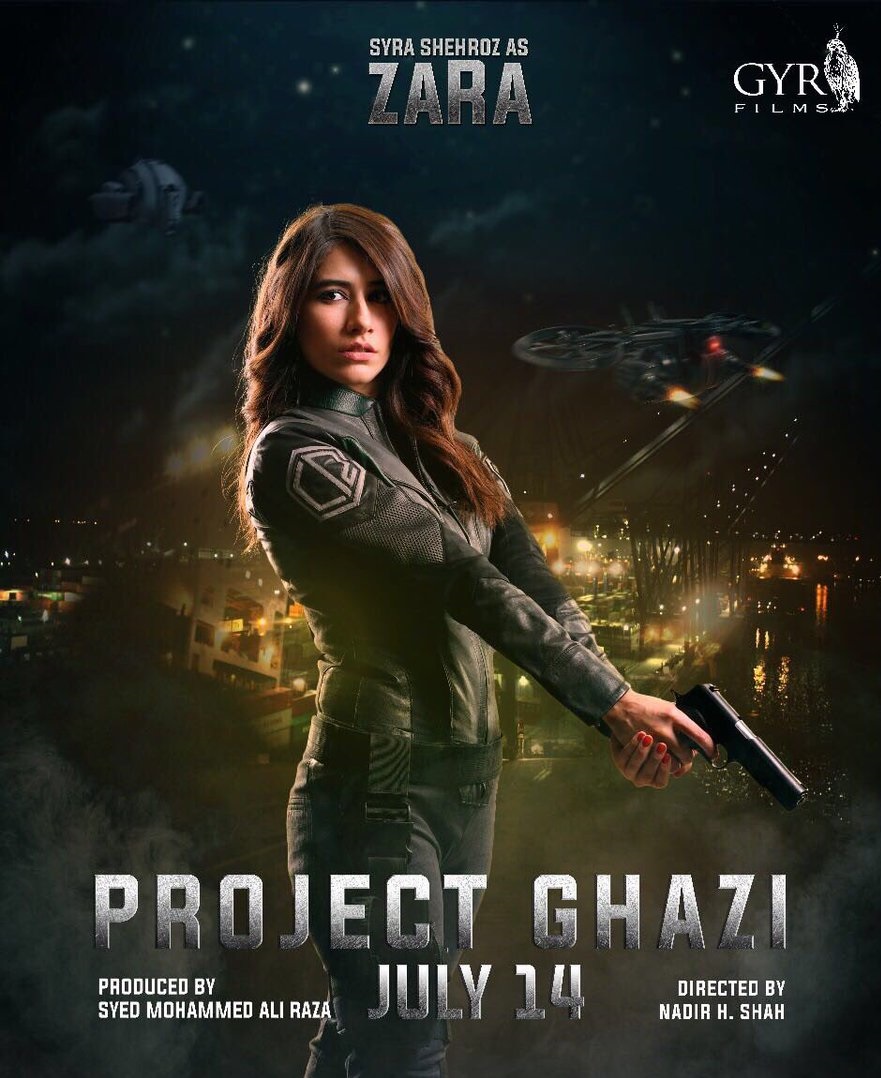 ---
KARACHI: Before I begin, let me just say that I tried. Going in to watch Project Ghazi, I had convinced myself that I would, for once, focus on some redeemable aspects of the film, instead of criticising it for, as some would say, the sake of criticising. I'd seen it once before – at its original premiere where sound issues forced the team to retract the film from cinemas and so, had some semblance of what to expect.

Still, I was willing to look past all technical shortcomings – the subpar camera-work, the shoddy editing, the sound which – although clear enough to be understood this time – was still jarring. I was even willing to look past Project Ghazi's less than compelling action sequences which, for a film positioning itself as an action offering, is blasphemous.




I was willing to look past everything because I'll admit, I have a vested interest in films like Project Ghazi that try to offer something other than run-of-the-mill dramas about family misunderstandings, weird weddings and what have you. And I really did try. But sadly, and I say this with utmost regret, the film is a top to bottom disaster.

At the heart of its many issues is the story and script – that Achilles' heel of most films to come out in Pakistan ever since this revival of cinema spiel began. It really is both puzzling and astonishing; of all the myriad justifications offered for why one should cut Pakistani cinema some slack – it's in a nascent stage, we don't have the budgets, infrastructure or skill ceiling to be compared Hollywood, Bollywood and whatever – this is the least defensible. After all, the only thing that could inhibit good writing is a lack of writing ability.




This failure to produce decent scripts for the big screen is even more perplexing when you consider that if there is anything Pakistan is not short of, it is decent writers. The country has a long and distinguished literary tradition and if anything, good writing was what used to set Pakistani dramas apart from their Indian counterparts.

Then we have institutes like Napa, which has routinely produced writing talent that many would envy, and several universities with comprehensive media programmes that are churning out creatives by the dozen. Moreso, if the Internet and social media have revealed anything, there already is a new generation of creative writers in the waiting.

And yet, by and large, none of this has been able to translate into even halfway decent scripts, save for a few. Indeed, in the time since the new wave of Pakistani films began, it appears that Pakistani productions have become slicker in terms of cinematography and art design. But not when it comes to writing. In this respect at least, Project Ghazi is not alone. Does it excuse the film? I don't know.




Coming to the film's script, we have the usual litany. I wish I could say the characters were one-dimensional. No, they are not… they are much worse! The most glaringly obvious reason why this is so? Having seen it twice, I still do not know what any of the characters' motivations were.

For instance, without going into spoilers, why did the main antagonist Qataan (Adnan Jaffar) do any of what he wanted to do? What did he want to achieve? What was the endgame?  And what exactly was Syra Shahroz's character Zara all about? Was she a researcher, as she says in the film, or an investigator? Or was she command support for C12, the super-secret super soldier unit both Salaar (Humayun Saeed) and Zain (Shehryar Munawar) are a part of? Or is she a field operative, like Black Widow? Then there are inadequately fleshed out motivations for Zain and Salaar themselves, along with Talat Hussain's character, which I'm afraid I can't discuss without revealing the paper-thin plot.




Who exactly is the protagonist in Project Ghazi? It is supposed to be Zain, though the audience is never really given a chance to connect with him? We're told various tidbits about him to provide some backstory but are never really allowed to understand and invest in him.

Oh, there is also the atrocious dialogue. Qataan may be the worst offender with nonsensical gibberish that sounds like Adnan was told to ad lib as a psycho than actually given well chalked-out lines. But he is not the only one. All conversations in the film appear less like conversations and more like characters reciting their lines in space rather than responding to each other. Some may see this as a direction failure but I believe the rot begins with the script.

The film also has glaring issues with pacing – a rather nebulous concept to understand. On the surface level, there seems to be a lack of understanding as to how one scene should transition into another. It is compounded by the narrative arrangement of the scenes, which out of nowhere take you two weeks into the future, then 10 years into the past, obliterating your sense of time.




The action scenes remind me of how some of my non-cinephile elders understood action movies – "bas dhishoom dhishoom." A tip for future Pakistan film-makers: action sequences are made compelling by a visual sub-narrative, not mere explosions, gunshots and fights.

In the end, all that is left is an incoherent mess and a complete narrative failure, and that is without touching upon the problems with editing, continuity and cinematography.

All Project Ghazi can be commended for is breaking away from the traditional stale mould of concepts that both Pakistani films and TV have milked to death, and perhaps partly, costume design. Sadly for the team, good intentions cannot guarantee a good film.

When I left the theatre after the first premier of Project Ghazi (back in 2017) and reports began to circulate that the film will not be released on account of sound issues, I left a colleague of mine with a parting observation. Sound should have been the least of the team's concerns. Of all things that could go wrong, it was perhaps the easiest and least costly to fix.

The reviewer chose not to rate the film.

Have something to add to the story? Share it in the comments below.
COMMENTS
Comments are moderated and generally will be posted if they are on-topic and not abusive.
For more information, please see our Comments FAQ