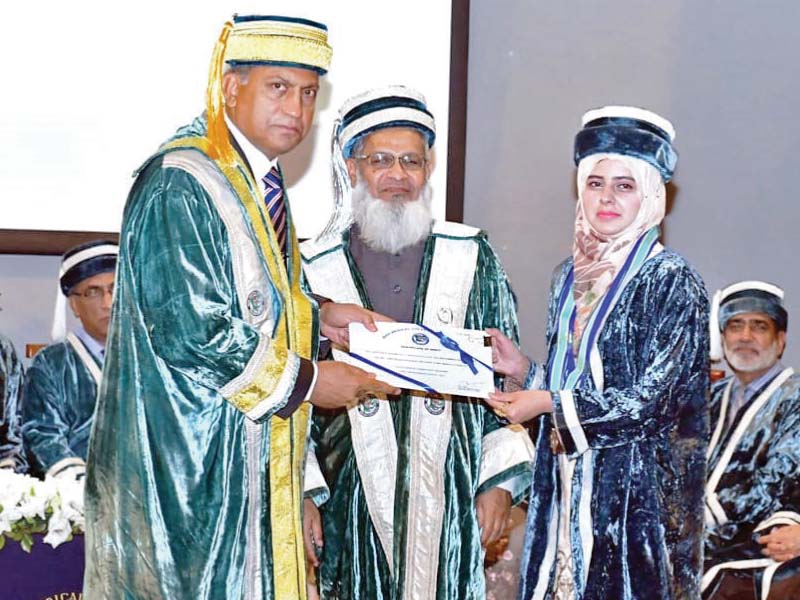 ---
The ninth convocation of Wah Medical College, Wah Cantt, was held in the varsity's auditorium on Friday morning. POF Board Chairman Lt Gen Sadiq Ali was the chief guest for the occasion, while Wah Medical College Principal Prof Dr Wasim Uddin presided over the convocation.

The event marked the hailing of degrees for as many as 96 medical graduates of the academic session 2013 – 2018 and four medical graduates of the academic session 2012 – 2017 in due recognition of their diligence and dedication.

Besides the bestowal of degrees, medals and certificates of distinction were conferred to the best graduates with outstanding academic performance. Dr Farhana Kausar was declared the best graduate for the session 2013-2018 with generous cheering by the audience for her meritorious achievement of 10 gold medals, seven silver and four bronze medals besides numerous other awards for academic excellence.

Addressing the auspicious gathering, Wah Medial College Principal Prof Dr Wasim Uddin admired the commitment and efforts of the faculty in training the undergraduate students. He extended congratulations to the graduates and the parents whose sheer persistence and hard work earned them excellent result in the university.

The principal further underscored the vision of Wah Medical College as an institution that actively endeavors to promote a culture of research in addition to employing latest strategies for taking medical education to the next level.

Prof Dr Wasim Uddin also highlighted the contribution Wah Medical College is making in improving healthcare delivery at the POF Hospital. The chief guest at the occasion, POF Board Chairman Lt Gen Sadiq Ali was full of praise and complimented both the graduates and the faculty for their years of hard work that have led to the realisation of their dreams.

He further expressed admiration for the favourable academic environment at Wah Medical College that has contributed tremendously to producing graduates of quality and excellence.

Published in The Express Tribune, March 30th, 2019.