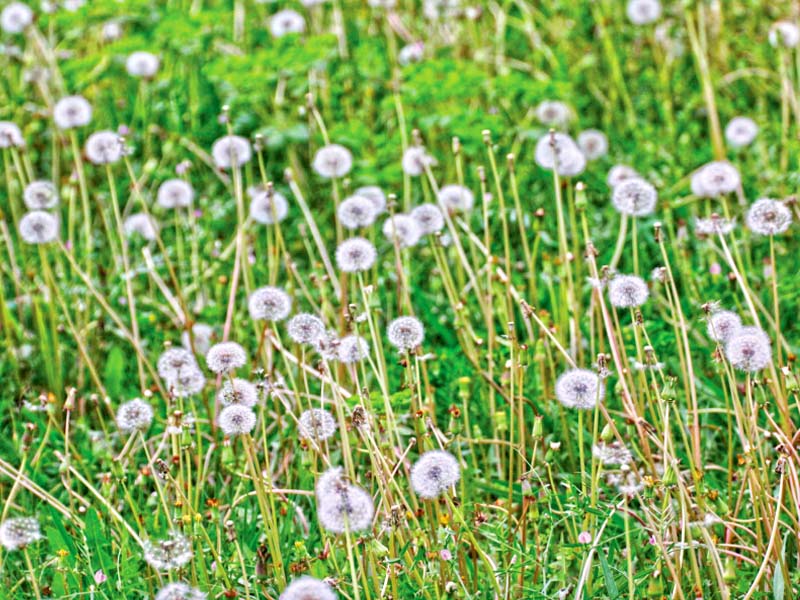 ---
ISLAMABAD: As pollen count gets close to reaching its all-time high, health experts issued an advisory to ensure that citizens of the capital take necessary preventive measure to keep allergies at bay. On Friday, the pollen count reached up to 41.700 (per m3 of air).

According to a Pakistan Institute of Medical Sciences (Pims) official, over 50 patients visited Pims emergency ward for oxygen and nebulisation during the last 24 hours. He said extra staff has been deputed in the emergency ward to treat pollen allergy patients. Fifty nebulisation machines have been installed to facilitate incoming patients, he added.

Moreover, he stated that during the current month 500 pollen allergy patients have visited the hospital with different complications so far.

Health experts advised citizens to take special preventive measures in prevailing high risk pollen season to avert any medical complication. According to them, citizens should limit their outdoor activities when pollen counts are high and keep windows and doors closed during pollen season and pollen allergy patients should wear filter masks while going outside and avoiding unnecessary travel.

Pims medical expert Dr Wasim Khawaja said that women who have topic dermatitis should wear gloves while working in the kitchen and people who have tendencies to get eye infections like conjunctivitis may use (UV protected) glasses. He said that citizens should take a bath and shampoo their hair daily before going to bed as this will remove pollen from their hair and skin and keep it off their bedding.

He said that citizens should wash bedding with hot and soapy water once a week. Dr Khawaja went on to add that citizens should wear sunglasses and a hat as this will help keep pollen out of their eyes and off their hair.

Moreover he stated that citizens should limit close contact with pets that spend a lot of time outdoors as their dander can aggravate allergy symptoms.

Dr Sharif Astori from Federal Government Poly Clinic (FGPC) hospital said that citizens should change and wash clothes worn during outdoor activities and suggested that they dry their clothes in a dryer, not on an outdoor line. He advised taking care of cleanliness of rooms and taking out carpets and other linens that can catch dust or if necessary covering them with clean clothing.

He asked the pollen allergy patients to continue taking allergy medicine during pollen season as this allows the medicine to prevent body from releasing histamine and other chemicals that cause symptoms. He said that the pollen is one of the most common triggers of seasonal allergies. He added many people know pollen allergy as 'hay fever' while experts usually refer to pollen allergy as 'seasonal allergic rhinitis'.

He said that each spring, summer and fall, plants release tiny pollen grains to fertilise other plants of the same species. He said that most of the pollen that causes allergic reactions comes from trees, weeds and grass. These plants make small, light and dry pollen grains that travel by the wind, he added.

Meanwhile, the Pims official said that the hospital has started providing medical assistance to pollen allergy patients in its emergency ward and the outpatient department (OPD) of Pulmonology Department.

He added that special arrangements have been made to admit serious patients at the Pulmonology Department of the hospital like availability of ventilators for serious patients. He said that mild patients should visit the Pulmonology Department while serious patients should visit the emergency ward.

An official from Pakistan Meteorological Department said that this year the onset of pollen season was delayed due to rainfall spells during the first fortnight of March. After the onset, pollen concentration increased gradually and on Friday it attains very high value of 41.700 (per m3 of air) in H-8 Sector. He said that people in federal capital affected by pollen should take precautionary measures accordingly. He said that rainy and windy weather conditions are expected in next couple of days which may decrease pollen concentration.

Published in The Express Tribune, March 30th, 2019.
COMMENTS
Comments are moderated and generally will be posted if they are on-topic and not abusive.
For more information, please see our Comments FAQ