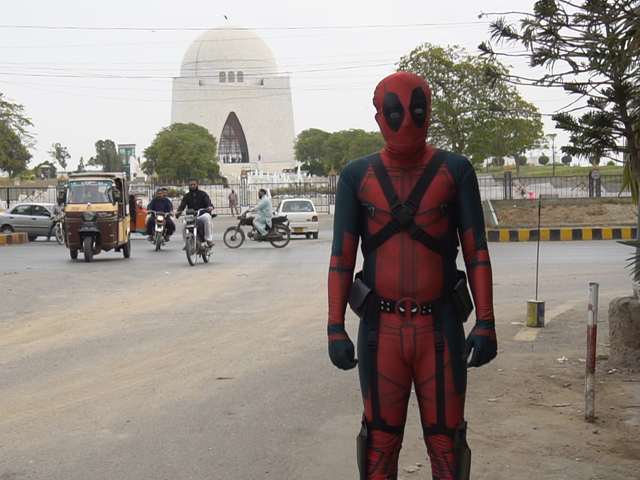 ---
KARACHI: It was a weird sight, for sure. Or rather, it was surprising to see someone walk around Karachi wearing a Deadpool suit. Did anyone else spot him at Quaid-e-Azam's mausoleum? Or at a neighbourhood paan shop? No?

I couldn't help but dig deeper into this. It turns out that the Gujranwala-based trio of Waleed Wakar, Taha Ejaz and Sayam Gul are the people behind it. Waleed told The Express Tribune that after Deadpool's venture in Lahore, they thought it would be best to take the sword-wielding, fast-talking Marvel anti-hero to Karachi.

"After Lahore, it was pretty obvious that we had to come to Karachi with our ganda bacha (bad boy) Deadpool," said Waleed. "The city has its own flavour and we wanted him to smell, see, taste and enjoy Karachi in its truest colours."

When asked if Spiderman would be coming to Karachi too, Waleed asked us to wait for the video to come out. However, he did add that after Karachi, they will be heading to Islamabad with their "acha bacha (good boy)" Spiderman character.


If you're still confused, hear us out. Waleed, Taha and Sayam are a trio that used the famous short-form video-making app Vine to make funny clips. But as technology and equipment became more readily available and cheaper, they jumped from the app to posting videos on Youtube.

"We started with Vine like many others. People liked our videos, told us to continue with them and that is how it all began," said Waleed. "At first, it was me and Taha only but then we were joined by Sayam. It has been nearly three and a half years now."

But what are their future plans? Funnily and surprisingly, none of them plans to join media as Waleed is studying software engineering, Taha is a BSCS student while Sayam is doing his MCom.

So why are they making these videos? The answer can be found on their Facebook bio which says, "If you have the power of making someone happy, do it. The world needs more of that."




Before delving into how the trio manages its budget, one should quote Umer Khan – the front man of the band Poor Rich Boy – who recently won an award at Shan-e-Pakistan. He said, "May Pakistan be a country where art is not for just a specific social class."

And that is exactly the case with Waleed and co. The three friends have faced retaliation from their parents and many others around them for focusing on 'useless stuff' like their vidoes. And so, budgets were always an issue when they started.

Initially, they pooled in money but now, they are able to churn out a small allowance for themselves courtesy their Youtube channel and some local cafes in Gujranwala.




"We make 10k-12k from our Youtube account after every six to seven months. Also, the cafes in Gujranwala are quite supportive and they ask us to make skits for their promotion," shared Waleed. "Ours is not a rag to riches story and we are happy with whatever we get. At least we are being acknowledged for our work."

He added that they have worked with a car service as well, which is a big achievement for them since they don't exactly hail from the biggest cities of Pakistan, but are still making a name for themselves.

So what's special about the Karachi project? It would be hard to not give out spoilers of the Desi Deadpool visiting Karachi but in a nutshell, "It is going to be one great venture for him to experience the peculiar culture of the city."

Have something to add to the story? Share it in the comments below. 
COMMENTS (1)
Comments are moderated and generally will be posted if they are on-topic and not abusive.
For more information, please see our Comments FAQ