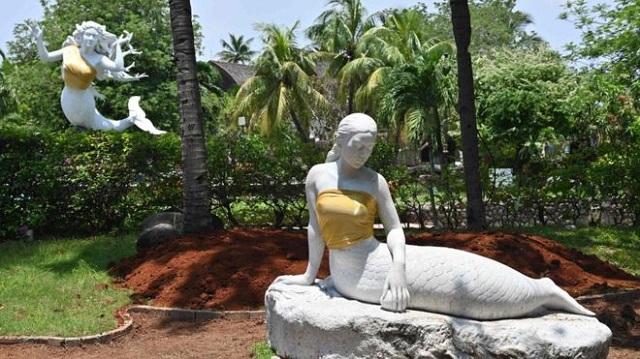 ---
An Indonesian theme park decided to cover the bare breasts on two statues to respect "Eastern values," the BBC reported.


Ancol Dreamland in the capital city Jakarta placed golden chest wraps on the mermaid figures, which have been at the park for the last 15 years.

The move has confused many in the city and prompted questions about whether the park was forced into the decision.

But the park dismissed the suggestion, saying they had made the choice to cover the statues last year.

"This is purely an agreement from the management and there is no external pressure," park spokesperson Rika Lestari said.

"We are in the process of reshaping ourselves to be a family friendly amusement park," Lestari added.

Brunei to impose death by stoning for gay sex and adultery

The sculptor of the mermaids, Dolorosa Sinaga, said the park had denied the public "the beauty of arts products".

"What they did was close public access to enjoy the arts", she said.

Visitors seemed bemused by the decision to cover the mermaids.

"The statues didn't disturb us," Nanda Julinda, who took her children to the park, said."It's weird to see art pieces being covered like that."

"It's located by the beach, and they are mermaids, and you wouldn't see mermaid covered with cloth like that," M Taufik Ficky said.

This is not the first time statues have caused moral outrage.