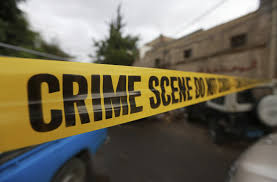 ---
PESHAWAR: A female officer of the Khyber-Pakhtunkhwa Education Department was killed along with her Levies security guard when the vehicle they were traveling in came under attack in an ambush Bettani area of Lakki Marwat, four of their colleagues were also injured in the attack.

According to reports reaching here from the area which falls under frontier region administration, unidentified gunmen ambushed an monitoring team of the K-P Education Department killing female officer and her Levies security guard and injuring four others staffers.

According to the local security sources, an Independent Monitoring Unit of the Khyber Pakhtunkhwa Education Department was attacked in Gazbooba of Lakki Marwat's tribal Subdivision of Bhittani area.

The area falls under the FR region administration near Lakki Marwat district of K-P. Administration officials confirmed that two Levies men and five education department officers were in vehicle.

The martyred officer was identified as DCMS Safia and the martyred security guard as Akhter. The injured included Allah Noor of Education Department, DDMO Ataur Rehman, the driver of the vehicle and another Levies official.

The area is known to armed criminals and local militant group. The reason behind the incident is yet to be ascertained. No claim of responsibility as yet.

Tehsildar kidnapped

Unidentified gunmen have kidnapped the Tehsildar of the Serwekai subdivision of South Waziristan tribal district during the night between Tuesday and Wednesday.

Tehsildar Gul Daraz Khan was residing with a local relative in the Kotkai area of the tribal district, when unidentified gunmen raided the house and told him to come out.

The gunmen took the in-charge of Serwekai subdivision hostage and marched him off to an undisclosed location.

There was no news of his whereabouts until Wednesday evening.

South Waziristan Deputy Commissioner Nauman Afridi has ordered registering of missing report of Gul Daraz against unidentified gunmen.

Shepherds herded away

Meanwhile in the Kurram tribal district, four shepherds were taken away on gunpoint by unidentified gunmen.

Local people said that the shepherds were grazing their livestock in a field when armed men came and took them hostage.

The unidentified gunmen took the herders to an undisclosed location. The sheep and cows were left in the pasture unattended.

Published in The Express Tribune, March 28th, 2019.
COMMENTS
Comments are moderated and generally will be posted if they are on-topic and not abusive.
For more information, please see our Comments FAQ