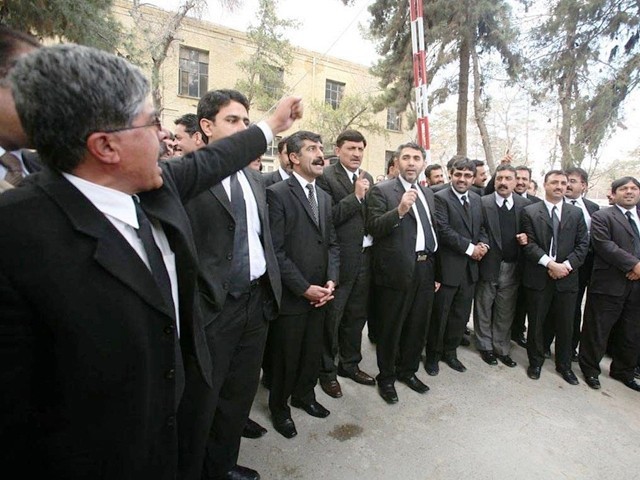 ---
LAHORE: Lawyers warned on Tuesday that they would resort to a countrywide strike against the National Judicial Policy Making Committee's (NJPMC) decision on the new method of registering FIRs, concluding a trial in four days under a new policy and the procedure for transferring and posting judges.

At the 'All Pakistan Lawyers Representative's Convention' held at the Lahore High Court, they also announced that conventions would be held across the country if their demands were not met.

Representatives of bar associations across the country participated in the convention and unanimously passed a declaration.

They rejected the NJPMC's decisions under which the powers of sessions courts to hear writ petition under sections 22-A and 22-B of the Code of Criminal Procedure (registration of FIR) have been abolished.

Lawyers in Islamabad's F-8 court complex end strike after 40 days

The lawyers said they had strong reservations over concluding a trial within four days under the new policy introduced for dispensing speedy justice through model courts.

They also expressed their concerns over the prevailing procedure of transfer and posting of judges of the higher judiciary, maintaining that it had failed to produce meaningful results. They demanded the representation of lawyers in the matter.

The legal fraternity demanded an amendment in Article 175-A of the Constitution, seeking the formation of a commission comprising equal representation of the parliament, judiciary and lawyers for the purpose of appointing judges.

The lawyers sought the preparation of a comprehensive law for using powers of Article 184(3) under which the affected people could be given the right of appeal before a larger bench.

They demanded that matters that emerged under Article 209 against judges be decided as pendency of references deprived litigants from obtaining justice.

The legal fraternity vowed that amendments which were contradictory to the constitution would not be accepted.

They stressed the need for the Law and Justice Commission and the concerned ministry to take the representatives of the lawyers' community on board while preparing amendment bills.

A committee was formed under the supervision of the Pakistan Bar Council vice chairman that will meet the chief justice of Pakistan on March 28.

Its members include representatives of other bar councils. The lawyers will go on a countrywide strike on April 4 and hold conventions across the country if their demands are not met.

The Lahore High Court Bar Association will also call a convention in which suggestions will be sought over the procedure of appointments of judges and a further course of action will also be chalked out.
COMMENTS
Comments are moderated and generally will be posted if they are on-topic and not abusive.
For more information, please see our Comments FAQ