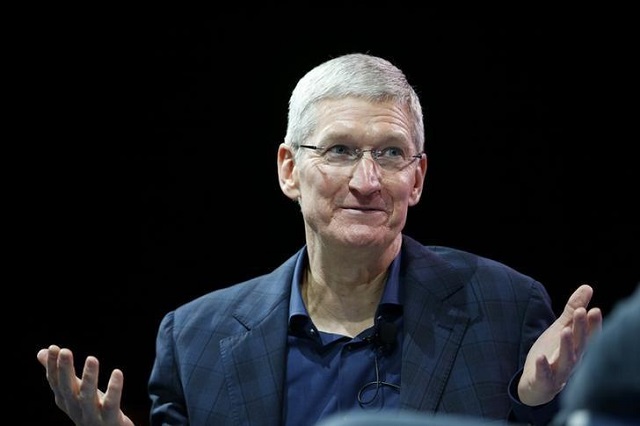 ---
Tim Cook had taken to Twitter earlier last week to share a picture of the new Apple iPad by writing just a 'Hello' on the screen. He soon realised how big a reaction he had gotten out of the users and fans of Apple, he tweeted a hand-drawn picture of Airpods 2 on the screen of the iPad yet again.

After Trump gaffe, Apple chief changes Twitter handle

pic.twitter.com/Iqz1MHTg1p

— Tim Cook (@tim_cook) March 18, 2019
pic.twitter.com/x3OGOekxc0

— Tim Cook (@tim_cook) March 20, 2019

Some creative users in response to this tweet started a Photoshop war making it one of the trending topics on Twitter and Facebook by making memes. If you have missed out on this, here are the very interesting and hilarious memes.

Apple to launch three iPhones with new camera features this year



You're making this too easy for those who like memes! @elonmusk pic.twitter.com/oK2TeAZXvg

— Mr. Capone (@MrAlCaponeJR) March 20, 2019
pic.twitter.com/LVbCu9uWrv

— 桜梨 (@Nashy_chan) March 20, 2019
pic.twitter.com/mdA8O0b2Mj

— Elif Tütüncü (@elftutuncu) March 20, 2019
First thing that came to mind when I saw the Tim Cook meme pic.twitter.com/HUqlRq2bFX

— Nik | (@nicokont) March 20, 2019
pic.twitter.com/0OJ9Q0U1a0

— Dr Grandayy (@grandayy) March 20, 2019
This is the best meme format lowkey pic.twitter.com/6Fv8pYAvUp

— Subscribe To Pewdiepie (@MemeTasticYes) March 20, 2019
pic.twitter.com/HE3twmrBfx

— Kitze @ (@thekitze) March 18, 2019
(Due to high prices) pic.twitter.com/AhnzsLTP0c

— George Elsham (@GeorgeElsham) March 18, 2019

One user even provided with the template for those who want to join in this battle of the best meme.

Here's a template for all you people who want to make a funnier one: pic.twitter.com/gRkEL6mJkU

— plz_username (@Dimensioner) March 18, 2019

And the one that won this battle was this!

' .... pic.twitter.com/D7AyBUKjMm

— Joyce Wang (@joycemwang1) March 20, 2019
COMMENTS
Comments are moderated and generally will be posted if they are on-topic and not abusive.
For more information, please see our Comments FAQ