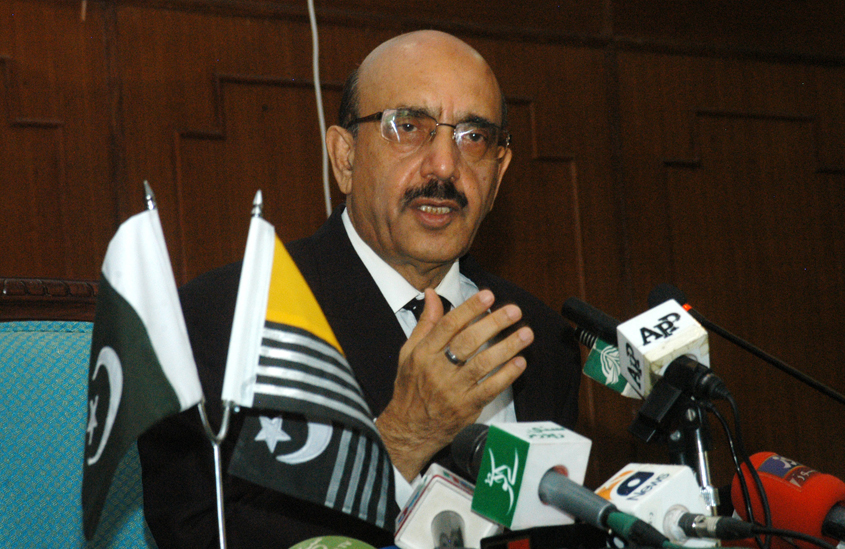 ---
ISLAMABAD: A member of the European Parliament Wajid Khan on Friday said the Kashmir issue is not just limited to Kashmir — but is a matter of concern for the whole humanity. He added that raising voice for the cause is a collective responsibility.

"We need to give more importance to Kashmir, need to raise the Kashmir issue effectively at international forums. We feel the pain of Kashmiri sisters, and we will keep raising voice against oppression in Kashmir," he said while addressing a seminar organised on Kashmir issue in Islamabad.

Indian forces martyr seven Kashmiris in fresh crackdown

Azad Jammu and Kashmir (AJK) President Sardar Masood Khan, Foreign Office (FO) spokesperson Dr Muhammad Faisal and other dignitaries were present on the occasion.

AJK president lauded the parliamentarian for his stance on Kashmir, saying Wajid Khan highlighted the Kashmir issue in the European Parliament.

He added that the event is a kind of tribute to Khan for his contribution in highlighting the issue.

President Masood also said overseas Pakistanis and Kashmiri community are playing an important role in highlighting the Kashmir issue at international-level, which the local leadership highly appreciates. He said the hearts of Pakistanis all over the world beat with Kashmiris. He added that expats are sympathetic towards Kashmiris.

"We have to carry on with this struggle until United Nations (UN) resolutions are implemented".

The people of occupied Kashmir under Hurriyat leaders are struggling for their rights and are rendering sacrifices.

"It is our responsibility to highlight the aggression on them at international level," said Masood.

FO spokesperson Dr Muhammad Faisal said Pakistan will back out of its principled stance on Kashmir issue.

He said the UN Human Rights Commission report on rights violation in Kashmir is a turning point, adding that the British Kashmir group's report and Kashmir Conference in the European Parliament after publishing of report are important developments.

"We won't withdraw from our principled stance on Kashmir issue. We are with the Kashmiri population. Our stance is that Kashmir issue should be resolved according to the UN resolutions and the wishes of Kashmiri people."

He said Pakistan will continue with moral, political and diplomatic support of Kashmiris.

To highlight the Kashmir issue, media and youth will have to play an effective role, he said, adding: "We need to work on social media".

Hurriyat leader Ghulam Muhammad Safi said in the Indian occupied Kashmir the people who facilitated India's penetration in Kashmir are also talking of independence "Today, they are raising the hurriyat slogans," he said.
COMMENTS
Comments are moderated and generally will be posted if they are on-topic and not abusive.
For more information, please see our Comments FAQ