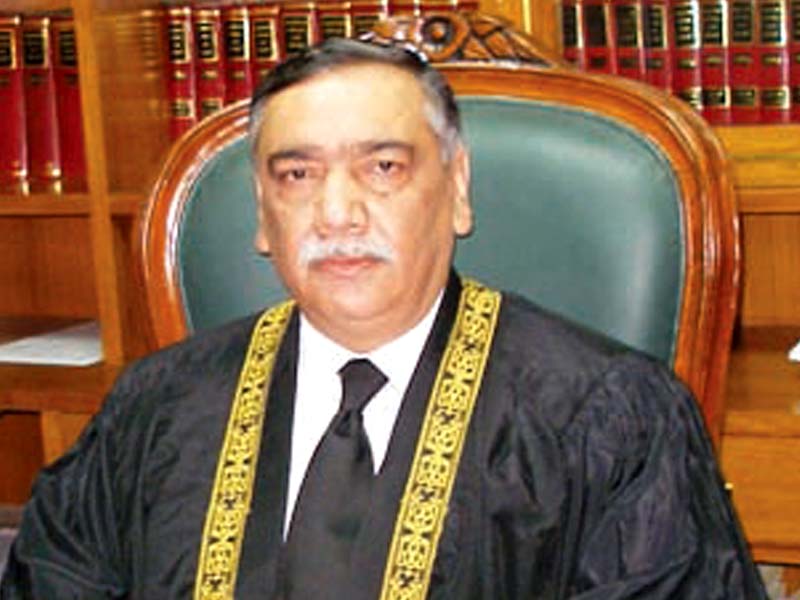 ---
LAHORE: Chief Justice of Pakistan (CJP) Asif Saeed Khosa has hinted at introducing in the coming weeks a new policy for conclusion of pending trials within four months.

"We are going to introduce a policy under which the pending trials will be concluded in aforementioned timeframe [four months]. Pakistan is the only country of the world where doors of the Supreme Court are knocked for getting bail orders," noted the CJP on Friday.

The CJP was heading a two-judge bench, hearing a plea seeking cancelation of bail of an accused in a fraud case at the Supreme Court Lahore Registry. Justice Umar Ata Bandial was the other member of the bench.

Justice Khosa said: "There are some other countries which do not issue written orders on petitions filed for seeking bails. How a man could be awarded punishment without conclusion of trial?" The bench later dismissed the petition, seeking cancelation of bail orders.

Hearing another bail matter in a murder case, the CJP pointed out the complications arising in Code of Criminal Procedure (CrPC) owing to the complainants. The system had been running smoothly but the situation turned for worse in the last decade, he said.

Effective legislation needed to address issues, says former CJP Nisar

Justice Khosa said the complainants wanted to keep control of the cases in their own hands, adding that the complainant wanted that the investigation officer (IO) worked in accordance to his/her own wish. "The law is very clear either about the agreement of the complainant or the appeal which a complainant could file against acquittal of accused persons," he added.

When counsel of the petitioner contended that trial court handed down a decision contrary to the Constitution, the CJP said that counsel of a complainant could only provide his/her assistance to the prosecution in criminal cases.

"Why didn't you file a private complaint if you wanted to keep the control of your case in your hands?" he asked. The court later dismissed the petition seeking cancelation of bail orders of a co-accused in a murder case.