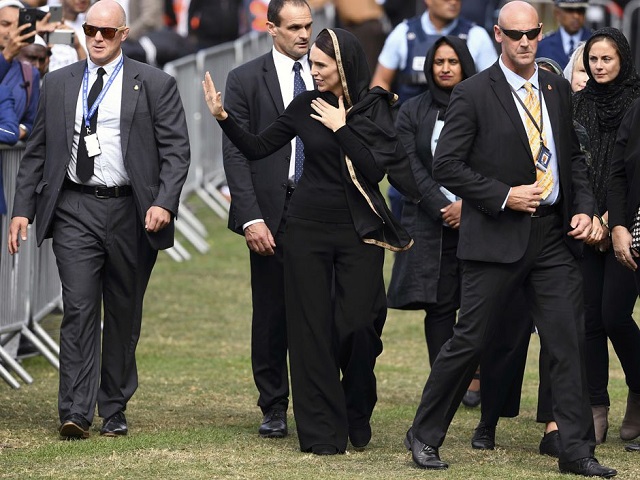 ---
New Zealand Prime Minister Jacinda Ardern on Friday joined about 20,000 people standing quietly at Hagley Park, in front of the Al Noor mosque, who had gathered to remember the 50 people killed by a lone gunman at two mosques a week ago.

In her brief speech to the Friday congregation, Ardern read out a hadith of the Prophet Muhammad (PBUH). "According to Prophet Mohammed, the believers in their mutual kindness, compassion and sympathy are just like one body. When any part of the body suffers, the whole body feels pain," she said.

https://twitter.com/Lauren60063725/status/1108915063191031808?ref_src=twsrc%5Etfw%7Ctwcamp%5Etweetembed%7Ctwterm%5E1108915063191031808&ref_url=https%3A%2F%2Fwww.express.pk%2Fstory%2F1601423%2F10

"New Zealand mourns with you, we are one," she added.

Her speech was followed by two minutes silence.

Azaan echoes across New Zealand as Muslims offer Friday prayers

Most victims of New Zealand's worst mass shooting were migrants or refugees from countries such as Pakistan, India, Malaysia, Indonesia, Turkey, Somalia, Afghanistan and Bangladesh.

"We are broken-hearted, but we are not broken. We are alive, we are together, we are determined to not let anyone divide us," Imam Gamal Fouda told the crowd, many wearing headscarves in support of the grieving Muslim community.

"To the families of the victims, your loved ones did not die in vain. Their blood has watered the seeds of hope," he said in prayers broadcast nationally.

Tens of thousands of people paid their respects around the country with some forming human chains in front of mosques. Others said silent prayers at schools, cafes and even offices.

In Christchurch, relatives of the victims and other mourners thronged into a cemetery where 27 of the victims were laid to rest in a mass burial.