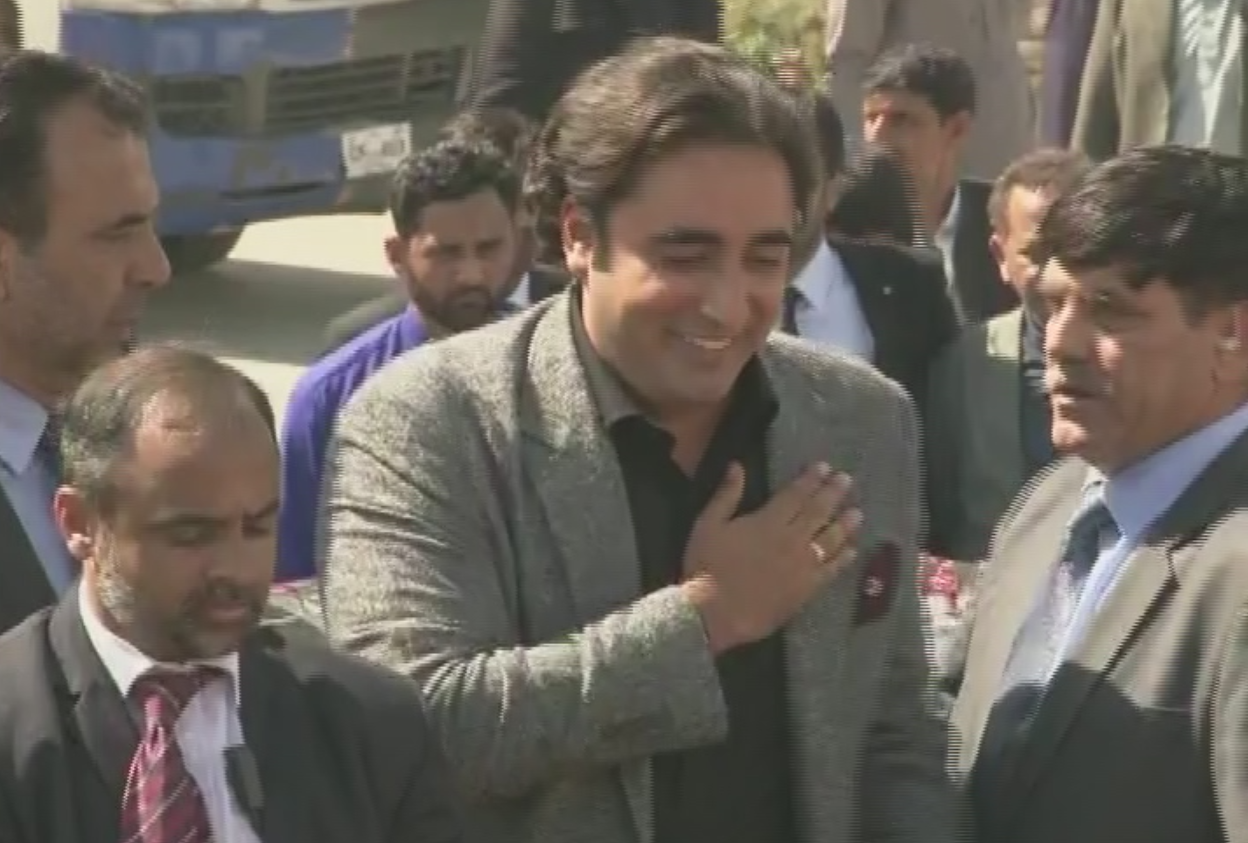 ---
ISLAMABAD: Former president Asif Ali Zardari and Pakistan Peoples Party (PPP) Chairman Bilawal Bhutto were quizzed by a combined investigation team (CIT) of the National Accountability Bureau (NAB) in connection with three cases. The CIT recorded the statement of the two PPP leaders on Wednesday and directed them to present their replies against a written questionnaire within 10 days.

While the hearing was going, PPP workers present outside NAB office broke the security gate after which police baton-charged them. The encounter left several PPP workers, media representatives and policemen injured while a cameraman of a private television channel was also hurt. Dozens of PPP workers were taken into custody.

According to a statement issued by NAB, Bilawal and Zardari were questioned for around two hours by the CIT, who recorded their statements. The CIT then handed them a questionnaire and asked the PPP leaders to submit their replies to the NAB office within 10 days.

The NAB statement added that the CIT will review the statements and responses to the questionnaire in light of law based on which NAB will make its decision to call the top PPP leaders again.

According to NAB spokesperson, the inquiry is being undertaken under the direct supervision of NAB chairman Justice (retd) Javed Iqbal. "NAB will continue its investigations without taking any pressure and bring all cases to their logical conclusion until complete eradication of corruption."

PPP leader Aseefa Bhutto also accompanied her brother and father at their NAB hearing while Farooq H. Naik and Sardar Latif Khosa were also allowed to enter NAB office with the former president.

PPP spokesperson Nafeesa Shah, Nayyar Bukhari, Mustafa Nawaz Khokar and leaders were also present outside the NAB office during the hearing. A large number of PPP workers – asked by the party to show up for the hearing in solidarity – also gathered outside and chanted slogans.

Following a heated exchange between the PPP supporters and the police, a large number of workers broke the security gate and tried to enter NAB office. In the ensuing melee, media representatives were manhandled and journalists and cameramen assaulted. Several police officers and a private TV cameraman were also injured, after which they were taken to the hospital.

'Politics of revenge'

After the NAB hearing, PPP Chairman Bilawal Bhutto addressed the media in which he accused the government of political vendetta, while calling on it to form joint investigation teams (JIT) to probe banned organisations, terror financing, and rigging during the last year's general elections.

"I am being investigated about a company which was formed when I was not even one-year old. NAB is ridiculing itself by calling me to respond on this. Even the bills I have for meals and dry cleaning are being checked," Bilawal said.

Bilawal also condemned the 'use of force and dictatorial attitude with which PPP workers were handled' and demanded that those arrested should be immediately released.

He said that his party workers had gathered peaceful to show solidarity with the party leadership. "The party [Pakistan Tehreek-e-Insaf] that kept the federal capital hostage for 200 days could not stand a 30-minute demonstration of PPP workers," referring to the many sit-ins carried out by the PTI when it was not in government. "We will soon reveal our course of action if our arrested workers are not released," he added.

He said that he was unnerved by the NAB hearing as it was something that he was used to. "I have been facing NAB since I was three years old, when my mother had to appear before NAB. If I am accused, I present myself for any inquiry provided it is not based on prejudice," he said.

Responding to a question about the interrogation, Bilawal said that the attitude exhibited by NAB officials was professional. "I was interrogated for just five minutes after which I was given the questionnaire, to which I would reply after consulting my lawyers," he said.

Bilawal also criticsed the decision to shift the case from Karachi to Rawalpindi, done at the request by the anti-graft watchdog. He added that NAB was a system for political engineering and not of accountability. "We admit that we failed to make amendments in NAB laws. We tried to do that in the PML-N tenure but we were not paid heed to," he acknowledge.

He said that the last six months have seen the violation of the law and Constitution, and that the menace of corruption cannot be handled until changes are made in NAB laws.

The PPP chairman once again accused the government of supporting banned outfits and warned the government to remove its minister linked with extremist organisations.

"No one will take the National Action Plan (NAP) seriously until three of the government ministers are in contact with banned organisations," he said, referring to his statement from a week ago when he made the same accusation without naming the ministers.

It elicited a sharp response from the government, and even resulted in one minister – according to some quarters – threatening the PPP chairman of the ultimate consequence.

"The government is violently dealing with those who are exercising their constitutional and democratic right while it has bowed down before the extremist elements," he said, adding that actions against proscribed groups are only taken half-heartedly.

"Leaders of the banned outfits were taken into custody only to save them from Indian military jets. How can we trust if the accounts were frozen?" he asked, while referencing the case of Pervez Musharraf, from whose accounts money was transferred despite it being frozen.
COMMENTS (1)
Comments are moderated and generally will be posted if they are on-topic and not abusive.
For more information, please see our Comments FAQ