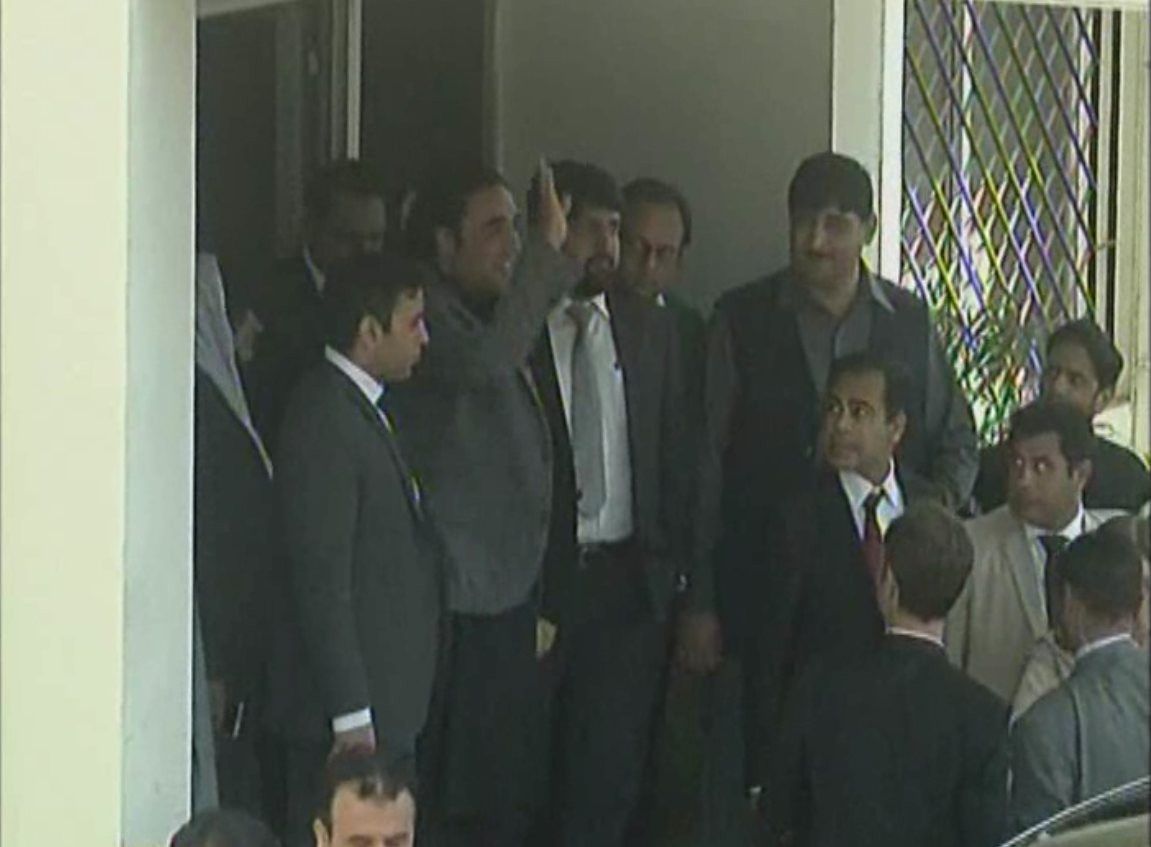 ---
ISLAMABAD: Asif Ali Zardari and son Bilawal Bhutto Zardari recorded statement before a National Accountability Bureau (NAB) team at its headquarters in Islamabad amid strict security on Wednesday.



A huge crowd of supporters had gathered outside the bureau's main office dubbed NAB Rawalpindi. PPP workers clashed with the police deployed for security around the NAB premises. At least one police official was injured after a lady worker hurled a stone at him. In an effort to control PPP workers and stop them from entering the NAB office, police baton-charged the PPP workers.



Zardari, Bilawal reach Islamabad for NAB hearing

The Pakistan Peoples Party chairmen were summoned by the anti-graft watchdog in connection with a case alleging illegal transfer of forest land to Pak Lane Estate Company (pvt) Ltd - a firm owned by the father-son duo.

NAB claims the company was illegally acquired by the former president through a front man, Iqbal Memon, in 1989. Twenty years later, Zardari and Bilawal became shareholders of the company.

Maintaining that the notice is politically-motivated, the PPP said its top leadership will appear and respond to verbal and written questions. The bureau has reportedly prepared a draft of 100 questions. Zardari and Bilawal's statement will be recorded in the presence of two joint-investigation teams.

Top court orders Bilawal, Shah's names off ECL

Expecting a large crowd of party workers, the bureau requested the federal capital's inspector general and chief commissioner to ensure special security arrangements ahead of the hearing at NAB Rawalpindi.

Meanwhile, senior leader Qamar Zaman Kaira said over 200 jiyalas have been detained while 50 are missing. He urged the federal capital's administration to release the detained the workers and find the missing ones. "We will not be stopped by force," he asserted.

Nafisa Shah lamented that the grandson of the leader who gave the country its nuclear programme was being "dragged to the accountability watchdog's door".



Earlier, PPP leader Nayyar Hussain Bukhari said that the police officials attempted to stop the workers at NADRA Chowk. "We have only asked Islamabad and Rawalpindi workers to reach NAB HQ," he said and warned law enforcement agencies (LEAs) against risking alterations with the supporters.

Prior to arriving at the anti-corruption body's office, Bilawal tweeted a couplet.


میں بھی خائف نہیں تختہِ دار سے
میں بھی منصور ہوں کہ دو اغیار سے
کیوں ڈراتے ہو زنداں کی دیوار سے
ظلم کی بات کو جہل کی رات کو
میں نہیں مانتا میں نہیں جانتا

— BilawalBhuttoZardari (@BBhuttoZardari) March 20, 2019