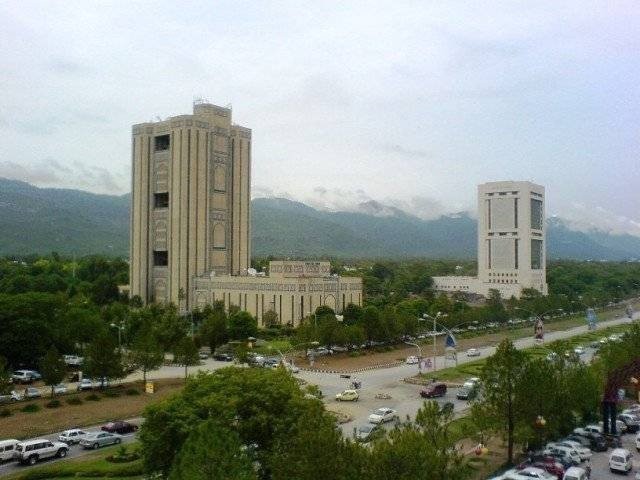 ---
RAWALPINDI/ ISLAMABAD: In light of the recent tensions with India, police in the federal capital have been directed to set up pickets across the city apart from raising the alert level ahead of Pakistan Day events later this week.

This was directed in a high-level meeting headed by the Islamabad Police Inspector General (IG) Aamir Zulfiqar Khan on Tuesday. The meeting reviewed the security condition for the parade to be held on Pakistan Day.

The IGP reviewed the ongoing search and combing operations across the city and the performance of the pickets and checkpoints already set up. He also reviewed the traffic situation in the city and directed to enhance with coordination with other stakeholders.

He added that checking and combing of all seminaries, hotels motels, slums should continue.

Aamir maintained that stringent security arrangements should be made for preventing any untoward incident. He further highlighted that checking at checkpoints should be done with minimum risk.

He further directed that checking and combing operations should be conducted while considering it as a national duty with full vigour and zeal.

The meeting was attended by Security DIG Waqar Ahmad Chohan, Headquarters DIG Sarfraz Ahmad Falki, Operations DIG Waqarud Din Syed, Security SSP Muhammad Suleman, Islamabad Traffic Police SSP Farrukh Rasheed, Operations- AIG Sardar Ghias Gul and senior officials from other law enforcement agencies.

Suspected honour killing

A young girl was allegedly murdered in the federal capital for honour by her father.

The Khanna police said that according to Akhtar Jabeen, she had married Muhammad Younus of Chakwal and had borne him a son and two daughters. They lived in Bilal town.

However, she said that she had divorced Younus because he used to regularly beat her. She had subsequently married another man 14 years ago.

One day, her son called her and told her that his sister G* had allegedly been murdered by his father for honour.

As soon as she heard this, she quickly left for her home in Bilal Town. When she arrived there, she was told that the girl's body had been taken to Younus' village in Chakwal for burial.

However, she managed to catch up to her ex-husband who allowed her to see her daughter's face one last time before he hurriedly left with the body for Chakwal.

Jabeen later lodged a complaint with the police for murder. Police have registered a case against the suspect but the homicide unit of Islamabad Police has not yet made any progress in the case, nor have they managed to arrest the suspect thus far.

Strangled to death

A van driver was strangled to death in a busy street of Rawalpindi, with police stating that the motive for the murder was personal enmity.

The Jatli police said that according to Mushtaq, he was leaving for Dultana for some work along with his brother Muhammad Razzaq. Meanwhile, his children's' school van arrived and the driver, Asif, told them to sit in his van.

When the van neared Abdul Qayyum's home, its path was blocked by Saqib, Masood, Mehmood, Naeem and other suspects. The suspects pulled out their guns and ordered everyone, including the children, to leave the van.

Qayyum said that they could not pass through this stretch of road. At this, Razzaq said that the street was not someone's personal property and angrily stated that nobody could stop him.

After hearing this Qayyum pushed Razzaq down and instructed his accomplices to kill Razzaq. He then held Razzaq's shoulders while Aqib allegedly sat on the victim's chest and strangled him, leaving him unconscious.

The suspects then left the site abusing and waving their guns in the air.

Later, Razzaq died while he was being shifted to the hospital.

The applicant said that they had some previous enmity with Abdul Qayyum due to which he stopped their path.

The police have registered the case and started an investigation.

Bullets recovered from luggage

Security officials at the Islamabad International Airport (IIA) on Tuesday found bullets in the luggage of a passenger.

Saeed Ahmed Khan, who hails from Buner, was travelling with his family to Abu Dhabi. While passing through the scanners at the airport, officials saw suspicious metallic items. On inspection, they recovered some 22 bullets from his luggage. Saeed said that the bullets must have been kept as a mistake.

The Air Security Force (ASF) seized the bullets but only allowed him to leave once he had tendered a written apology. 

Published in The Express Tribune, March 20th, 2019.