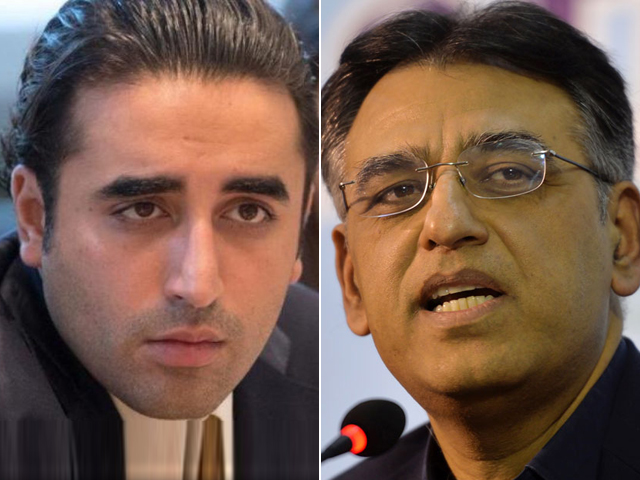 ---
KARACHI: Hours after Pakistan Peoples Party (PPP) Chairman Bilawal Bhutto Zardari repeated his claim of certain ministers' alleged links with banned outfits, the Pakistan Tehreek-e-Insaf (PTI) reacted strongly on Tuesday, accusing him of 'portraying a negative image of the country'.

Taking to Twitter, the PPP chairman said that the government responded to his demand for sacking three ministers associated with proscribed organisation by declaring him "anti-state, issuing death threats and NAB notices". But, he added: "None of this deters us from our principled stand."

He urged the government to form a joint National Security Committee (NSC) and the parliamentary committee and "act against banned outfits." He warned that "as long as compromised individuals remain in the cabinet" no one would take the government claims seriously.

I'm witness to Shehbaz Sharif asking for NRO-type deal, claims Sheikh Rashid

"Those who have supported such groups and their training camps must be removed from the federal cabinet," he wrote in a separate tweet, pointing fingers at three ministers, citing various newspaper articles and reports.


The government has responded to my demand to sack ministers associated with banned outfits by declaring me anti-state, issueing death threats & NAB notices. None of this deters us from our principle stand; form joint NSC parliamentary committee & act against banned outfits.

— BilawalBhuttoZardari (@BBhuttoZardari) March 19, 2019


Bilawal Bhutto Zardari's latest tweet against the three sitting ministers drew a strong response from Senator Faisal Javed Khan, who in a statement accused the PPP chairman of propagating a negative image of Pakistan and appeasing its enemies.

"Bilawal wants to erase whatever sacrifices our brave soldiers made for global peace. Pakistan has risen as a messenger of peace across the world. We laid 70,000 lives in war against terror," the PTI senator said in the statement.

"This war wasn't ours … for the sake of global peace we gave a financial sacrifice of $123 billion," Khan continued. "Bilawal should be ashamed of trying to appease anti-Pakistan and anti-peace lobby," PTI leader said, asking the PPP chairman to tell the nation "whose language he is speaking".

Khan said: "This is Naya Pakistan in which petty acts won't benefit you … we are a peaceful nation and we want peace." He also fired a broadside at PPP's provincial government in Sindh, claiming that 70 per cent of the province's population was living below the poverty line.

Bilawal wants 3 PM aides with 'links to banned outfits' sacked

"What was done by your father and you during the 30 years when you were in government to upgrade the status of people below poverty line? It's Imran Khan's aim to uproot corruption and pull the poor out of misery … all your efforts are to save your looted wealth and overseas properties," he remarked.

Bhutto Zardari's jibe at the government ministers drew a relatively lacklustre response from Finance Minister Asad Umar, who after addressing a news conference held an informal discussion with the media persons in Islamabad earlier in the day.

"Brother, I had [relations] with only those who had announced support for us in the elections and I have just received a message from one of them … these are the organisations and sects that had been a victim of terrorism themselves," the minister said.

"When these allegations were hurled, they messaged me the next day and said that they are still standing with you [Umar] and if you want we can issue a statement," the minister said, when his comments were sought on the PPP chairman's allegations.

"If these policies are formulated by the military, then this indicates that the government is not playing its part … being part of the government it's my responsibility to either own that policy or amend it. These excuses are being used for a long time now that enjoy perks and privileges while in power and accuse the military afterwards," he added.