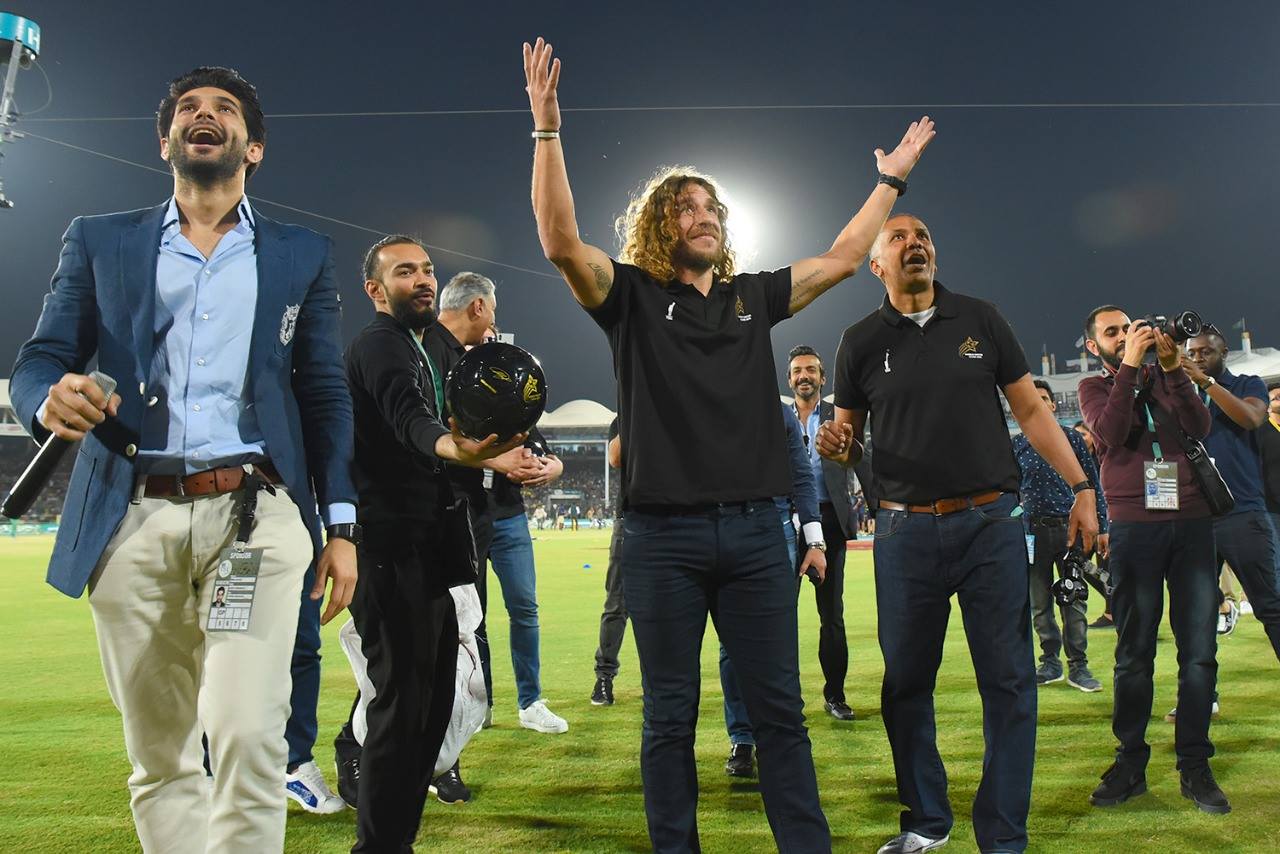 ---
KARACHI: They say do not meet your heroes, for you will be disappointed, however, the encounter with Carles Puyol was the one that can lift you up with hope.

Hope is the word if you want to describe Barcelona too, like a Chelsea supporter like me would use grit to define the Premier League club.

Barcelona stood for hope and joy. And despite having the image of "the wall", known for being feisty on the pitch, for aggression, for commitment, for being a leader, Puyol came as what hope and joy can represent and more to a modern football fan.

While hope in its most wonderful form can look like Ronaldinho playing for Barcelona from 2003, when the club's silverware drought ended or Lionel Messi, it is the core that lies at the back of the field, where Puyol would dwell.

Puyol in the Barca defence was the foundation of sorts which gave way to the midfield geniuses like Andres Iniesta, Xavier Hernández Creus, the golden generation of FC Barcelona, and the Spanish team, a chance to express themselves.

For the people who may not follow FC Barcelona, most would remember him as the hero from 2010 World Cup where his goal against Germany in the 73rd minute took Spain through to the final, being the key part of the defending line featuring Gerard Pique, Sergio Ramos, Joan Capdevila, making sure the Dutch do not score, he lifted the trophy with his team after defeating the Netherlands 1-0, the goal courtesy Iniesta in the 116th minute.

If I could describe him more, I would say humility is his forte. In a room full of Pakistani celebrities, who had come together to promote their movie Maula Jatt collaborating with TouchSky Group for the 2019 World Soccer Stars (WSS), Puyol seemed without a façade, with his blue eyes and a hint of grey there too, or so it seemed up close, and beach blond hair, he was the most humble to be precise, giving out interviews with his translator.

'The Legend of Maula Jatt' cast rub shoulders with Barcelona legend Carles Puyol

I had hoped to ask many questions but less than 10 minutes is a very small window in time, for all I could think about was that this legend of a man with 25 trophies in his footballing career for Barcelona and his country, has been kind enough, taking pictures, on tour, on the go and he must be getting tired, or maybe sleepy. It felt almost wrong to buy more time in the instance as it was after lunch and it was getting late and although I could have slid in a question or two but it felt unkind.

The 2010 World Cup winner was in Karachi from March 16 till 17 to promote and kick-off TSG's WSS ticket sales. The main event will take place in April from 26 till 29 with two exhibition matches in Karachi and Lahore.

In many ways Puyol coming to Karachi for WSS makes sense as it thrives on hope too, since TSG's CEO Ahmer Kunwar has the ambitions of uplifting football in Pakistan. He has also signed a Memorandum of Understanding with the Pakistan Football Federation since January and is a part of the sports task force set up by the government.

For Puyol, the trip was a happy one but he didn't get the time to see any youngsters play football.

"No, I didn't have time yet to watch kids playing," Puyol told The Express Tribune. "I've been here only for one day, but I'm very happy because I've received an amazing welcome. People are very passionate, very friendly and live football intensely and that makes me really, really happy."

Puyol is the fourth football star to visit Pakistan this year as TSG build up to the WSS event. Earlier Portuguese icon and Puyol's former teammate Luis Figo, along with Brazil's Ricardo Kaka had launched the campaign in January, then came French maestro Nicolas Anelka and now it was Puyol.

While he was preparing for the next event to go to it is the very same night when Barcelona took on Real Betis and Messi would go on to score his 51st career hat-trick, we asked if he has any advice for the all-time great, because surely Puyol is his senior at Barcelona too, a captain back then to now.

But just like the trait that came across first when you would meet Puyol, the former captain of the mighty FC Barcelona for 10 years, as his stint as the leader.

When asked if he had ever given any advice to the Barca magician, he said: "Advice, no, but I can motivate him, and tell him to continue like this and to give us so many good things he has done until now,' said Puyol, in earnest.

Also, it would have been unfair not to ask about the Champions League and if he had any predictions for it.

"I cannot make big predictions about Champions League because there are always surprises, but I hope Barcelona beats Manchester United. They were not great in the beginning of the season but they are in top form, so Barcelona need to do a very serious game to go through. Regarding the other games, I hope the best one wins, let's see what happens," he said through his translator.

Record crowd watch women's match between Barca, Atletico

On the other hand, it is the Champions League that is closer to Puyol's heart as he names 2006 final against Arsenal as one of his most memorable moments of his career. It was the end of the Champions League drought for FC Barcelona after 1992.

"It is 2006 Champions League final against Arsenal," said Puyol, with a very darting expression in his eyes when asked about the most favourite moment of his career.

On the Champions league front and since Puyol has retired the biggest change in the game has been the emergence of Video Assistant Referee (VAR), the difference in the sport has been well-debated too, and it seems there may be no end to controversial decision in the key matches, like witnessed at the match between Manchester United FC and Paris Saint Germain which the latter won 3-1 after a crucial decision with the help of technology, the captain fantastic believes it is still a good step ahead.

"I think it is positive for football, because you can see technology also develops in other sports and activities. The refs have very difficult job on the field and this will help them on penalties and off-sides, it will be very important for the future," said Puyol.

While he retired in 2014 after injury issues and illustrious career, Puyol's legacy reiterates humility but also commitment too, one reason he was a one-club man.

"It's a great honour. I'm very proud to have done whole of my career and days in Barcelona. It was before I was already playing I was a fan and I'm still a fan," explained the 40-year-old. "Barcelona for me is the best club in the world so I was very lucky to have the opportunity to be there my whole career."

For Puyol, if he had to grade defenders, he would take no time in saying that his favourite has been Italian master Paolo Maldini, but being a defender, a good one too, for Barcelona, or any other club, he believes it is a different job altogether.

If anything, he gave an insight into what it takes to be a Barcelona defender.

"It's different playing at Barcelona than other clubs, because Barca attacks a lot and they leave a lot of space in their back so to play in Barca you need to be at least very quick and be strong in one on one positions. If you need to defend more in the back, you need to have more qualities, it depends," said Puyol, as now it almost feels like a guideline for the ones who have come after him.

While my next question was going to be different, I chose to end the interview on cue with what would football mean to Puyol, he said passion, however, it is the addition of 'my' that made it an extraordinary answer.

"My passion," said Puyol, knowing that he is still one of the most looked-up-to legends that we have and he is promoting events for the game, even if one takes into the account of the commercial aspect of the sport.

Just the fact that Puyol was in Pakistan gives us hope and a little more because I hope to ask him about Zinedine Zidane's return as the Real Madrid coach too. But then there is April to come, and there is hope to see him again.


COMMENTS
Comments are moderated and generally will be posted if they are on-topic and not abusive.
For more information, please see our Comments FAQ