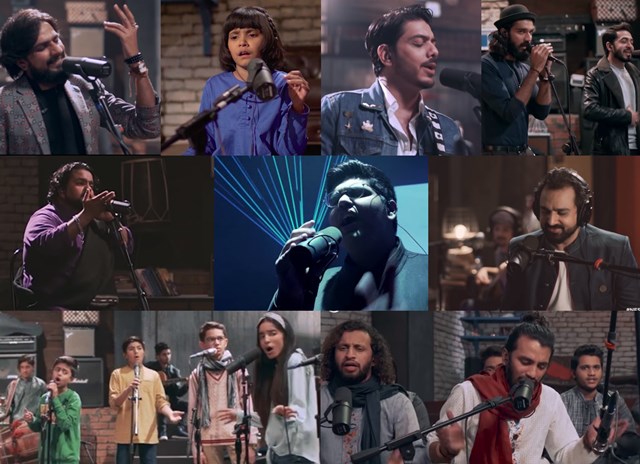 ---
We all know what goes into a good cup of coffee: choice of beans, the perfect amount of ingredients and the very best equipment. However, there is something that makes the perfect coffee even better: music! What's better than mesmerizing music and a hot cuppa coffee? We can't think of a better combination.

The brilliant concept came into being back in 2007 and we are glad that it did. It is safe to say that since then the show has managed to discover musical gems from all over the country, regardless of their age, gender, class, religion or any societal stigmas. What makes it even more special is the fact that various ethnicities and backgrounds are welcomed at the basement with gratitude where everlasting bonds are brewed. Hence, masterpieces produced are an organic product of teamwork, fuelled by creative ideas from the whole team. And, this is how NESCAFÉ Basement has managed to become a genre in itself.

NESCAFÉ Basement's musical game in season five is impeccably on point! Here is a roundup of the season's brew and reasons why these songs promptly caught our attention.

Bol Hu

The season sprang out with its first composition Bol Hu which left us flabbergasted. Orchestrated by Xulfi and Soch – The Band, the song went viral as the eight-year-old Hadiya Hashmi stole the show with her singing prowess. Along with Hadiya's powerful and moving voice, it also featured Jamil Ayyan, a Dambura player from Quetta and one of the few artists striving to save this instrument from being long forgotten. The song portrays a mystical aura that transcends you into the spiritual universe.


Mehbooba

The musical show started to win our hearts by giving us a beautiful version of nostalgic hit pop song Mehbooba which was originally sung by Haroon. The song instantly became such a hit that even Haroon applauded the brilliant attempt by the newcomers in a heartwarming twitter post.


Pyar Diyan Gallaan

This season on Valentine's Day, NESCAFÉ Basement managed to break stereotypes with the All Kids Band who redefined love in a unique way. The young musicians gave the message of love and peace to the world with their version of Fakhr-e-Alam, Fringe Benefits and Yasir Akhtar's 90's hit Pyar Diyan Gallaan. It was a delightful treat to watch these young maestros performing so brilliantly on the tunes of yesteryears.


Haiderium

It was mesmerising to this young group of qawwals Zain and Zohaib trying to revive the musical art form that stems from the heart of the sub-continent. The devotional track induces a trance on listeners with its soul-stirring vocals. The song is a lethal combination of modern beats with the classics that leaves an everlasting impression.

Ranjhna

NESCAFÉ Basement is inspiring individuals to follow their passion and encouraging them to overcome their fears. The show gave an opportunity to Shahzad Ali, a 38-year-old Ph.D. musician, and lyricist who channelled his emotions through a song about love, conflict and heartache.

Piya Re

This rendition of the classic song 'Piya re' by the legendary Nusrat Fateh Ali Khan Saab garnered positive reviews from fans and critics all over the globe. It was fascinating to witness how Jahangir Niazi exquisitely maintained the essence of the original while giving a refreshing feel to the song.

Teri Yaad

We have all seen Ali Khan before, but this year the singer is back with a bang as he has launched his tune on NESCAFÉ Basement. Ali Khan's Teri Yaad is not only based on his experience but also meritoriously encapsulates the story of how every moment weaved in love is an emotion that's stamped in one's memory for a lifetime. Ali's intense emotions are inevitable through his songwriting that surely left an impact on all the lovers out there.

Resistance

This season NESCAFÉ had all the surprises in store for us, whether it is introducing the All Kids Band for the first time or roping in Hadiya for the track Bol Hu. And so, next in line was the EDM genius, the 18-year old Abdullah Siddiqui, who needless to say mind boggled us with his unprecedented performance. This song not only got our groove on but also managed to set a new benchmark in the music production by introducing laser lighting display and laser harp.


Aadat Instrumental/Bhanwaray feat. Goher Mumtaz

This new track takes us on a nostalgic trip where we cherished keeping the song on a loop while singing our hearts out. A big shout out to NESCAFÉ Basement for making a thrilling comeback with a melody that has been ruling our hearts for 15 years. NESCAFÉ's instrumental take on this popular song originally sung by Atif Aslam is definitely worth the praise. The traditional instruments sitar and rubab add a new twist to the old classical tune, without losing the essence of the original song. The iconic Aadat isn't merely just a song, it represents an era and this rendition is simply outstanding.


NESCAFÉ Basement is a platform that has been winning hearts globally. Even our neighbours across the border have been going gaga over various talented artists that the Basement has introduced. The makers have raised the bar really high by producing music that has become a genre on its own. This exceptional platform with a purpose is also translating into the revival of the Pakistani music industry. We are in absolute awe with this season's performances. And we bet that even you will enjoy it with a mug of NESCAFÉ just like we did!

COMMENTS
Comments are moderated and generally will be posted if they are on-topic and not abusive.
For more information, please see our Comments FAQ