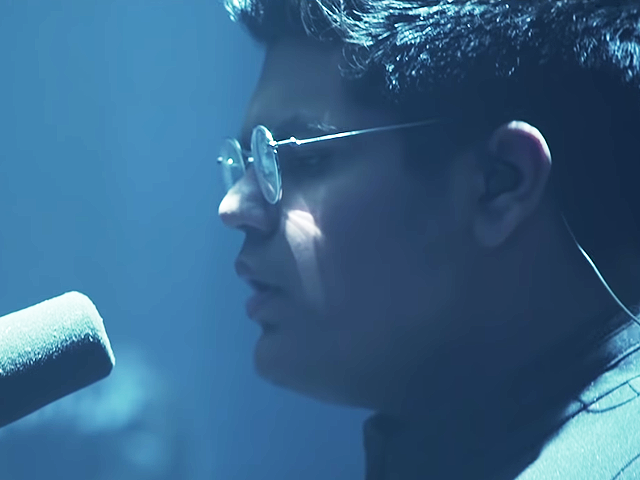 ---
KARACHI: Back in December, a colleague called me over to listen to a song he was listening to on repeat. "Who's the artist?" I asked him.

"Just listen to him. He's 18 and he's bringing Electronic music to Pakistan. His voice is so crisp and fresh. He'll make it big. I know it. He's the future of  the Pakistani music scene," my colleague responded.

I came across Abdullah Siddiqui for the first time that day. The track, Resistance, certainly had a foreign feel to it. The music was too good and the lyrics too relatable. Needless to say, Siddiqui made it to The Express Tribune's Top 20 songs of 2018 and we have no qualms about it.


The latest episode of Nescafé Basement featured the same song by Siddiqui. While its YouTube lyrical version had over 19k views, Nescafé Basement's rendition of the same track crossed over 788k views in just two days.

"I'm just trying to take it all in," the 18-year-old musician said in an exclusive interview. "It's been three years since I've started releasing my music. I write, compose and produce all my tracks. I'm more like a one man band, if you could say that."

An A-levels student, Siddiqui says he likes to experiment with his music.




"I work mostly with Electronic and Indie Pop genres," he commented. "My maternal side has always been into music. No family event would be complete without it. So, I've always been around music and grew up with it."

But, Siddiqui hasn't received any professional training. "I've been playing the guitar since I was nine-year-old. I started producing music a year after that. So, it's been eight years since I've been producing songs," he continued.

Electronic music is still relatively new to the Pakistani music industry. And Siddiqui somewhat agrees to the risks attached to it.  "It's not just me but many other individual artists who are bringing the EDM (Electronic Dance Music) to Pakistan. It is an active choice to work with this particular genre," he shared.


SCREENGRAB

"However, I don't think people comprehend that Pakistanis consume a lot more EDM or Pop than we usually think. But the problem is, it's all international. It's just not produced locally. I do think though, that EDM has a bright future in this country."

Siddiqui released Resistance in August last year. "I wrote and recorded the song in three days. I was really unwell and it just kind of resonated in the lyrics. I tend to write songs that might describe my state of mind. I don't really rationalise it. But once I read what I've written again, it all makes sense to me," he added.


So, how did Nescafé Basement happen?

"The song garnered a lot of support from within the music industry and it was shared on social media quite religiously. That's when Xulfi came across it. He later added me on Facebook," Siddiqui went on. "Then, I considered auditioning for the show. But luckily, the day I was actually thinking about it and was about to start recording, Xulfi messaged me on Facebook, asking me to drop by his studio and discuss the song further."

Siddiqui credits the revamped version of his song to the Call frontman. "It was Xulfi's vision: the graphics, the changes of the song. He had thought it through to the very last detail," explained the singer.




On why the chose Resistance since it was already on mainstream media, Siddiqui shared it was because Xulfi liked the song for what it was.

"Xulfi didn't want to change it all. He liked the song for what it was. He just thought Resistance didn't have enough audience. He had a very clear idea on how he wanted to do it. He wanted the soul of the song to remain the same. Had I had complete control on the changes, I wouldn't have done it any differently," he said.

Does Siddiqui see himself taking music up as a full-fledged profession? "I plan on making music while getting a degree and continuing my studies. I hope - in the not so distant future - I see myself become a full-time musician," he continues. "In five years, I see myself doing everything. I'm into film-making and I'm into writing."

He concluded, "Remember when I said I like to experiment? Well, that's not just limited to music."

Have something to add to the story? Share it in the comments below. 
COMMENTS (1)
Comments are moderated and generally will be posted if they are on-topic and not abusive.
For more information, please see our Comments FAQ