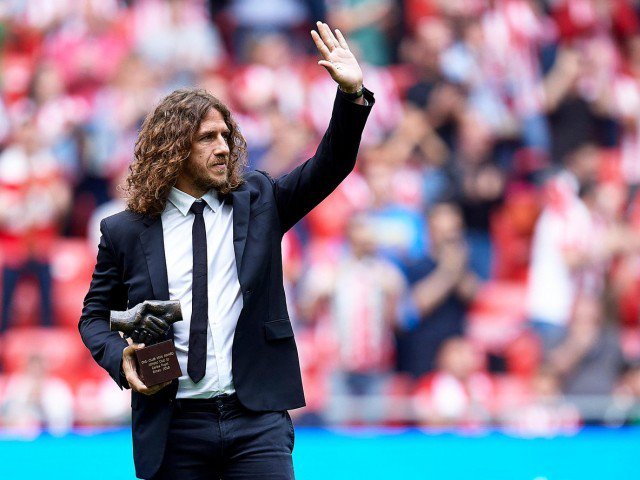 ---
Cricket and football come together as Barcelona legend Carles Puyol Saforcada is in Karachi for the Pakistan Super League (PSL) final on Sunday to kickoff the World Soccer Stars (WSS) event, a statement released stated.

Puyol will be arriving at the grand finale of PSL where he will engage with over 100,000 fans in Karachi National Stadium to promote WSS and officially announce ticket sales on Yayvo and TCS.

Puyol, aka Captain Fantastic, arrived in Karachi on Saturday.

Barca legend Puyol to visit Pakistan for WSS promotion

"Karachi, I look forward to seeing you all and I am really excited to meet all my fans at the one and only PSL final. World Soccer Stars (WSS) presents a great opportunity to celebrate the arrival of football and from what I know, football is the next emerging sport in Pakistan," said the retired footballer.

Other football legends, Brazillian Kaká and the Portuguese Luís Figo, congratulated the return of cricket in Pakistan in a video and stated that football will surely follow in its footsteps.

Ahmer Kunwar of TouchSky Group said: "It's a real privilege to see the bedrock of FC Barcelona defence in Pakistan and we are proud to see him as the official face to kick off WSS tour on 27 April in Karachi and 28 April in Lahore. I also thank Mr Ehsan Mani of Pakistan Cricket Board (PCB) to allow us to grace his penultimate occasion with cricket in Pakistan".

Puyol's visit will also involve fan engagement at Dolmen Mall Clifton where he will meet fans and release a special edition of VR headsets signed by 'Captain Fantastic'. For the very first time, soccer and a concert by Akon will be experienced in virtual reality. The headsets will be available from WSS stands in Dolmen Mall and some lucky winners might get the golden VR headset signed by Puyol himself.

Nazia Hassan to be honoured at PSL closing ceremony

Puyol is a retired Spanish professional footballer who spent his entire career with his local childhood team FC Barcelona. He is regarded as one of the best defenders and leaders of his generation.


COMMENTS
Comments are moderated and generally will be posted if they are on-topic and not abusive.
For more information, please see our Comments FAQ