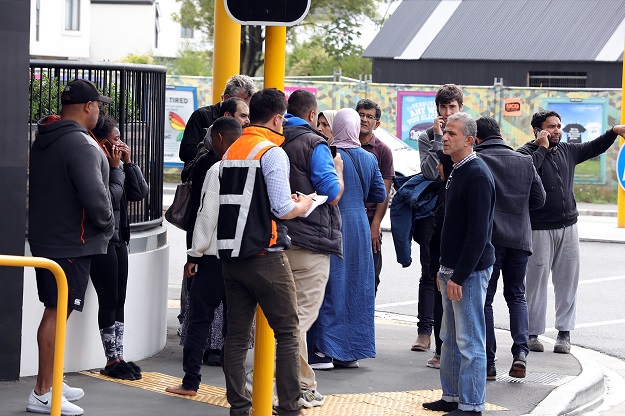 ---
Four Pakistani national were injured and five others are missing in the deadly terror attack on two mosques in New Zealand which claimed at least 49 lives on Friday.

Foreign Office Spokesperson Dr Muhammad Faisal said in a tweet that the injured are being treated in hospitals, while the Pakistan High Commission in New Zealand is in contact with local authorities to ascertain the identity of the five people who are missing.


Update on New Zealand terrorism incident - 4 Pakistanis injured and being treated in hospitals - 5 Pakistanis are missing. Identities are being authenticated in consultation with local authorities.

— Dr Mohammad Faisal (@DrMFaisal) March 15, 2019


Meanwhile, an anchor on a private news channel, Adil Shahzaib, shared the details of five missing Pakistanis on micro-blogging website Twitter.


Breaking: Details of five Pakistani men missing in #ChristchurchMosqueShooting @barribaat!

1) Muhammad Suhail Shahid (36 years)

2) Syed Areeb Ahmad (26 years)

3) Syed Jehandad Ali (34 years)

4)Talha Naeem (21 years)

5) Muhammad Zahid. https://t.co/xlpQOjwuWg

— Adil Shahzeb (@adilshahzeb) March 15, 2019


Earlier, High Commissioner Abdul Malik told a private news channel that they are in contact with the local Pakistani community as well as local authorities to find out about casualties.

He said the affected mosques in Christchurch were established in 1960 and at the time of shooting about 300 people were inside. It was an unprecedented terrorist act in the country's history, the diplomat added.

At least 49 dead in terror attack on two New Zealand mosques

Moreover, one gunman, identified as an Australian extremist, apparently livestreaming the deadly assault that triggered the lockdown of the New Zealand city.

The Pakistani community in the country is over 20,000.

Nine people of Indian origin missing

According to Sanjiv Kohli, the High Commissioner of India to New Zealand, nine persons of Indian origin were also missing after the deadly attacks, but official confirmation is still awaited.

As per diplomatic sources, the list of nine names is based on local contacts and hospital sources and a clear picture about the victims was only likely on Saturday, The Wire reported.

"Our Mission is in touch with local authorities to ascertain more details. It is a sensitive matter and therefore we can't give confirmed numbers/names till we are absolutely certain," Ministry of External affairs spokesperson Raveesh Kumar said in New Delhi.

With additional input from APP
COMMENTS
Comments are moderated and generally will be posted if they are on-topic and not abusive.
For more information, please see our Comments FAQ