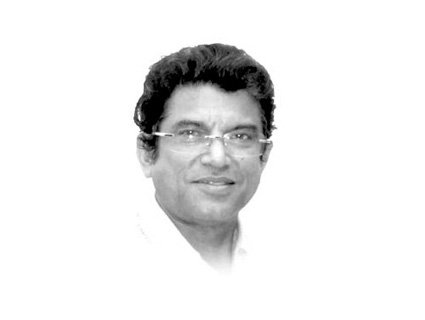 ---
ISLAMABAD: Former army officer and defence analyst, Brigadier (Retd) Asad Munir, was found dead at his apartment in Islamabad on Friday, said police.

Asjad Mehmood, the station house officer (SHO) of Secretariat Police Station, said Munir had taken his own life and that his family had decided not to conduct a postmortem.

According to family members, the former intelligence operative's funeral will be held at 5:00pm today and he will be laid to rest at the H-8 graveyard in Islamabad.


My elder brother Brig Asad Munir has passed away. Please pray for his maghfarat.

— Khalid Munir (@Khalid_Munir) March 15, 2019
My father @asadmunir38 left us today. His funeral will be held at H-8 graveyard at 5:00 PM today.

— purani meena (@PuraniMeena) March 15, 2019


Doctors at the Pakistan Institute of Medical Sciences (Pims) confirmed that a postmortem was not conducted before the body was handed over to the bereaved family.

They said suicide was the most likely cause of death as the body bore no visible bruises or other marks of violence. However, the doctors said the possibility of poisoning could only be completely ruled out after a proper autopsy.

Munir had served as a member of the Capital Development Authority (CDA) from 2006 to 2010 and, on Thursday, was named in a reference approved by the National Accountability Bureau (NAB).

The reference pertains to alleged misuse of powers for the restoration of a plot in Islamabad's F-11 area. Other accused in the case include ex-CDA chairman Kamran Ali Qureshi and former member estate Khalid Mahmood.

According to as yet unverified reports, the retired brigadier left behind a suicide note in which he purportedly cites NAB's actions against him as the reason for his decision.

Brig (Retd) Munir's death has been widely condoled by politicians, activists and other prominent members of Pakistan's intelligensia.


So upsetting to hear about the death of @asadmunir38 . I pray that all mighty Allah gives his family strength to cope in this difficult time. Inna Lillahi wa inna ilayhi raji'un @Khalid_Munir @gabeeno

— BilawalBhuttoZardari (@BBhuttoZardari) March 15, 2019
Shocked to hear of @asadmunir38's tragic death. Praying for his soul and his family to have the fortitude to face this sudden, untimely bereavement. We all mourn his loss.

— SenatorSherryRehman (@sherryrehman) March 15, 2019
COMMENTS
Comments are moderated and generally will be posted if they are on-topic and not abusive.
For more information, please see our Comments FAQ