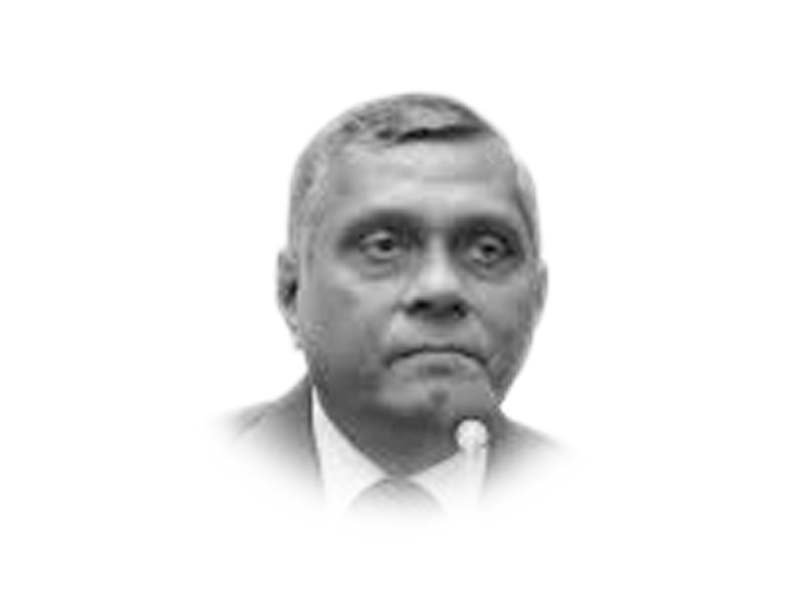 ---
In 1976, the preamble of 42nd amendment to the constitution of India changed the description of the state from a "sovereign democratic republic" to "sovereign, socialist, secular democratic republic". Since then, constitutionally, India is a secular state supposed to be providing rights to all the citizens of the country irrespective of their religion, and taking a neutral position on religious matters. Forty-three years after the 42nd amendment, the campaign to declare India as a Hindu state has gained momentum particularly since the BJP, under Narendra Modi, came to power in 2014.

The debate on why and how India is declared a Hindu state is not new. In a seminar on Indian communal politics which was held in April 1993 at the Arms Control Program, University of Illinois at Urbana-Champaign, United States with Dr Akhtar Majeed, who was at that time affiliated with Aligarh Muslim University, a Pakistani participant argued that in the wake of the demolition of Babri Mosque and uninterrupted communal violence targeting Muslims and other minorities, why India doesn't declare itself as a Hindu state? The guest speaker and other Indian participants strongly objected to such a suggestion and proudly stated about the secular identity of their country. Now 26 years down the road, it seems the time to declare India a Hindu state has come.

The surge of Hindutva in India, however, has historical roots when Rashtriya Swayamsevak Sangh (RSS) was established in 1925. Narendra Modi, who was an RSS pracharak before joining the BJP, pursued a vicious agenda to transform India from a secular to a Hindu state. Never in the history of India since its inception as a new state in August 1947, the country has experienced so much of intolerance and extremism against religious minorities. The Pulwama terrorist attack of February 14 this year and subsequent events witnessed brutalities against Kashmiri Muslims in many Indian states with RSS and other Hindu militant organisations threatening to augment their drive to expand the wave of religious fanaticism.

In the March 2, 2019 issue of The Economist magazine under the title "Hindu nationalism", a detailed account of the rise of Hindu militancy and threats to religious minorities, particularly Muslims, reveals the level of fanaticism in India today. Following the model of Fascist Italy and Nazi Germany, RSS has emerged as a communal group with strong network of trade unions, farmers, students, teachers, doctors, lawyers and women. According to The Economist report, "RSS has 60,000 self-financing cells, or Shakhas, which meet daily for communal exercises and discussion, typically on a patriotic theme. RSS progeny run India's two largest private school networks, educating some 5 million children." It is not only RSS which has penetrated deep inside Indian state and society, "the two million member Bajrang Dal, a youth branch of the World Hindu Council, an RSS offshoot, has a reputation for beating up Muslim boys who dare to flirt with Hindu girls. The three million strong 'All India Students Council' is aggressive in campus politics. By threat or violent action it frequently blocks events it does not like, such as lectures by secular intellectuals." More alarmingly, "the RSS influence also extends to university deans, heads of research institutes, members of the board of state-owned firms and banks." RSS has also been able to penetrate in bureaucracy, judiciary and in the rank and file of armed forces.

Modi's agenda of transforming India as a Hindu state is based on a four-point plan. First, eliminate 42nd amendment to the Indian constitution which in its preamble declares India as a secular state. Second, to get rid of article 35-A of the Indian Constitution which provides special status to India-occupied parts of Jammu & Kashmir. Third, build Ram Temple in place of the 16th century mosque in Ayodhya demolished in December 1992. Fourth, force religious minorities, particularly Muslims, to convert to Hindu religion. Enforcement of the ban on cow slaughter in the BJP-run states is another overt act of harassment against the Muslim minority. According to The Economist report, "Between 2015 and 2018, some 44 people, 36 of them Muslims, have been beaten or hacked to death by cow vigilantes." Will the BJP and its affiliates RSS, Bajrang Dal and Sang Pariwar succeed in their design to transform India from a so-called secular to Hindu state? Is the silent majority of Hindus who are 80% of the Indian population unable to prevent their country from following the path of Nazi Germany and Fascist Italy? Why are the so-called secular forces in India unable to counter the Hindu militancy and anti-Muslim drive led by the Modi regime?

It may be difficult to reverse the tide of Hinduism because, as commented by Pragya Tiwari, the author of a forthcoming book on RSS, and quoted in The Economist, "they are judges, they are professors, they went from RSS-run crammers to pass civil-service exam, or RSS military academies into the army. These people are not going anywhere." The only hope to see India rid of the Hindu militancy and a fanatic person like Narendra Modi is if the BJP loses May 2019 elections. But to expect Congress and its leader Rahul Gandhi that they will restore the secular identity of India may not be possible because as stated by Pratap Bahnu Mehta, a columnist and head of Ashoka University, the "Congress Party has largely dropped talk of secularism since winning the state of Madhya Pradesh in December. Congress has undone the BJP in cow protection, budgeting millions to build shelters for retired cattle. Its national leader, Rahul Gandhi, now punctiliously visits temples. He is trying to show that he is no longer embarrassed by his Hinduism, and this is a huge thing since the core of RSS belief is that the secular state has left Hindus culturally marginalised."

With Congress indirectly helping the BJP by not seeking alliance with those that are diehard anti-BJP like Aam Admi Party (AAP) and Mamata Banerjee, the Chief Minister of West Bengal and head of All India Trinamool Congress, it seems there is no cogent force to challenge Modi in the next general elections. Instead of taking on the BJP government of its anti-Muslim and anti-religious minority stance, Congress is trying to express its appeasement to Hindutva so as to get votes on religious grounds. However, Congress has undermined a basic fact that the vote bank of the BJP cannot be encroached upon by Rahul Gandhi's pro-Hindu acts of cow protection in its governed state of Madhya Pradesh or going to temple.

If the silent majority of Hindu population votes for the BJP and Modi gets a two-thirds majority in the next general elections, his objective to rewrite the Indian constitution and undoing 42nd amendment to the transform India as a Hindu state may be a possibility. After getting a two-thirds majority in Lok Sabha (the lower house), the BJP will then get a two-thirds majority in Rajya Sabha (the upper house) after some time which will pave the way for formulating a new Indian constitution on the lines of the RSS ideology. The BJP and its Hindu communal offshoots are very clear that India should be a Hindu state as the country has an overwhelming majority of people following that religion. Will India be prepared to accept such a big change in its political system; and if India is declared a Hindu state in the new constitution, how far will it be different from those states that are constitutionally religious?

A Hindu state ruled by fanatic Hindu leaders will not only destabilise India but will unleash the process of disintegration of that country on communal grounds. Not only Sikhs, Kashmiris but also Indian Muslims will have no other option but to struggle for a separate statehood. When India is drifting towards Hinduism, it is time for Pakistan to prevent religious intolerance and ensure state's neutrality on religious matters. That will differentiate between a Hindu India and an enlightened Pakistan.

Published in The Express Tribune, March 15th, 2019.

Like Opinion & Editorial on Facebook, follow @ETOpEd on Twitter to receive all updates on all our daily pieces.
COMMENTS
Comments are moderated and generally will be posted if they are on-topic and not abusive.
For more information, please see our Comments FAQ