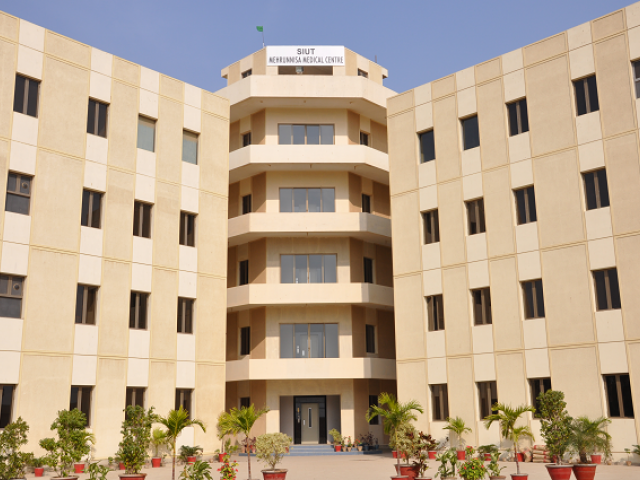 ---
KARACHI: Pakistan has the eighth-highest number of cases of kidney-related diseases, causing 20,000 deaths annually, said experts at the Sindh Institute of Urology and Transplantation (SIUT) during a series of public awareness programmes organised to mark the World Kidney Day on Thursday.

The day is globally observed in March in collaboration with the World Health Organisation (WHO), International Society for Nephrology (ISN) and International Federation of Kidney Foundation (IFKF) with the aim of spreading awareness among people about the function of kidneys, their importance, the diagnosis of kidney diseases, methods of prompt treatment and most of all prevention of kidney diseases.

This year's theme was, 'Kidney Health for Everyone, Everywhere'.
SIUT organised free clinical testing such as blood tests, urine tests, measurement of height, weight, body mass index (BMI) and blood pressure etc.

Free check-up and consultations by medical specialists, nutritional and dietary advice were also provided. They also conducted lectures and tutorials throughout the day at the Dewan Farooq Medical Centre, Karachi, SIUT Primary Healthcare Center, Kathore, SIUT Chhablani Medical Centre, Sukkur, and SIUT Camp at press club in Mithi, Tharparkar.

Experts at SIUT said that there was sharp increase in the number of people affected by kidney diseases to an estimated 850 million people. Annually, 2.4 million people die worldwide, making it the sixth fastest growing cause of death worldwide.

They added that the leading causes of chronic kidney diseases are primarily diabetes, kidney glomerular diseases and high blood pressure while other causes include excessive use of pain killers, some Hakeemi medicines, genetic disorders, birth defects, stone disease, infections, environmental pollution and unhygienic conditions, and old age etc.

Unfortunately, most of the kidney is already damaged by the time the symptoms of kidney diseases appear. According to the experts, the main symptoms and features of kidney diseases include swollen face and feet, tiredness, lack of appetite, lack of concentration, blood in urine, frothy urine, vomiting, difficulty in breathing, etc.

Explaining the cardinal measures for prevention of kidney diseases, they advised low intake of salt and oily foods, staying hydrated, eating more fruits and vegetables, staying physically active, regular check-ups with doctors, no consumption of alcohol and tobacco, maintaining ideal weight, controlling sugar levels for diabetic patients, controlling high blood pressure in hypertensive patients and compliance with medications as directed by the physician.

Dr Sarfraz Sarwar, Dr Munawar Khaliq, Diabetologist Dr Sobia Naheed, Dr Fouzia Mushtaq, dietician Naila Rasheed and others spoke in the public awareness programmes.
A large number of people participated in the event and availed the facilities.

Awareness session at KU
Karachi University also organised an awareness session for its students in collaboration with the Kidney Foundation.

Dr SA Jaffar Naqvi, the co-founder of the Kidney Foundation, said that there could be no awareness possible without education and the health sector could not be improved without proper education.

He demanded that governments increase the allocation of budgets for education and health sectors and duly spend all the money to bring visible and effective changes in these two sectors.

He said that Pakistan only spends 0.7% of the GDP on health and since 1947 no significant change has been observed in this regard. "As far as I know, education sector only gets 1.09 percent of the GDP," he added.

Dr Naqvi urged the students to launch campaigns so that governments move forward and improve education and health facilities.

He said that diabetes and high blood pressure were two major causes of kidney diseases and walking was essential in reducing the chances of developing them. A person should also avoid smoking, use less salt and maintain a healthy body weight, he added.

Shehnaz Ahad, of Kidney Foundation, said that diabetes was on the rise around the world and in 2000, around 5.2 million Pakistanis had diabetes. She added that out of 33 persons with diabetes, eight people could likely get kidney-related problems within 10 years and that is why it was necessary to adopt precautionary measures.

People with high blood pressure are also at a greater risk of developing kidney diseases, said Dr Zehra, of National Institute of Kidney and Urological Diseases. According to a US medical report, she said, 44% people with diabetes were found facing kidney related problems whereas 29% of the patients of high blood pressure share this condition.

She added that approximately one in three adults with diabetes and one in five adults with high blood pressure could have chronic kidney diseases. It is estimated to be more common in women than in men, she said.

KU also announced to launch the KU Kidney Ambassador Programme to spread awareness about kidney-related diseases.