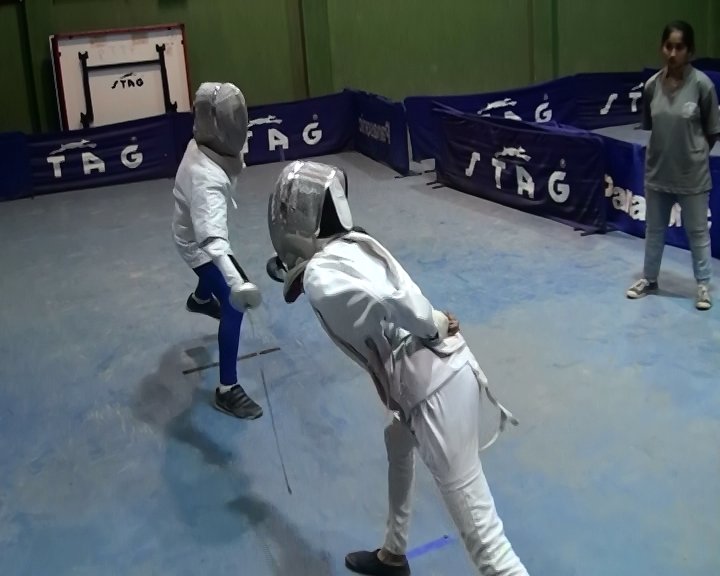 ---
KARACHI: With their uniform padded white overalls and featureless protective masks, fencers appear to cut a rather masculine figure and one might be forgiven for mistaking them all for men.

After all, the art of sword-fighting has traditionally been viewed as an exclusively male pursuit. Fencing in particular, conjures up the image of Napoleonic-era 'gentlemen' dueling each other to settle 'matters of personal honour'.

However, the world over and increasingly in Pakistan, the sport has been attracting women and girls of all ages in droves. Nowhere was this more apparent than at the Fencing Festival held in Karachi on Tuesday.




The Sindh Fencing Association (SFA) holds a competition every year in which many girls get a chance to show their swords-'woman'-ship.

Pakistan's fastest man, forgotten in a flash

"From 1996, when the sport was introduced in the country, to 2014, only 12 girls appeared to take an active interest in fencing," said SFA Secretary-General Muhammad Taqi.

In recent years, however, the sport has taken off like wildfire among women and girls, he said. "Over 400 girls became active fencers over the past two years alone."

Taqi said that during the first two years, they did not have any resources to organise sword fights as the swords and armour used for the sport are not even manufactured in Pakistan and had to be imported. Earlier, they used to get the swords built through customised orders, but now a few donors have started to financially support the association in promoting the sport, he added.

A dear sport

Fencing involves the use of special jackets, pants, gloves, boots and socks as well as tailored metal masks. Among all resources, the sword is the most important tool. It size may range between 90cm to 110cm and its weight between 500 to 700 grams.

Taqi said that the jacket costs around Rs25,000 while the estimated cost of a mask ranges between Rs12,000 to Rs15,000.




Nike's new campaign reminds us of boundary-breaking Pakistani female athletes

Before the competition began, the girls donned helmets along with an armour jacket. Wearing a glove in one hand, the girls entered the playfield to showcase their skills which were lauded by spectators.

The fencing sport is divided into three categories which include foil, epee, and sabre. In order to get a score in foil, the swordsman needs to target any body part of his opponent. In sabre, the player must target the upper body while in epee the target is the quarter body.

According to Iqra, an active player, the ancient sport of fencing is now being modernised and the rules and the tools are being amended to cater to the needs of the time. She said that a player must undergo several hours of workout and exercise to keep up with the pace. She added that the sports develops ones self-defence skills.

The sport however, is an expensive indulgence.