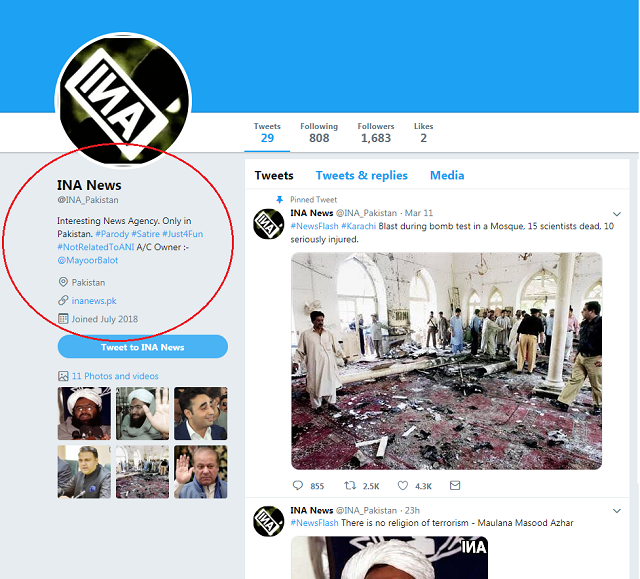 ---
Multiple Facebook and Twitter posts have shared a photo that they claim shows the aftermath of a bomb test inside a mosque in Karachi.

According to AFP, the claim is false; it originated on a parody Twitter account; the photo is actually an AFP image of a 2004 bomb attack on a mosque in Karachi.

The misleading posts, for example here on Facebook, share a screenshot of a tweet by @INA_Pakistan.

The tweet contains a photograph of a mosque covered in debris and has a caption saying: "#NewsFlash #Karachi Blast during bomb test in a Mosque, 15 scientists dead, 10 seriously injured."

Below is a screenshot of the misleading Tweet, which has been retweeted more than 4,000 times since it was posted on March 11:




The INA News Twitter account says it is a parody account from Pakistan. Its Twitter profile says: #parody #satire #Just4Fun #NotRelatedToANI

The website URL listed on the INA Twitter account does not work.

Below is a screenshot of the account:




ANI is the acronym for Asian News International, an Indian news agency.

The INA logo is a reversal of the ANI logo.

Below is a screenshot of the ANI logo as seen on their verified Twitter account, which has nearly three million followers:




According to the parody INA News Twitter account, the "A/C Owner" is Twitter user @MayoorBalot.

The account has not yet Tweeted but has 13,900 followers.

In the handle, the @MayoorBalot Twitter account lists an unverified Facebook account in the name of Bobby Deol or, @TheBobbyDeol, which has more than 14,000 followers.

The unverified Bobby Deol Facebook account shared the misleading INA tweet, without specifying that the content was taken from a purported parody account.

Multiple other Facebook and Twitter users shared the misleading INA tweet as if it was real news.

A Google reverse image search found the image in the misleading posts is actually an AFP photo of a 2004 attack on a mosque in Karachi.


The image can be viewed on AFP Forum.







The AFP photograph's caption says: "Pakistani worshippers and police officers walk through the wreckage inside a Muslim mosque after a bomb ripped through during holy Friday prayers in the volatile port city of Karachi 07 May, 2004. At least five worshippers were killed and several others injured when a bomb ripped through a packed mosque in the Pakistani city of Karachi during Friday Muslim prayers."