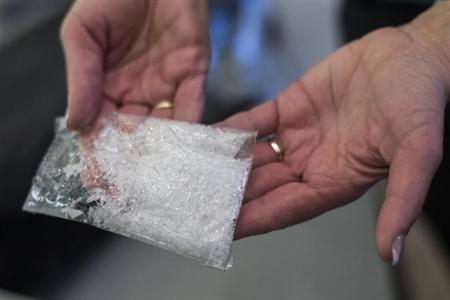 ---
PESHAWAR: Authorities foiled a bid to smuggle crystal meth worth Rs96 million at Peshawar airport by a Saudi-bound passenger late on Wednesday.

An individual, identified as Jamshed from Swabi, was caught trying to smuggle 950 grams of the narcotic substance – hidden in his luggage – during a routine baggage check, said a statement released by Pakistan Customs.

The statement added that the individual was attempting to board a flight to Ra'sal Khaymah. A report of the incident was lodged by local police.

Islamabad's drug addiction

What is crystal meth?

A stimulant drug, crystal methamphetamine triggers the release of two neurotransmitters – dopamine and noradrenaline – in the brain. These chemicals speed up communication between the brain and the body – enabling one to feel alert and excited.

Commonly known as 'ice', it comes as small clear chunky crystals that look like ice. The drug has powerful euphoric episodes with increased energy, feelings of invulnerability, confidence and pleasure and an increased sex drive. These can last for up to 12 hours.
COMMENTS
Comments are moderated and generally will be posted if they are on-topic and not abusive.
For more information, please see our Comments FAQ