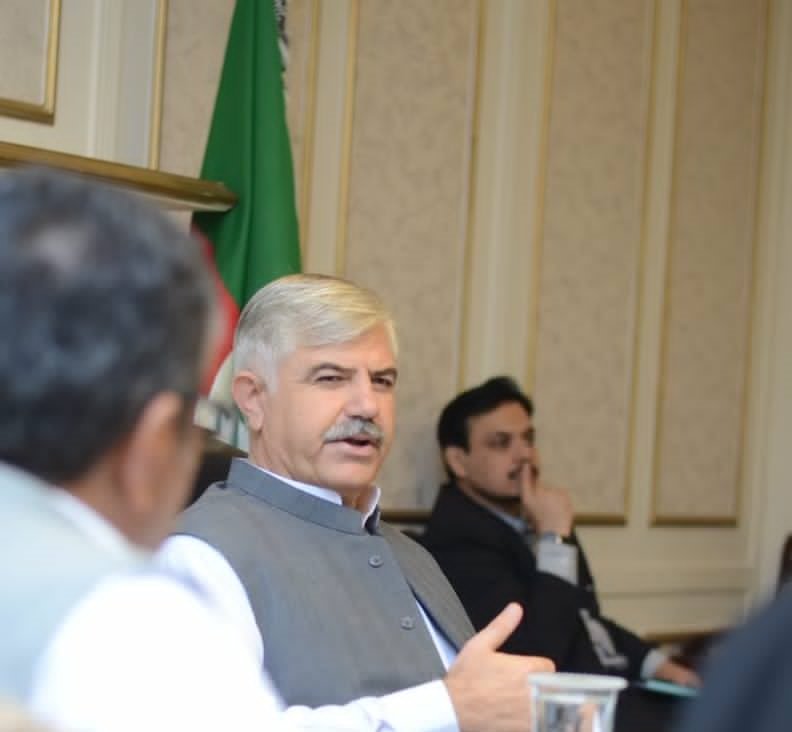 ---
PESHAWAR: A high level meeting regarding the newly merged districts in the province was held under the chairmanship of Khyber Pakhtunkhwa Chief Minister Mahmood Khan in CM House Peshawar.

Various decisions regarding developmental work in merged districts, extension of departments, posting of judges, in NFC transfer of three per cent share of merged districts to the province were taken.

Advisor to Prime Minister on Establishment Arbab Shehzad attended the meeting as representation of Federal government while senior provincial Minister for Local Government Shahram Khan Tarakai, Minister Finance Tamimur Saleem Khan, Jhagra, Law Minister Sultan Muhammad Khan, Minister Health Dr. Hisham Inamullah Khan, Advisor to Chief Minister on merged districts and spokesperson of Provincial Government Ajmil Khan Wazir, Special Assistant to CM on Information Technology Kamran Bangash Advisor to CM on Elementary and Secondary Education Ziaullah Bangash, Chief Secretary Salim Khan and IG police.

Senior member board of revenue, administrative secretaries of the concerned departments and other high ranking officers attended the meeting. The chief minister directed to ensure implementation on his earlier directives and to include the budget of merged districts in the next year provincial budget.

The same directives have already been given by Prime Minister Imran Khan.

The meeting was told that training to the officers for budgeting in merged districts had been completed.

Advisor to Prime Minister on Establishment Arbab Shehzad assured that efforts would be made to give three per cent share of merged districts in NFC amounted to Rs128 billion.

Arbab Shehzad on behalf of PM assured that the federal government would provide resources to K-P.

The CM said that the transparent and judicious use of resources provided for merged districts would be ensured. In the first phase, 17,000 vacancies would be created.

The resources provided in NFC for the merged districts would not be used in other areas.

Mahmood said under the 10 year plan, utilisation of fund would be ensured every year. Reconstruction and rehabilitation of hospitals, schools' building and provision of teachers and other staff would soon be made possible.

The CM further said the creation of 7,000 more vacancies was also part of the plan and the people of merged districts would be given relaxation in age and education for appointment to these vacancies.

He said it was government plan to establish offices for judges in the merged districts while 907 more vacancies would be created for judiciary in the merged tribal districts.

Session Judge and Senior Civil Judges would be posted according to the direction of Supreme Court. The meeting was told that all the pending cases with assistant commissioner, deputy commissioner and Fata tribunal have been shifted to judiciary. At least 25 police stations have been extended while 393 senior police officers would be appointed for merged districts.

The meeting was told that there will be a total 25 provincial assembly seats in merged districts. In Local Government there would be 702 village councils and 25 TMAs.

The meeting was further told that 460 new schemes have been included in the Annual Development Programme.

The Chief Minister said that the police and judiciary system would be the same as already in vogue in the whole province. Levies and Khasadars would be merged step by step in police and they would be given job security. He said the completion of small dams would be ensured this year in which five small dams would be completed till June 2019. Mahmood said: "if resources are available, we will complete 10 small dams during the current year."

Sehat Infaf Cards would be provided to all merged districts from March 15 and all the families, around 1.1 million, of the merged districts would be provided these health insurance cards. Tele Medicine Service would soon be provided in the merged districts and the people of merged districts would get 13 basic health care facilities. Students of merged districts would be given scholarships.

Arbab Shehzad, adviser to prime minister, appreciated the provincial government's machinery for reforms, extension of government departments in short time and better service delivery.

He expressed hope the officers would continue to serve the people of merged districts with the same spirit and solve their problems. 

Published in The Express Tribune, March 12th, 2019.
COMMENTS
Comments are moderated and generally will be posted if they are on-topic and not abusive.
For more information, please see our Comments FAQ