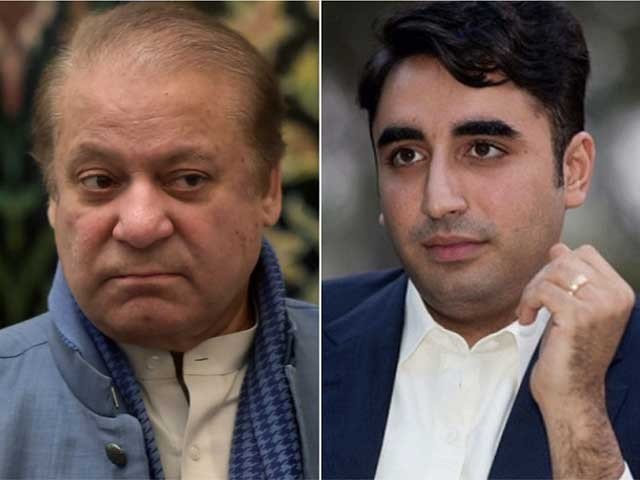 ---
LAHORE: Pakistan People's Party (PPP) Chairman Bilawal Bhutto Zardari met former prime minister Nawaz Sharif at Kot Lakhpat jail here on Monday and said that the Pakistan Muslim League-Nawaz (PML-N) supremo should be given the medical care as demanded by him.

Speaking to media after the meeting, Bilawal said he had come to inquire about Nawaz's health because he had heard that the former premier was unwell and over the past few weeks the PML-N and Nawaz's daughter Maryam Nawaz had issued "concerning statements" about his health.

He remarked though there were political differences between the two parties, PPP and every individual should follow the cultural and religious values which dictate that a Muslim who is unwell should be visited and inquired after.

"I believe our religion and culture hold such traditions and our leaders should also first be humans and then leaders," Bilawal said, and added, "I believe that such injustice should not take place with anyone, not even with an average prisoner."

Bilawal maintained that it was "sort of a historical day" for him as his grandfather, father, as well as various PPP workers had served time as political prisoners in the same prison.

He observed that Nawaz looked frail when he met him.
"I was very sad when I saw Mian sahib; he was looking quite unwell," he said.

While noting that the PPP and PML-N had a long history and may not agree politically on certain things, but when it came to health and humanity, the PPP demanded that Nawaz should be provided with the best treatment and added that he should be provided with whatever treatment he asks for.

"I hope the prime minister and his government think on humanitarian grounds," the PPP chairman said.
In response to a question if the Charter of Democracy (CoD) could be seen as the basis for today's meeting, the PPP chairman said that Benazir Bhutto and Nawaz Sharif had signed the CoD in 2006 and over the decades of doing politics what the two had learnt, they put the country in the right order.

Bilawal added that while the two parties had worked on elements on the CoD, it was their failure that the entire charter had not been implemented.
No alliance with PML-N on cards, insists PPP

He added that those talking about any concession for the former premier were creating difficulties for him.
"I believe that those advocating the National Reconciliation Ordinance (NRO) are hatching a conspiracy against Nawaz Sharif," he said.

The PPP chairman negated that the PML-N chief was seeking any settlement.

"Of course he [Nawaz] is unwell but I got no impression that there is a deal being made or Mian Sahib is ready to compromise. Mian Sahib is focused on his principles and, God willing, the PML-N will remain fixed on their principles," he said.

He re-emphasised that though he came to ask about Nawaz's health, being politicians, they did discuss other matters including the CoD.
Bilawal told that he kept in touch with PML-N president Shehbaz Sharif and other leaders during the assembly session. He also expressed his desire to meet Maryam Nawaz.

"I would love to meet Maryum Nawaz if got a chance. I understand she is busy in party activities and taking care of her father," he said.

PPP leaders Qamar Zaman Kaira, Mustafa Nawaz Khokhar, Hasan Murtaza and Jameel Soomro accompanied the PPP chairman in his first meeting with Nawaz Sharif.

On Saturday, Bilawal had formally requested the interior ministry to allow him to meet Nawaz in jail.