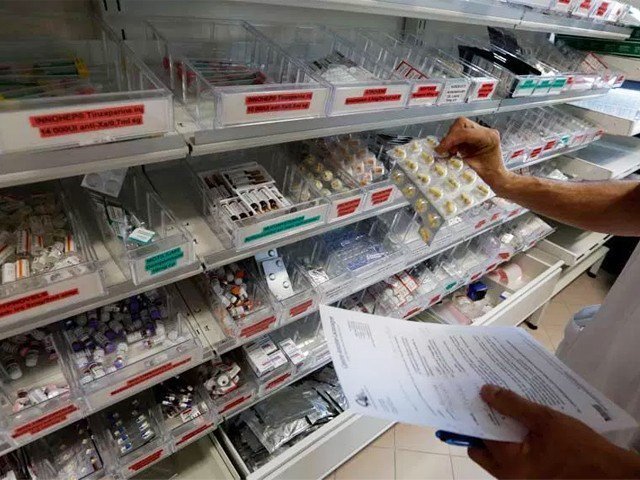 ---
KARACHI: The importance of small and medium enterprises (SMEs) can be gauged from how the government has prioritised the sector.

The SME sector has a lot of potential to create employment opportunities, which is why, in its election manifesto, the Pakistan Tehreek-e-Insaf (PTI) government promised to launch a 10-year incentive plan for the sector's rapid growth.

Now, the government is working to introduce a national SME policy to create employment and boost exports. In this endeavour, the central bank has also increased loan allocation for the sector from 8% to 16%.

There are many success stories of small and medium-sized entrepreneurs across the country. Among these is 42-year-old Atif Shehzad, who wanted to make something different when he took over his father's business.

Despite having education in science, he managed to transform his father's shop from a wholesale business to a prominent distributor in Peshawar. He was interested in taking over his father's shop even after getting a decent teaching job at the Peshawar University.

Shehzad, who is now CEO of Makka Agency, took reins of the wholesale shop – Makka Pharma – in 2002. Now, the agency has two sister concerns - Shakir & Associate and Silverline Enterprises. The two companies employ 320 people and generate annual sales turnover of Rs2 billion, according to Shehzad.

He said his father was earlier reluctant to let him choose this field, arguing that he should pursue PhD or opt for an academic job. However, Shehzad chose to run his father's business. The SME sector contributes 30% to Pakistan's gross domestic product (GDP), employs more than 80% of non-agricultural workforce and generates 25% in export earnings. Thus, SMEs have a huge potential for employment generation and poverty alleviation, comments the State Bank of Pakistan (SBP) in its report on the SME sector.

In late 2017, the SBP under the National Financial Inclusion Strategy (NFIS) set a benchmark to increase SME share from 8% of private sector credit to 17% and to increase the number of borrowers from 174,000 to 500,000 by 2020.

Pakistan seems to have a long way to go as the SMEs' loan share in GDP is only 1% while its neighbour China has 24% share, South Korea 36%, Thailand 37%, Sri Lanka 8%, Bangladesh 10% and India 9%, according to the SBP's 2016 report.

Shehzad, who wanted to make some difference with his education in his small-scale business, contacted various companies through emails and phone calls. He started getting some orders but did not have the financing to run bigger operations.

To resolve the matter, he pledged the family house with the Bank of Khyber, which gave him Rs3 million as running finance facility. He was cautious about spending the money as reckless spending could cost his family their home. "I started checking every penny, every day I would calculate how much I earned and how much liability I have to pay."

Having an understanding of how modernisation can boost a business, Shehzad was quick to adopt technology to promote his venture. He was the first in the building where his business was housed to install a computer, CCTV cameras and later, when he had some more money, purchased an air conditioner to improve environment and productivity.

Later, on the basis of his credit record, Bank Alfalah offered him financing of Rs12 million per year by accepting his family's new home as collateral.

Why science and technology is on decline in Muslim world?

In 2006, Shehzad got a major business breakthrough when Reckitt Benckiser offered him distribution job for its consumer and pharmaceutical products.

"Distribution is a painstaking job, only the hungry can do it," he said, adding, "When you are hungry you seek ways to do the job and when you are full you seek excuses."

The offer was a turning point for Shehzad; once he was associated with Reckitt Benckiser, other companies started offering him distribution job. Lays, Nestle Waters, Dalda and other such brands approached him.

In 2006, Pakistan's economy got a boost and so did fast moving consumer goods' (FMCG) companies, which grew phenomenally. In turn, their distributors also flourished, remarked Shehzad.

Another milestone

After about eight years in 2014, he had another major breakthrough when Unilever Pakistan offered him one of its three distribution branches. Unilever's business was three times bigger than what Shehzad handled for Reckitt Benckiser. "So, there was not any shop in Peshawar where our product did not reach," he added.

However, the exponential growth opportunity was not without challenges. In a few months, one of the other two distributors left, prompting Unilever to give this job too to Shahzad temporarily. After experiments, the company expressed interest in working with Shehzad as two people had left due to the difficult nature of business.

Eventually in June 2016, Shehzad, who had dreamt of becoming a big distributor, was called by Unilever for taking over the distribution job for the entire Peshawar city.

Unilever Country Head Amir Paracha said: "Distribution in general and Unilever in particular are just like joggling; if you understand it, you will enjoy it, if not, you will drown."

In May 2018, Shehzad inaugurated a modern distribution centre in Hayatabad, Peshawar. At present, he is controlling the distribution network from two different locations – one in the west and another in the east.

Today, Nestle, Fauji Foods, Frito-Lay, Shakarganj Foods, Engro Foods and others are Shehzad's clients.

"If we understand the importance of business in society, such as creating jobs, you will work passionately and get the results," remarked Shehzad.

the writer is a staff correspondent



Published in The Express Tribune, March 11th, 2019.

Like Business on Facebook, follow @TribuneBiz on Twitter to stay informed and join in the conversation.